Asian Paints Limited (APL) is India's leading paint and decor company and ranked among the top 7 coatings companies in the world with a consolidated turnover of ₹ 34,489 crores (₹ 345 billion) with a market capital of approx. ₹ 3,400 billion. Asian Paints along with its subsidiaries have operations in 15 countries across the world with 27 paint manufacturing facilities, servicing consumers in over 60+ countries through Asian Paints, Apco Coatings, Asian Paints Berger, Asian Paints Causeway, SCIB Paints, Taubmans and Kadisco Asian Paints. Asian Paints also offers a wide range of Home Décor products and is an emerging strong player in the Home Improvement and Décor space in India.
Result Analysis: Asian Paints Limited

 (CMP: Rs. 3542.10)

Result Update: Q1FY24
---
---
Stock Details
Market Cap. (Cr.)
339757.44
Equity (Cr.)
95.92
Face Value
1
52 Wk. high/low
3590 / 2686
BSE Code
500820
NSE Code
ASIANPAINT
Book Value (Rs)
166.73
Sector
Paints
Key Ratios
Debt-Equity:
0.12
ROCE (%):
34.45
ROE (%):
28.15
TTM EPS:
43.10
P/BV:
21.24
TTM P/E:
82.18
Result Highlights:
APL reported 6.7% YoY revenue growth to ₹9,1852cr. in the Q1FY24, driven by 10% volume growth in the decorative category (on a high base quarter) and a positive product mix. Additionally, both urban and rural markets have experienced double-digit volume increases.

GM increased by 520bps to 42.9% in Q1FY24, the highest level in the previous nine quarters mainly due to declining RM inflation. During the quarter, a further 2% raw material deflation was seen. Future RM prices are anticipated to be steady, leading to a strong GM.

To achieve a total of roughly 1.6 lac retail touchpoints in the Q1, the business added about 6k retail points, exceeding its original projection
of 10k to 15k retail points for the entire year FY24.

APL's Kitchen and Bath business revenue declined YoY due to a high base quarter, the decorative lighting business performed well, with White Teak and Weatherseal reporting strong growth, international business in CC terms grew, but sales in INR terms declined due to currency deflation, and industrial business performed well, with both auto and industrial coatings segments registering strong growth.

Over the next three years, the company intends to invest INR 87.5 billion in the expansion of capacity. The ongoing capacity expansion initiatives are going well and will be finished by the end of the year.
Financial Performance: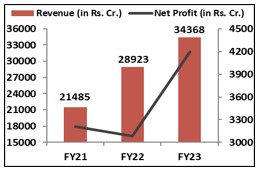 Shareholding Pattern:
| | | |
| --- | --- | --- |
| Particulars (In%) | Q1FY23 | Q1FY24 |
| Promoters Group | 52.63 | 52.63 |
| FIIs | 19.78 | 18.73 |
| DIIs | 8.42 | 10.05 |
| Public | 13.58 | 13.17 |
| Others | 5.59 | 5.42 |
Management Commentary:
Commenting on the June quarter results, Amit Syngle, CEO and MD said, "Our Domestic Decorative business registered double digit volume growth and a relatively healthy value growth, coming on a high base of the previous year. Both the Auto OE and the General Industrial coating businesses achieved a strong double‐digit revenue growth, led by growth in the Protective & Powder Coatings segment. Our international business was supported by good deliveries from the Middle East region however, continued macro‐economic challenges and adverse forex conditions in Asian markets, resulted in an overall subdued growth for the international portfolio. Overall, we have recorded significant improvement in margins, both sequentially as well as on year‐on‐year basis, aided by strong efforts on driving operational, formulation and sourcing efficiencies and supported by easing inflation in raw material prices. Looking ahead, we remain focused on pursuing growth and are confident about a robust festival season ahead"
Outlook:
APL's Q1FY24 revenue growth was in line. While the luxury category is struggling and may contemplate lowering prices, if required, the economy and premium categories are also expanding significantly. Rural market growth is improving and was virtually ahead of urban market growth in Q1. The whole industry may experience a shift in demand and margin structure owing to increased competition with the introduction of new companies with big wallets and significant investment commitments. In the future, we think that deflationary tendencies and an improvement in the product mix would be favorable for the paint sector. Since APL is the market leader, it stands to reason that it will gain the most.
Results:
| | | | | | |
| --- | --- | --- | --- | --- | --- |
| Particulars (In Rs. Cr.) | Q1FY24 | Q4FY23 | Q1FY23 | QoQ% | YoY% |
| Revenue from Operations | 9,182 | 8,787 | 8,607 | 4.5% | 6.7% |
| Other Income | 197 | 105 | 99 | 86.8% | 99.1% |
| Total Income | 9,379 | 8,893 | 8,706 | 5.5% | 7.7% |
| Cost of materials consumed | 4,071 | 3,979 | 4,610 | 2.3% | -11.7% |
| Purchase of Stock-in-Trade | 857 | 885 | 1,063 | -3.2% | -19.4% |
| Changes in inventories | 313 | 189 | -312 | – | – |
| Employee expense | 546 | 522 | 490 | 4.5% | 11.5% |
| Other Expenses | 1,275 | 1,347 | 1,200 | -5.4% | 6.3% |
| EBITDA | 2,121 | 1,865 | 1,556 | 13.8% | 36.3% |
| EBITDA Margin (%) | 23.1% | 21.2% | 18.1% | 190 bps | 500 bps |
| Finance Cost | 46 | 39 | 29 | 17.6% | 59.1% |
| Depreciation & Amortisation expense | 198 | 220 | 208 | -9.9% | -4.7% |
| Profit Before Tax (PBT) | 2,074 | 1,711 | 1,418 | 21.2% | 46.3% |
| Tax | 530 | 451 | 371 | 17.4% | 43.0% |
| Exceptional Items-incomes/expenditure | 31 | -1 | -11 | – | – |
| Profit After Tax (PAT) | 1,575 | 1,258 | 1,036 | 25.1% | 52.0% |
| PAT Margin (%) | 17.2% | 14.3% | 12.0% | 290 bps | 620 bps |
| EPS (in Rs.) | 16.17 | 12.87 | 10.60 | 25.6% | 52.5% |
Source: Company website, EWL Research
Disclosure in pursuance of Section 19 of SEBI (RA) Regulation 2014
Elite Wealth Limited does/does not do business with companies covered in its research reports. Investors should be aware that the Elite Wealth Limited may/may not have a conflict of interest that could affect the objectivity of this report. Investors should consider this report as only information in making their investment decision and must exercise their own judgment before making any investment decision.
For analyst certification and other important disclosures, see the Disclosure Appendix, or go to www.elitewealth.in. Analysts employed by Elite Wealth Limited are registered/qualified as research analysts with SEBI in India.( SEBI Registration No.: INH100002300)
Disclosure Appendix
Analyst Certification (For Reports)
Kiran Tahlani, Elite Wealth Limited, kirantahlani@elitestock.com
The analyst(s) certify that all of the views expressed in this report accurately reflect my/our personal views about the subject company or companies and its or their securities. I/We also certify that no part of my compensation was, is or will be, directly or indirectly, related to the specific recommendations or views expressed in this report. Unless otherwise stated, the individuals listed on the cover page of this report are analysts in Elite Wealth Limited.
As to each individual report referenced herein, the primary research analyst(s) named within the report individually certify, with respect to each security or issuer that the analyst covered in the report, that:
(1) all of the views expressed in the report accurately reflect his or her personal views about any and all of the subject securities or issuers; and
(2) no part of any of the research analyst's compensation was, is, or will be directly or indirectly related to the specific recommendations or views expressed in the report.
For individual analyst certifications, please refer to the disclosure section at the end of the attached individual notes.
Research Excerpts
This note may include excerpts from previously published research. For access to the full reports, including analyst certification and important disclosures, investment thesis, valuation methodology, and risks to rating and price targets, please visit www.elitewealth.in.
Company-Specific Disclosures
Important disclosures, including price charts, are available and all Elite Wealth Limited covered companies by visiting https://www.elitewealth.in, or e-mailing research@elitestock.com with your request. Elite Wealth Limited may screen companies based on Strategy, Technical, and Quantitative Research. For important disclosures for these companies, please e-mail research@elitestock.com.
Options related research:
If the information contained herein regards options related research, such information is available only to persons who have received the proper option risk disclosure documents. For a copy of the risk disclosure documents, please contact your Broker's Representative or visit the OCC's website at https://www.elitewealth.in
Other Disclosures
All research reports made available to clients are simultaneously available on our client websites. Not all research content is redistributed, e-mailed or made available to third-party aggregators. For all research reports available on a particular stock, please contact your respective broker's sales person.
Ownership and material conflicts of interest Disclosure
Elite Wealth Limited policy prohibits its analysts, professionals reporting to analysts from owning securities of any company in the analyst's area of coverage. Analyst compensation: Analysts are salary based permanent employees of Elite Wealth Limited. Analyst as officer or director: Elite Wealth Limited policy prohibits its analysts, persons reporting to analysts from serving as an officer, director, board member or employee of any company in the analyst's area of coverage.
Country Specific Disclosures
India – For private circulation only, not for sale.
Legal Entities Disclosures
Mr. Ravinder Parkash Seth is the Managing Director of Elite Wealth  Ltd (EWL, henceforth), having its registered office at Casa Picasso, Golf Course Extension, Near Rajesh Pilot Chowk, Radha Swami, Sector-61, Gurgaon-122001 Haryana, is a SEBI registered Research Analyst and is regulated by Securities and Exchange Board of India. Telephone: 011-43035555, Facsimile: 011-22795783 and Website: www.elitewealth.in
EWL discloses all material information about itself including its business activity, disciplinary history, the terms and conditions on which it offers research report, details of associates and such other information as is necessary to take an investment decision, including the following:
Reports
a) EWL or his associate or his relative has no financial interest in the subject company and the nature of such financial interest;
(b) EWL or its associates or relatives, have no actual/beneficial ownership of one per cent. or more in the securities of the subject company, at the end of the month immediately preceding the date of publication of the research report or date of the public appearance;
(c) EWL or its associate or his relative, has no other material conflict of interest at the time of publication of the research report or at the time of public appearance;
Compensation
(a) EWL or its associates have not received any compensation from the subject company in the past twelve months;
(b) EWL or its associates have not managed or co-managed public offering of securities for the subject company in the past twelve months;
(c) EWL or its associates have not received any compensation for investment banking or merchant banking or brokerage services from the subject company in the past twelve months;
(d) EWL  or its associates have not received any compensation for products or services other than investment banking or merchant banking or brokerage services from the subject company in the past twelve months;
(e) EWL or its associates have not received any compensation or other benefits from the subject company or third party in connection with the research report.
3 In respect of Public Appearances
(a) EWL or its associates have not received any compensation from the subject company in the past twelve months;
(b) The subject company is not now or never a client during twelve months preceding the date of distribution of the research report and the types of services provided by EWL
Provided that research analyst or research entity shall not be required to make a disclosure as per sub-clauses (c), (d) and (e) of clause (ii) or sub-clauses (a) and (b) of clause (iii) to the extent such disclosure would reveal material non-public information regarding specific potential future investment banking or merchant banking or brokerage services transactions of the subject company.
(4) EWL or its proprietor has never served as an officer, director or employee of the subject company;
(5) EWL has never been engaged in market making activity for the subject company;
(6) EWL shall provide all other disclosures in research report and public appearance as specified by the Board under any other regulation