What is Financial Planning?
Financial Planning is a comprehensive process of identifying your financial needs, life goals & charting out a plan with the Financial Planner in order to achieve them. The Financial goals can be of different types: some necessary and other discretionary. But if a plan is not laid out, then an individual's quest to achieve the goals is hap-hazard and directionless.
Importance of Financial Planning
Financial Planning is process of framing objectives, policies, procedures, programmes and budgets regarding the financial activities of a concern. This ensures effective and adequate financial and investment policies. The importance can be outlined as-
Adequate funds have to be ensured.
Financial Planning helps in ensuring a reasonable balance between outflow and inflow of funds so that stability is maintained.
Financial Planning ensures that the suppliers of funds are easily investing in companies which exercise financial planning.
Financial Planning helps in making growth and expansion programmes which helps in long-run survival of the company.
Financial Planning reduces uncertainties with regards to changing market trends which can be faced easily through enough funds.
Financial Planning helps in reducing the uncertainties which can be a hindrance to growth of the company. This helps in ensuring stability and profitability in concern.
How you can achieve your financial Goals?
Once you already have an idea about your financial goals, then there are some ways to achieve it. You can work either yourself (self-plan) or work with an expert called as financial planner to implement that plan. You can expect independent & practical advice on various issues that may affect your wealth goals. These issues could be tax strategies, retirement planning, investment strategies, education planning etc. The Significance and steps of having a financial plan is as follows:
Create your goals in life – It could be short, medium or long-term goals.
Check out what assets & liabilities you already have-Write it.
Consider evaluating your current financial position.
Make your plan- develop a route for achieving those goals.
Implementation is essential- Implement your plan first, then goes for changes and makes it happen.
Keep monitor & review your plan from time to time do adjustment if necessary.
Process of Financial Planning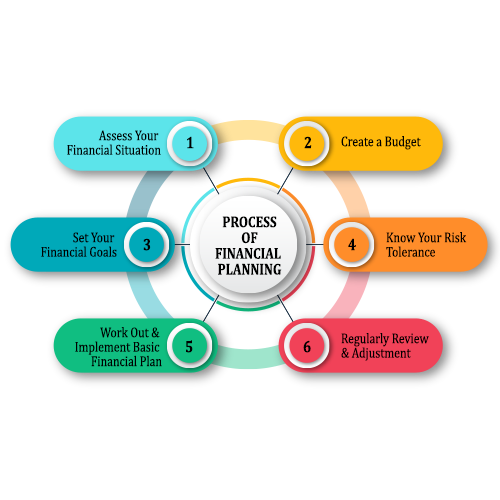 Types of Financial Planning Services
Through its Financial Planning Service Elite offers a wide range of financial services to its clients:
Goal/Need Assessment
Investment Planning
Retirement Planning
Tax Planning
Insurance Planning
Asset Allocation Management:
Why need a financial planner?
Some people choose to do financial planning on their own, but some want to hire a certified financial planner, if they want to better manage their finances, but they aren't sure about where to start. Sometimes we don't have enough time to do our own financial planning. It also might happen that we have planned, but we need a professional advice. Moreover, the lack of expertise in certain areas like insurances, investments, taxes or retirement pave the way for financial planner.
Choose us as a financial planner
Elite Wealth Ltd is a best financial Advisors in Delhi, India. To achieve all your financial goals & future dreams, choose us as a financial planner.
Enter Your Details To Need An Assistance: