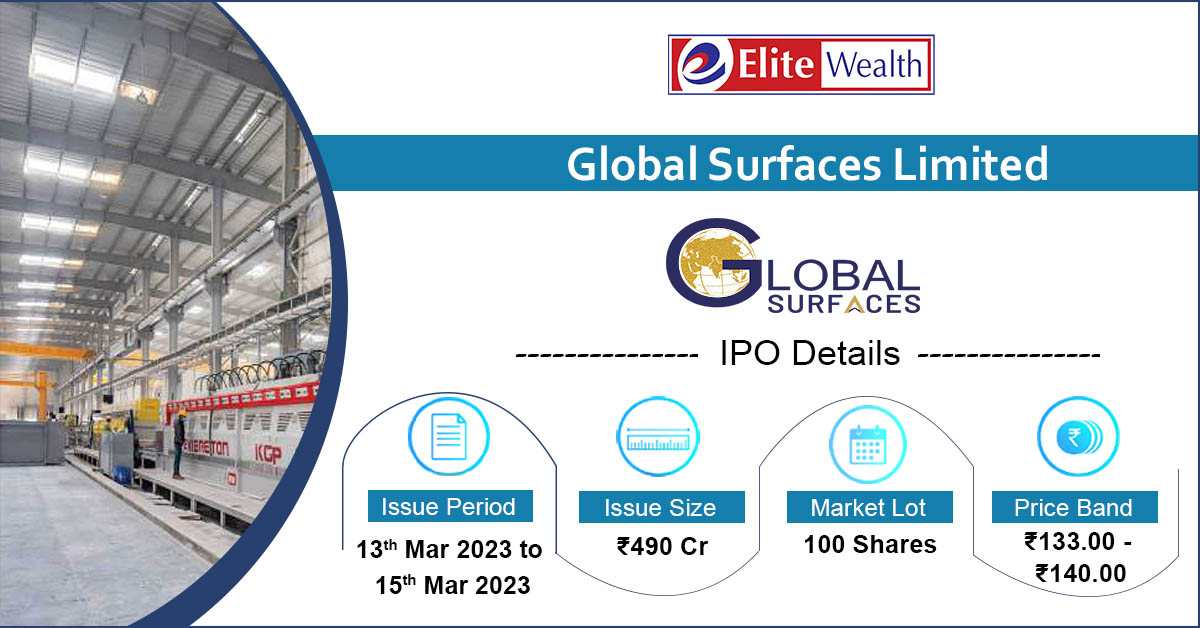 Global Surfaces IPO Company Profile:
Global Surfaces Limited ("GSL") is engaged in the business of manufacturing engineered quartz AND processing natural stones. Natural stones are produced by complex geological processes and include a number of products such as marble, granite, limestone, onyx, slate, quartzite, sandstone, travertine, and others that are quarried from the earth. Natural stones are widely known for their aesthetic appeal, uniqueness, color, texture, and composition as no two natural stones are the same. Engineered quartz on the other hand, is an example of engineered stone used in the countertop industry, which is a composite material made up of crushed stone bonded by an adhesive.
Global Surfaces Limited ("GSL") has two units, one located at RIICO Industrial Area, Bagru Extn, Bagru, Jaipur, Rajasthan and the other located at Mahindra World City SEZ, Jaipur, Rajasthan for manufacturing and processing of the products.
---
---
Global Surfaces IPO Product Portfolio:
Natural Stones:

Natural stones have wide range of applications in large-scale constructions such as construction of government buildings, churches, monuments, and road construction. Previously, for residential construction projects, wood and brick was a non-debatable choice. However, as per recent trends, natural stone is widely used in residential construction owing to its excellent structural and decorative aspects.
The Natural Stone products segment may be further divided into:
Marble
Granite
Quartzite and others
Engineered Stones: Engineered stone, is a composite material formed out of crushed stone that is held together by an adhesive. The various types of engineered stones are:

Engineered quartz,
Polymer concrete and
Engineered marble
Global Surfaces IPO Details:
Issue Details
Objects of the issue
 ·To fund capital expenditure requirements of manufacturing facilities of wholly-owned subsidiary

· To gain the listing benefits

Issue Size
Total issue Size – Rs. 154.98 Cr.

Fresh Issue        – Rs.35.7 Cr.

Offer for Sale    – Rs. 119.28 Cr.

Face value
Rs. 10.00 Per Equity Share
Issue Price
Rs.133  – Rs.140
Bid Lot
100 Shares
Listing at
 BSE, NSE
Issue Opens
13th Mar, 2023 – 15th Mar, 2023
QIB
50% of Net Issue Offer
Retail
35% of Net Issue Offer
NIB
15% of Net Issue Offer
Trade AnyTime AnyWhere With Elite Empower Mobile App

Check Global Surfaces  IPO Allotment Status
Go Global Surfaces IPOallotment status would be available soon after the IPO closure date. Usually the allotment comes within a week from the closing date which in this IPO yet to be announced.
One can check the allotment on the given below link with PAN number or Application number or DP Client Id. All you need to do is to follow these steps:-
Go to Application Status
Select Global Surfaces  IPO 
Enter your PAN Number or Application Id or DP Client Id.
Global Surfaces IPO Financial Analysis:
| | | | | | |
| --- | --- | --- | --- | --- | --- |
| Particulars | 6M of FY-23(in cr.) | FY-22(in cr.) | FY-21(in cr.) | FY-20(in cr.) | CAGR |
| Revenue from Operations | 97.98 | 190.31 | 175.37 | 163.29 | 8.0% |
| Other Income | 1.27 | 8.04 | 3.63 | 2.49 | |
| Cost of Goods Sold | 45.60 | 86.69 | 71.91 | 71.20 | 10.3% |
| Employee Cost | 6.54 | 14.93 | 12.27 | 10.38 | |
| Other expenses | 26.61 | 46.89 | 43.87 | 41.39 | |
| EBITDA | 20.50 | 49.85 | 50.95 | 42.81 | 7.9% |
| EBITDA margin% | 20.92% | 26.19% | 29.05% | 26.21% |   |
| Depreciation | 4.38 | 10.78 | 13.01 | 16.86 | |
| Interest | 1.90 | 2.96 | 3.41 | 5.22 | |
| Profit / (loss) before tax | 14.22 | 36.11 | 34.53 | 20.72 | 32.0% |
| Total tax | 0.63 | 0.47 | 0.60 | -0.24 | |
| Profit / (loss) After tax | 13.59 | 35.63 | 33.93 | 20.96 | 30.4% |
| Profit / (loss) After tax margin% | 13.87% | 18.72% | 19.35% | 12.84% |   |
Global Surfaces IPO Major Shareholders:
| | | | |
| --- | --- | --- | --- |
| S.NO. | Name of the Shareholder | No. of Shares | % of pre-Offer shareholding |
| 1 | Mayank Shah | 24,906,368 | 73.55% |
| 2 | Mayank Shah HUF | 2,892,488 | 8.54% |
| 3 | Sweta Shah | 3,549,000 | 10.48% |
| 4 | Vatsankit Shah Trust | 845,906 | 2.50% |
| 5 | Mridvika Shah | 1,072,706 | 3.17% |
|   | Total | 33,266,468 | 98.24% |
Global Surfaces IPO Offer for Sale Details:
S. No.
Name of the Selling Shareholder
Number of Equity Shares

being offered in the Offer for Sale (Up to)

1.
Mayank Shah
1,400,000 Equity Shares
2.
Sweta Shah
1,150,000 Equity Shares
Global Surfaces IPO Strengths:
T

he recognition of Global Surfaces Limited's product quality and established goodwill has enabled it to penetrate the engineered quartz market and cater to new customers in addition to the Company's existing customer network. Increased acceptance of newer product categories due to improved designs and efficient pricing has further established the Company's reputation.

Global Surfaces Limited started its business activities with processing of natural stones and has since branched out to manufacturing engineered quartz which has enabled the company to diversify its product portfolio manifold. Having a wide range of products not only enables it to meet the trends and ever-changing demands of its customers but also gives the Company an edge to efficiently compete with big players in the industry.

Global Surfaces Limited's philosophy has always been to manufacture and process quality products which in turn has helped it to build a sustainable export business. As on date, various regions of the USA are its primary focus in international markets. The company's exports business constitutes 99.13% of operating revenue in the Fiscal 2021-22 and has grown at 21.60% CAGR over last 11 years. The company has in the recently past sold its products in the United States of America, Canada, Australia and Middle East.

Global Surfaces Limited has an in-house R&D facility at our Mahindra World City SEZ, Jaipur, Rajasthan (Unit II) where it focuses on developing good quality and cost-efficient engineered quartz. A dedicated team of R&D personnel is engaged in developing new products and designs which would appeal to the diversified customer base. This in-house development ensures that the company is self-reliant for the development of high-quality products and is kept abreast of the market trends.
Global Surfaces IPO Risk Factors:.
Global Surfaces Limited is dependent on a few customers for a major part of its revenues. Further the company does not enter into long-term arrangements with its customers and any failure to continue its existing arrangements could adversely affect the business and results of operations.

Global Surfaces Limited does not have long-term agreements with its suppliers for raw materials and an inability to procure the desired quality, quantity of the raw materials in a timely manner and at reasonable costs, or at all, may have a negative impact on the business, results of operations, financial condition and cash flows.

Major portion of the revenues are derived from exports to the United States of America and any adverse developments in this market or restrained economic or political relations of India with the United States of America could adversely affect the business.

Global Surfaces Limited, through its wholly-owned subsidiary Global Surfaces FZE, is in the process of setting up the Proposed Facility for manufacturing engineered stone in Dubai, United Arab Emirates. Such venture may not be profitable or achieve the profitability that justifies the investment, which may have an adverse impact on the prospects, growth, results of operations and financial condition.
Global Surfaces IPO Objects of the Offer:
Global Surfaces Limited proposes to utilize the Net Proceeds towards funding of the following objects:
Investment in its wholly owned subsidiary, Global Surfaces FZE for part-financing its capital expenditure requirements in relation to the setting up of manufacturing facility for engineered quartz at The Jebel Ali Free Zone, Dubai, United Arab Emirates ("UAE")
General corporate purposes.
Global Surfaces Limited IPO Prospectus:
Registrar to the offer:
BIGSHARE SERVICES PRIVATE LIMITED
Telephone: 022-62638200
Facsimile: 022-63638280
Email: ipo@bigshareonline.com
Investor grievance email: investor@bigshareonline.com
Contact Person: Mr. Jibu John
Website: www.bigshareonline.com
SEBI Registration Number: INR000001385
CIN: U99999MH1994PTC076534U6
Global Surfaces IPO FAQ