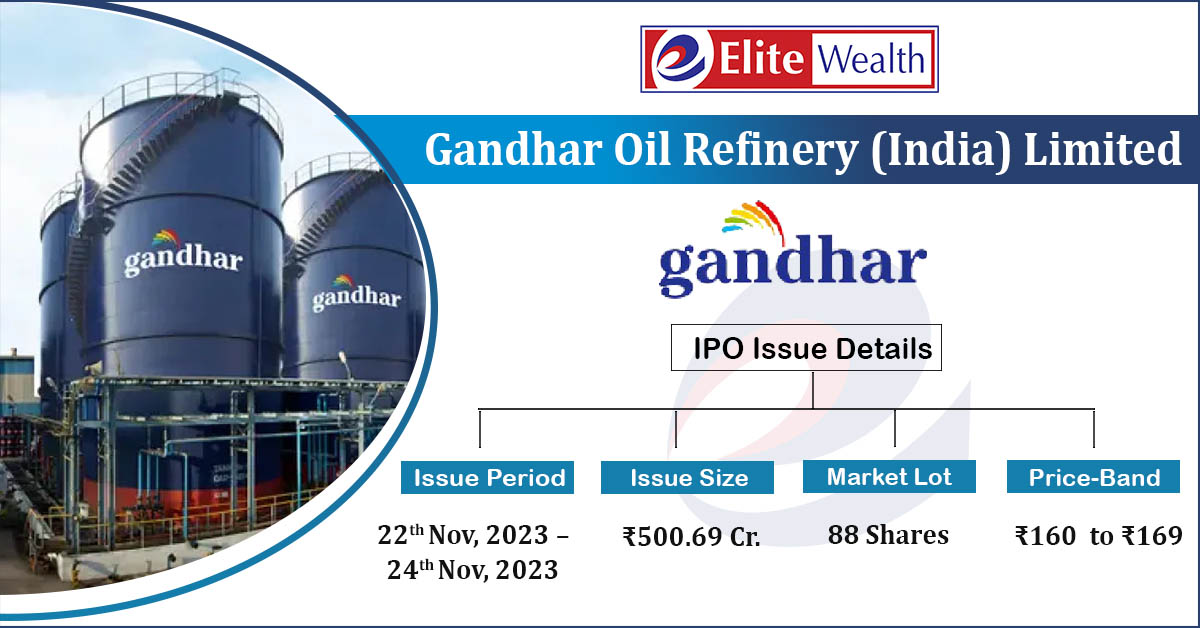 Gandhar Oil Refinery (India) IPO Company Profile:
Gandhar Oil Refinery (India) Limited (GORL) is India's largest manufacturer of white oils by revenue in FY23, including domestic and overseas sales and is one of the top five players globally in terms of market share in 2022. The company has over 350 products majorly across the PHPO ("personal care, healthcare, and performance oils"), lubricants, and process and insulating oils ("PIO") divisions under the "Divyol" brand. The products are used as ingredients by leading Indian and global companies for the manufacture of end products for the consumer, healthcare, automotive, industrial, power, and tyre & rubber sectors. As of June 30, 2023, company's products were sold in over 100 countries across the globe. The company catered to over 3,500 customers in FY23, including leading Indian and global companies such as Procter & Gamble ("P&G"), Unilever, Marico, Dabur, Encube, Patanjali Ayurved, Bajaj Consumer Care, Emami and Amrutanjan Healthcare, supported by its global supplier base and manufacturing operations in India and UAE. GORL currently operates three manufacturing facilities, with two plants located in Western India and one plant located in Sharjah, UAE, to cater to Indian and global operations. As of June 30, 2023, the combined annual production capacity of the company's manufacturing facilities was approximately 5,22,403 kL.
---
---
Gandhar Oil Refinery (India) IPO Details:
Issue Details
Objects of the issue
 

·         To fund working capital requirements and capital expenditure

·         To pay borrowings

·         To gain listing benefits

Issue Size
Total issue Size – Rs.500.69 Cr.

Fresh Issue – Rs.302 Cr.

Offer for Sale – Rs.198.69 Cr.

Face value

Rs.2

Issue Price
Rs.160 – Rs.169
Bid Lot
88 Shares
Listing at
 

BSE, NSE

Issue Opens
22nd Nov, 2023 – 24th Nov, 2023
QIB
50% of Net Issue Offer
NIB
15% of Net Issue Offer
Retail
35% of Net Issue Offer
Gandhar Oil Refinery (India) IPO Strengths:
GORL has established long-term relationships with leading consumers and pharma manufacturers due to its ability to offer customized products.
It has strategically set up 3 manufacturing facilities, 2 located in western India and one located in UEA which helps it cater to its Indian and global operations.
Co's administration, marketing, and human resource management are overseen by a group of competent and experienced managers who have expertise and experience in the specialty oils industry.
Gandhar Oil Refinery (India) IPO Highlights:
Revenue of the co. has increased from Rs.2,221 Cr. in FY21 to Rs.4,079 Cr. in FY23 with a CAGR of 22.5%; and Net Profit also grew with strong CAGR of 26.8% from Rs.99 Cr. in FY21 to Rs.201 Cr. in FY23.
Co's EBITDA Margin & PAT Margin stands at 7.8% & 4.9% respectively in FY23.
As of FY23, ROCE & ROE ratios are healthy at 41.19% and 32.28% respectively.
As of March, 2023, debt to equity of the co. stands at comfortable level of 0.2x.
Trade AnyTime AnyWhere With Elite Empower Mobile App

Gandhar Oil Refinery (India) IPO Allotment Status
Gandhar Oil Refinery (India) IPO allotment status would be available soon after the IPO closure date. Usually the allotment comes within a week from the closing date which in this IPO yet to be announced.
One can check the allotment on the given below link with PAN number or Application number or DP Client Id. All you need to do is to follow these steps:-
Go to Application Status
Select Gandhar Oil Refinery (India) IPO
Enter your PAN Number or Application Id or DP Client Id.
Gandhar Oil Refinery (India) IPO Risk Factors:
The co. is exposed to exchange rate fluctuations as its significant portion of business is done primarily in USD or through several other currencies.

GORL does not have any long-term agreements with its customers. A loss of any of its customers or a reduction in the order by them can significantly impact its business.

Co. relies on Parekh Bulk Carriers, a member of the Promoter Group and other third-party transporters to transport raw materials for the products to the manufacturing facilities and the products to the depots and customers, and any disruption in the transportation arrangements or increases in transportation costs may adversely affect the operations of the co.
Gandhar Oil Refinery (India) IPO Financial Performance: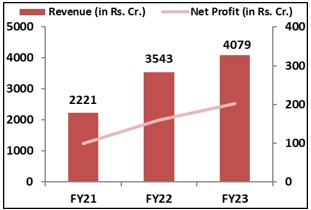 Gandhar Oil Refinery (India) IPO Shareholding Pattern:
| | | |
| --- | --- | --- |
| Particulars | Pre- Issue | Post Issue |
| Promoters Group | 87.50% | 59.51% |
| Others | 12.50% | 40.49% |
Gandhar Oil Refinery (India) IPO Outlook:
GORL is the largest player in the white oils manufacturing in India also it is among the major players in India's speciality oil sector. Well-known for its "Divyol" brand, it strategically focuses on consumer and healthcare sectors. The white oil segment, which is the fastest-growing category in the Indian specialty oil market, is expected to grow at a CAGR of 9.8% from FY22 to FY27. GORL is comfortably positioned to take advantage of the increasing demand of white oils. Co. has created a niche place for white oil and is among the top 5 players with renowned customers across countries. It is offering the P/E of 8.22x on the upper price band which is far below of the industry average of 52.65x. On the back of GORL's growing financials and attractive valuations, we recommend investors to subscribe to the offering.
Gandhar Oil Refinery India IPO FAQ