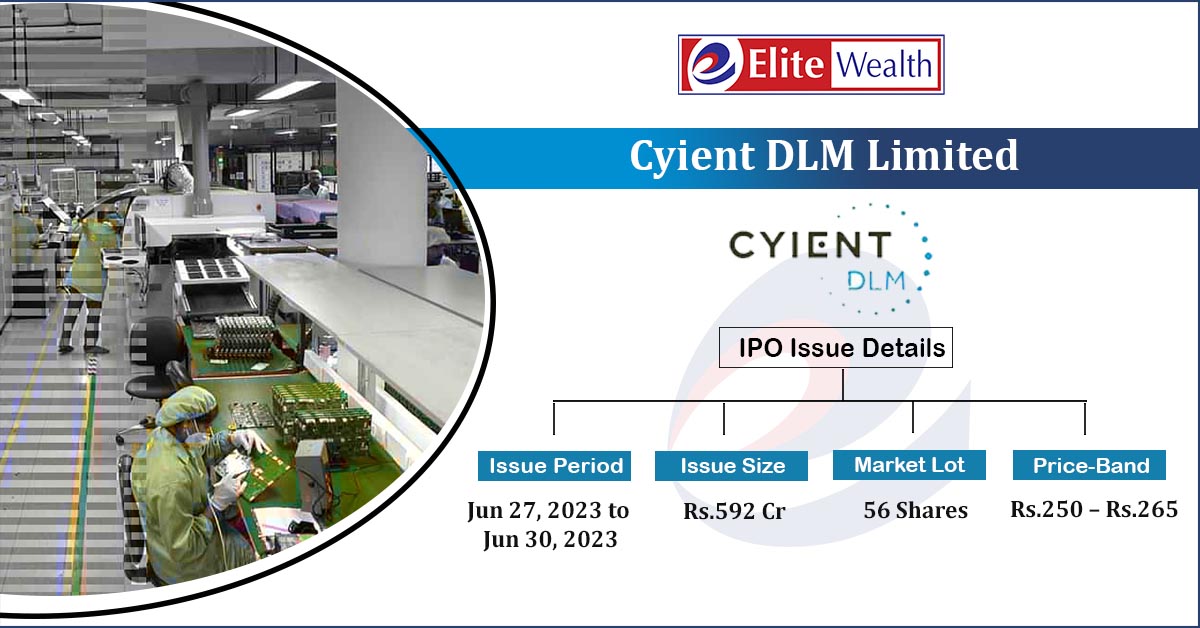 Cyient DLM IPO Company Profile:
Cyient DLM is an EMS (Electronic Manufacturing Services) company with over 20 years of experience in developing complex systems for global OEMs in aerospace, defense, and medical technology. It is one of the few EMS companies in India catering to highly regulated industries and the largest supplier of EMS services to the aerospace and defense industry by value in India. The company leverages the design capabilities of its parent company, Cyient Limited, to provide agile and flexible manufacturing services to its clients.
| | |
| --- | --- |
| IPO-Note | Cyient DLM Limited |
| Rs.250 – Rs.265 per Equity share | Recommendation: Subscribe |
---
---
Cyient DLM IPO Details:
Issue Details
Objects of the issue
 ·         To fund working capital and capital expenditure

·         To pay certain debts

·         To acquire businesses

Issue Size
Total issue Size – Rs.592 Cr.

Fresh Issue – Rs.592 Cr.

Face value
Rs.10
Issue Price
Rs.250 – Rs.265
Employee Discount
Rs. 15 per share
Bid Lot
56 Shares
Listing at
 BSE, NSE
Issue Opens
27th June, 2023 – 30th June, 2023
QIB
75% of Net Issue Offer
NIB
15% of Net Issue Offer
Retail
10% of Net Issue Offer
Cyient DLM IPO Strengths:
The co. is a one-stop shop for integrated solutions, from conceptualization and design to manufacturing. Its expertise across multiple industries allows to share best practices and bring significant value to the clients.
's position as a significant player in the EMS market with expertise in safety-critical applications in highly regulated industries makes it difficult for new entrants to compete.
Cyient DLM has long-standing relationships with marquee customers, such as Honeywell, Thales, ABB, BEL, and Molbio. The average relationship with these customers is over 11 years.
Trade AnyTime AnyWhere With Elite Empower Mobile App

Check Cyient DLM  IPO Allotment Status
Go Cyient DLM IPOallotment status would be available soon after the IPO closure date. Usually the allotment comes within a week from the closing date which in this IPO yet to be announced.
One can check the allotment on the given below link with PAN number or Application number or DP Client Id. All you need to do is to follow these steps:-
Go to Application Status
Select Cyient DLM IPO
Enter your PAN Number or Application Id or DP Client Id.
Cyient DLM IPO Key Highlights:
Revenue of the co. has increased from Rs.628 Cr. in FY21 to Rs.832 Cr. in FY23 with a huge CAGR of 9.8% and the Net Profit has increased from Rs.12 Cr. in FY21 to Rs.32 Cr. in FY23 with a strong CAGR of 39%.
's EBITDA Margin & PAT Margin stands at 10.6% & 3.8% respectively in FY23.
As of March, 2023, ROCE and ROE ratio of the co. is 13.48% and 16.03% respectively. And Debt to Equity ratio is 0.74 times.
The order book of the co. has increased from Rs.1,203 cr. in FY22 to Rs.2,433 cr. in FY23, which is 2.9x of the revenue generated in FY23.
Cyient DLM IPO Financial Performance:

Cyient DLM IPO Risk Factors:
Cyient DLM's business is dependent on the sale of its products to certain key customers. Its top 10 customers constituted 91.08% of the total revenue in FY23. Loss of any such customers may have an adverse effect on the sales and business of the company.

The business is heavily reliant on our B2P solutions and PCBA sales. In FY23, 99.8% of our revenue came from B2P and 62.62% came from PCBAs. A decrease in either of these areas would have a significant negative impact on its business.

In FY23, co. generated 59.71% of revenue from the sale outside India. The global nature of co.'s operations exposes it to risks such as changes in foreign exchange rates and political instability and these risks may have a negative impact on the business.
Cyient DLM IPO Shareholding Pattern:
| | | |
| --- | --- | --- |
| Particulars | Pre- Issue | Post Issue |
| Promoters & Promoter Group | 92.84% | 66.68% |
| Others | 7.16% | 33.32% |
Source: RHP, EWL Research
Cyient DLM IPO Outlook:
Cyient DLM is the top player in the electronics manufacturing services (EMS) that provides design, manufacturing, and testing services to the aerospace, defense, medical technology, and industrial sectors. Co.'s solutions primarily comprise of Printed Circuit Board ("PCB") Assembly ("PCBA"), Cable Harnesses, and Box Builds which are used in safety-critical systems such as cockpits, inflight systems, landing systems, and medical diagnostic equipments; it had generated revenue of 62.6%, 1.37%, 32.4% and 3.6% respectively in FY23 from these solutions. Cyient DLM has a strong track record of providing high-quality services to its customers and is focusing to strengthen its core capabilities across focus industries and building scale further. As per Frost & Sullivan's analysis, the Indian electronics industry is expected to grow at a CAGR of 18.4% by FY27 and the company is well-positioned to capitalize on this growth and to achieve its long-term growth goals. Based on FY23 earnings, Cyient DLM is offering the PE of 66x on the upper price band, compared to the industry average of 49.75x. Hence, we suggest investors to subscribe to the offering.
Cyient DLM IPO FAQ