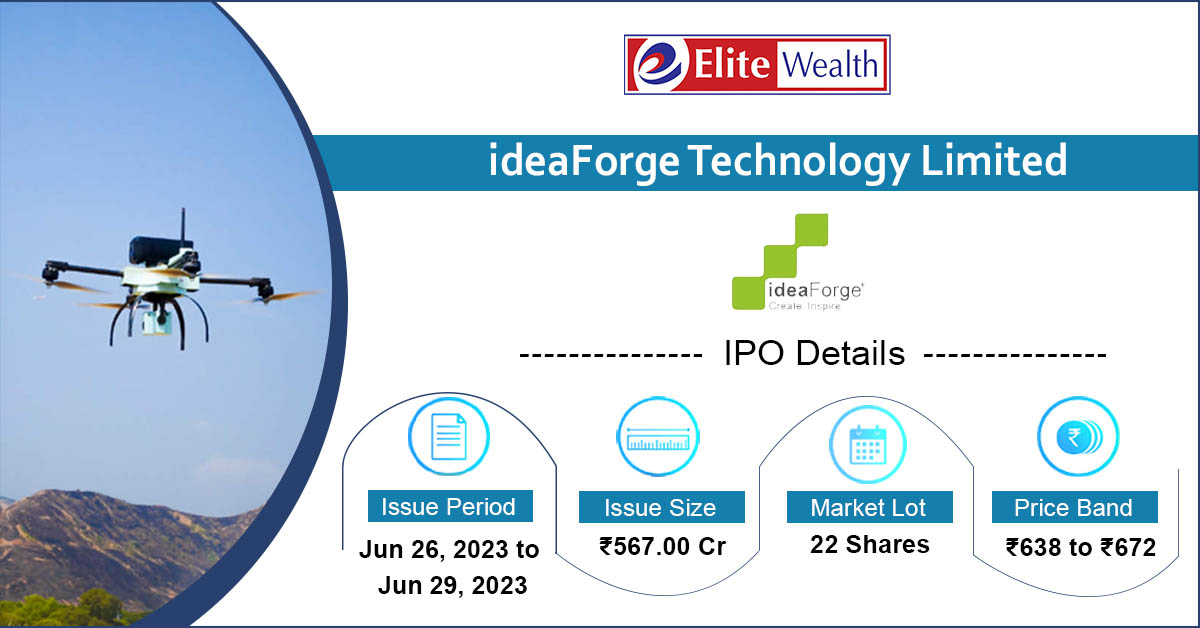 IdeaForge Technology IPO
IdeaForge Technology Limited is a leading Indian drone manufacturing company that provides drone solutions for a variety of purposes, including surveillance, mapping, and inspection. According to the 1Lattice Report, the co. is one of the market leaders in the Indian unmanned aircraft systems (UAS) market, with a market share of around 50% in FY 2022. IdeaForge is a vertically integrated company that designs, manufactures, and supports its own drones. Co.'s unmanned aerial vehicles (UAVs) are equipped with industry-leading specifications and capabilities, comparable to those of other established global players in the UAV industry. Acc. to the report published by Drone Industry Insights, the company ranked 7th globally in the dual-use category i.e. civil and defense, drone manufacturers as of December, 2022.
| | |
| --- | --- |
| IPO-Note | IdeaForge Technology Limited |
| Rs.638 – Rs.672 per Equity share | Recommendation: Listing Gain |
---
---
IdeaForge Technology IPO Details:
Issue Details
Objects of the issue
 ·         To repay borrowings

·         To fund working capital requirements

·         To gain listing benefits

Issue Size
Total issue Size – Rs.567 Cr.

Fresh Issue – Rs.240 Cr.

Offer For Sale – Rs.327 Cr.

Face value
Rs.10
Issue Price
Rs.638 – Rs.672
Bid Lot
22 Shares
Listing at
 BSE, NSE
Issue Opens
26th June, 2023 – 29th June, 2023
QIB
75% of Net Issue Offer
NIB
15% of Net Issue Offer
Retail
10% of Net Issue Offer
*Top Selling Shareholders:
Qualcomm Asia Pacific Pte. Ltd., Celesta Capital II Mauritius, Celesta Capital II-B Mauritius
IdeaForge Technology IPO Strengths:
IdeaForge is a pioneer in the Indian UAS market with a 50% market share and is the first Indian company to develop and manufacture VTOL (vertical take-off and landing) UAVs.
has strong product portfolio, technology differentiation, and operational efficiency.
The co. is led by a qualified and experienced management team, also the promoters have a cumulative work experience of more than 85 years.
Trade AnyTime AnyWhere With Elite Empower Mobile App

Check IdeaForge Technology  IPO Allotment Status
Go IdeaForge Technology IPOallotment status would be available soon after the IPO closure date. Usually the allotment comes within a week from the closing date which in this IPO yet to be announced.
One can check the allotment on the given below link with PAN number or Application number or DP Client Id. All you need to do is to follow these steps:-
Go to Application Status
Select IdeaForge Technology IPO
Enter your PAN Number or Application Id or DP Client Id.
IdeaForge Technology IPO Key Highlights:
Revenue of the co. has increased from Rs.35 Cr. in FY21 to Rs.186 Cr. in FY23 with a huge CAGR of 75% while the Net Profit has decreased from Rs.44 Cr. in FY22 to Rs.32 Cr. in FY23 majorly due to the ESOPs issued to the employees.

Co's EBITDA Margin and PAT Margin are at strong level of 30.9% and 17% respectively for FY23.

In FY23, ROCE and ROE ratio of the co. is at 12.51% and 13.11%. And Debt to Equity ratio stands at 0.27 times.

The order book of the company has declined in FY23 to Rs.192 cr. from Rs.311 cr. of FY22.
IdeaForge Technology IPO Financial Performance:

IdeaForge Technology IPO Risk Factors:
IdeaForge's business is subject to regulatory risk. If the company fails to comply with regulations, it could face financial penalties, restrictions on its operations, or even the loss of its license to operate.

The co. derives ~78% of revenue from the sale to GOI entities. If there is a decline in gov. spending, a reduction in orders, or any other change in gov. policy, it could have a significant negative impact on the co.'s business.

Co's business is dependent on winning bids. If the company is unable to accurately measure costs or design and develop trial products, it could lose bids, which would have a negative impact on the company's business.
IdeaForge Technology IPO Shareholding Pattern:
| | | |
| --- | --- | --- |
| Particulars | Pre- Issue | Post Issue |
| Promoters & Promoter Group | 33.97% | 17.94% |
| Others | 66.03% | 82.06% |
 Source: RHP, EWL Research
IdeaForge Technology IPO Outlook:
IdeaForge is the top player in the Indian unmanned aerial vehicles (UAVs) and serves to variety of customers, including the Indian Army, Indian Navy, Indian Air Force, Indian Coast Guard, and various state police forces. Co.'s product portfolio includes hardware, software, and solutions for UAVs. Its wide range of products gives the flexibility to meet the evolving demands of diverse customers across industries. In FY23, co. generated 69.15% from defence sector and 21.49% from civil sector. Acc.to 1Lattice Report, the Indian drone market is projected to grow by a CAGR of 80% from 2022 to 2027, driven by favorable policies, increased demand for monitoring and surveying, cost-effective data collection, and new use cases such as utilities inspection and search & rescue operations. IdeaForge is a well-positioned company in the growing UAV market. It has a strong track record of innovation and customer satisfaction. Further the co. is expanding into new geographies and its product portfolio to support its growth further. Based on FY23 earnings, IdeaForge is offering the PE of 86x on the upper price band, compared to industry average of 57.93x. Hence, we suggest investors to apply for the listing gains.
IdeaForge Technology IPO FAQ