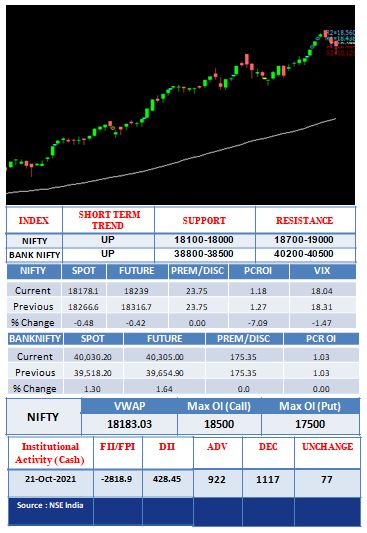 NIFTY:
The Nifty opened at 18382.7 with a gap up of 116 points. Prices recorded its intraday high a few ticks above the opening price at 18384.20 and started moving downwards. Prices have seen a sharp decline of more than 300 points and recorded its intraday low at 18048 and then started a process of correction. Prices have seen upward correction in the last hour of trading, recovered more than half of the loss and finally closed at 18178.10. Bank and Financial have led the bulls and closed higher by more than 1%. IT underperformed most and closed lower by 2.53%. Metal and Realty also moved down.
A gap up opening did not sustain in the Nifty and the index continued the correction. The correction breached the short term support of 18200. However it received support at the 18000 mark. Prices reversed sharply and recovered half the losses and ended above 18200. 18000 will act as a strong support while 18500 will be a hurdle.  The last three days were very wide and these wide range bars suggest narrow and choppy days are ahead.
BANK NIFTY:
Bank Nifty opened at 39676.55 with a gap up of 113 points. The index traded very volatile and sideways, recorded its intraday low at 39428.10 and find strong intraday resistance around 39700. A breakout came in the last hour of trading, prices have seen a sharp intraday rally and closed with big gains. PSU Banks have continued its outperformance and ended with a gain of 2.73%. Private Banks have also seen an upside move and closed higher by 1.27%. Within the index, Kotak Bank contributed highest while Indusind Bank the lowest.
Bank Nifty outperformed when compared to Nifty closed more than 1% higher.
TECHNICAL PICKS
| | | | |
| --- | --- | --- | --- |
| COMPANY | CMP | B/S | RATIONALE |
| MANAPURAM | 199.75 | BUY | The stock has given a breakout from a narrow trading range. The stock can be bought at CMP with a stop at 196  and for the target 206 |
| IBULHSGFIN | 249.2 | BUY | The stock has given a breakout from a narrow trading range. The stock can be bought at CMP with a stop at 244  and for the target 258 |
DERIVATIVE PICKS
| | | | | | | | |
| --- | --- | --- | --- | --- | --- | --- | --- |
| STOCK OPTION | Strike Price | Buy/Sell | CMP | Initiation | Stop Loss | Target | Remarks |
| INDIGO | 2040 CE | BUY | 81 | CMP | 70 | 100 | OI increase |
Long Buildup
Short Buildup
Stocks
Price
Price%
OI %
OI
Stocks
Price
Price%
OI %
OI
CROMPTON.21.10 Oct
466.3
2.37
15.51
1696200
GAIL.21.10 Oct
151.05
-0.82
18.52
48202200
KOTAKBANK.21.10 Oct
2152
6.33
13.45
11388800
ADANIPORTS.21.10 Oct
780.95
-2.17
16.93
101681250
JKCEMENT.21.10 Oct
3242.55
1.45
12.85
113750
POLYCAB.21.10 Oct
2217.3
-3.83
16.8
1247100
SRTRANSFIN.21.10 Oct
1501.95
4.14
12.11
4162000
BERGEPAINT.21.10 Oct
750
-6.24
16.47
4987400
POWERGRID.21.10 Oct
195.95
0.41
11.89
33523238
VOLTAS.21.10 Oct
1196.85
-4.5
15.6
2490000
                                                                        Short Covering
Long Unwinding
Stocks
Price
Price%
OI%
OI
Stocks
Price
Price %
OI %
OI
M&MFIN.21.10 Oct
193
4.16
-3.98
18704000
TATAPOWER.21.10 Oct
226.1
-2.29
-7.25
75606750
INDIGO.21.10 Oct
2052
1.63
-3.93
3297000
INDUSINDBK.21.10 Oct
1197.95
-0.68
-6.53
12943800
COALINDIA.21.10 Oct
182.6
0.74
-3.69
54087600
MPHASIS.21.10 Oct
3400
-2.12
-5.21
1648725
ABBOTINDIA.21.10 Oct
21007.9
1.28
-3.61
33350
DALBHARAT.21.10 Oct
1970.1
-0.4
-4.71
693500
SUNTV.21.10 Oct
555.8
2.24
-3.12
11637000
L&TFH.21.10 Oct
85.8
-6.28
-4.11
66376712
TOP DELIVERY PERCENTAGE
Stocks
Price
%Chg
Total Qty
Delivery
Del %
% Change
Sectors
Price
Change %
Quantity
Max Financial Services l
980.1
0.06
953559
1922728
77.13
Nifty Bank
40030.2
1.3
109296
Crompton Greaves Consume
463.9
2.14
2499907
1726180
76.2
Nifty Auto
11557.4
0.56
109296
Power Grid Corporation o
194.05
-0.15
12709911
11315668
68.86
Nifty Media
2333.8
-0.03
109296
Petronet Lng Limited
233
0.89
4224152
3488467
66.68
Nifty Pharma
14169.95
-0.05
109296
Hdfc Ltd.
2844.1
1.75
3747385
1388924
65.93
Nifty Energy
24306.4
-0.31
109296
Hindustan Unilever Ltd
2445.75
-1.33
3254632
3179193
65.35
Nifty 50
18178.1
-0.48
109296
Hdfc Bank Ltd.
1676.3
0.15
4869095
3521937
64.57
Nifty Fmcg
39354.45
-0.86
109296
Reliance Industries Ltd
2622.5
-2.88
9613812
3785182
64.53
Nifty Realty
497.85
-1.41
109296
Titan Company Limited
2395.7
-0.65
2303014
1822838
63.54
Nifty Metal
5868.4
-1.77
109296
Dabur India Ltd.
587.4
-0.89
1925145
1714478
61.57
Nifty it
35913.6
-2.53
109296
UPCOMING ECONOMIC DATA
   Domestic                                                                                                                                                  International
INR: Bank Loan Growth and Deposit Growth on 22nd October, 2021

INR: FX Reserves, USD  on 22nd October, 2021

•USD: New Home Sales (Sep) on 26th October, 2021
UPCOMING ECONOMIC DATA
•Bank of Maharashtra (BoM) posted 102.7 per cent rise, on year-on-year (Y-o-Y) – in net profit at Rs 264 crore in second quarter ended September 2021 (Q2FY22) on robust interest and fee income. It had posted a net profit of Rs 130 crore in Q2FY21. Its Net Interest Income (NII) grew by 33.84 per cent on Y-o-Y basis to Rs 1500 crore in Q2FY22 as against Rs 1,120 crore for Q2FY21. The non-Interest income was up 22.61 per cent (on Y-o-Y basis) to Rs 493 crore in Q2FY22.

•JSW steel reported its highest-ever consolidated net profit after tax (PAT) at ₹7,179 crore for the quarter ended September 30. This is an increase of 350% over last year period's profit of ₹1,595 crore. The company has also clocked its highest-ever quarterly revenue from operations at ₹32,503 crore in the reporting period. It was ₹19,264 crore in the corresponding period of last year.

•Larsen & Toubro (L&T) on Thursday said it targets to achieve carbon neutrality by 2040.The target is ahead of the Paris Agreement deadline of 2050. The management of L&T is now committed to achieve carbon neutrality by 2040, said the company's Whole-Time Director and Senior Executive Vice-President (Energy) Subramanian Sarma.

•Tata Steel Ltd.'s dollar bonds climbed by the most in 18 months after S&P Global Ratings returned the company to investment-grade status after 14 years. The ratings firm lifted Tata Steel's credit score for a third-consecutive time this year on Thursday.  S&P raised the Mumbai-based steelmaker's rating two levels to BBB- from BB, citing its expectation that Tata Steel's largest shareholder Tata Sons will likely provide extraordinary financial support if required in times of financial stress.

Source: Economic Times,  Indian Express  ,Business Today, Livemint, Business Standard, Bloomberg Quint
NEWS UPDATES
•Bank of Maharashtra (BoM) posted 102.7 per cent rise, on year-on-year (Y-o-Y) – in net profit at Rs 264 crore in second quarter ended September 2021 (Q2FY22) on robust interest and fee income. It had posted a net profit of Rs 130 crore in Q2FY21. Its Net Interest Income (NII) grew by 33.84 per cent on Y-o-Y basis to Rs 1500 crore in Q2FY22 as against Rs 1,120 crore for Q2FY21. The non-Interest income was up 22.61 per cent (on Y-o-Y basis) to Rs 493 crore in Q2FY22.

•JSW steel reported its highest-ever consolidated net profit after tax (PAT) at ₹7,179 crore for the quarter ended September 30. This is an increase of 350% over last year period's profit of ₹1,595 crore. The company has also clocked its highest-ever quarterly revenue from operations at ₹32,503 crore in the reporting period. It was ₹19,264 crore in the corresponding period of last year.

•Larsen & Toubro (L&T) on Thursday said it targets to achieve carbon neutrality by 2040.The target is ahead of the Paris Agreement deadline of 2050. The management of L&T is now committed to achieve carbon neutrality by 2040, said the company's Whole-Time Director and Senior Executive Vice-President (Energy) Subramanian Sarma.

•Tata Steel Ltd.'s dollar bonds climbed by the most in 18 months after S&P Global Ratings returned the company to investment-grade status after 14 years. The ratings firm lifted Tata Steel's credit score for a third-consecutive time this year on Thursday.  S&P raised the Mumbai-based steelmaker's rating two levels to BBB- from BB, citing its expectation that Tata Steel's largest shareholder Tata Sons will likely provide extraordinary financial support if required in times of financial stress.

Source: Economic Times,  Indian Express  ,Business Today, Livemint, Business Standard, Bloomberg Quint
BOARD MEETINGS
| | | | | | |
| --- | --- | --- | --- | --- | --- |
| Company Name | Purpose | Ex-Date | Company Name | Purpose | Ex-Date |
| APOLLOPIPES | Bonus issue;Quarterly Results | 22-Oct-21 | KIRLFER | Quarterly Results | 22-Oct-21 |
| BHARATSE | Quarterly Results | 22-Oct-21 | POLYCAB | Quarterly Results | 22-Oct-21 |
| CHENNPETRO | Quarterly Results | 22-Oct-21 | POWERINDIA | Quarterly Results | 22-Oct-21 |
| CROMPTON | Quarterly Results | 22-Oct-21 | PVR | Quarterly Results | 22-Oct-21 |
| DEEPAKFERT | General | 22-Oct-21 | RELIANCE | Quarterly Results | 22-Oct-21 |
| DODLA | Quarterly Results | 22-Oct-21 | SHANTIGEAR | Quarterly Results | 22-Oct-21 |
| FEDERALBNK | Quarterly Results | 22-Oct-21 | SSWL | Quarterly Results | 22-Oct-21 |
| GLAND | Quarterly Results | 22-Oct-21 | SUBROS | Quarterly Results | 22-Oct-21 |
| GSTL | Final Dividend | 22-Oct-21 | SUPREMEIND | Quarterly Results;Interim Dividend | 22-Oct-21 |
| HDFCLIFE | Quarterly Results | 22-Oct-21 | TATACONSUM | Employees Stock Option Plan;Results | 22-Oct-21 |
| HINDZINC | Quarterly Results | 22-Oct-21 | TATAELXSI | Quarterly Results;Audited Results | 22-Oct-21 |
| HUHTAMAKI | Quarterly Results | 22-Oct-21 | TCIDEVELOP | Quarterly Results | 22-Oct-21 |
| INOXLEISUR | Quarterly Results | 22-Oct-21 | TCIEXP | Quarterly Results;Interim Dividend | 22-Oct-21 |
| INVENTURE | Quarterly Results | 22-Oct-21 | VARDHMAN | Quarterly Results | 22-Oct-21 |
| JUBLPHARMA | Quarterly Results | 22-Oct-21 | WENDT | Quarterly Results | 22-Oct-21 |
| KAJARIACER | Quarterly Results;Interim Dividend | 22-Oct-21 | YESBANK | Quarterly Results | 22-Oct-21 |
CORPORATE ACTION
| | | | | | |
| --- | --- | --- | --- | --- | --- |
| Company Name | Ex-Date | Purpose | Company Name | Ex-Date | Purpose |
| INDOUS | 22-Oct-21 | E.G.M. | RAJRAYON | 25-Oct-21 | Resolution Plan -Suspension |
| INEOSSTYRO | 22-Oct-21 | Special Dividend – Rs. – 192.00 | CYIENT | 26-Oct-21 | Interim Dividend – Rs. – 10.00 |
| NXTDIGITAL | 22-Oct-21 | Right Issue of Equity Shares | DCMSHRIRAM | 26-Oct-21 | Interim Dividend – Rs. – 4.60 |
| PRISMX | 22-Oct-21 | Stock  Split From Rs.10/- to Rs.1/- | GOLDIAM | 26-Oct-21 | Buy Back of Shares |
| ASL | 25-Oct-21 | E.G.M. | GPIL | 26-Oct-21 | Bonus issue 1:1 |
| LTI | 25-Oct-21 | Interim Dividend – Rs. – 15.00 | GPIL | 26-Oct-21 | Stock  Split From Rs.10/- to Rs.5/- |
Disclosure in pursuance of Section 19 of SEBI (RA) Regulation 2014
Elite Wealth Limited does/does not do business with companies covered in its research reports. Investors should be aware that the Elite Wealth Limited may/may not have a conflict of interest that could affect the objectivity of this report. Investors should consider this report as only information in making their investment decision and must exercise their own judgment before making any investment decision.
For analyst certification and other important disclosures, see the Disclosure Appendix, or go to www.elitewealth.in. Analysts employed by Elite Wealth Limited are registered/qualified as research analysts with SEBI in India.( SEBI Registration No.: INH100002300)
Disclosure Appendix
Analyst Certification (For Reports)
Israil Khan, Elite Wealth Limited, suhail@elitewealth.in
The analyst(s) certify that all of the views expressed in this report accurately reflect my/our personal views about the subject company or companies and its or their securities. I/We also certify that no part of my compensation was, is or will be, directly or indirectly, related to the specific recommendations or views expressed in this report. Unless otherwise stated, the individuals listed on the cover page of this report are analysts in Elite Wealth Limited.
As to each individual report referenced herein, the primary research analyst(s) named within the report individually certify, with respect to each security or issuer that the analyst covered in the report, that:
(1) all of the views expressed in the report accurately reflect his or her personal views about any and all of the subject securities or issuers; and
(2) no part of any of the research analyst's compensation was, is, or will be directly or indirectly related to the specific recommendations or views expressed in the report.
For individual analyst certifications, please refer to the disclosure section at the end of the attached individual notes.
Research Excerpts
This note may include excerpts from previously published research. For access to the full reports, including analyst certification and important disclosures, investment thesis, valuation methodology, and risks to rating and price targets, please visit www.elitewealth.in.
Company-Specific Disclosures
Important disclosures, including price charts, are available and all Elite Wealth Limited covered companies by visiting https://www.elitewealth.in, or emailing research@elitestock.com with your request. Elite Wealth Limited may screen companies based on Strategy, Technical, and Quantitative Research. For important disclosures for these companies, please e-mail research@elitestock.com.
Options related research:
If the information contained herein regards options related research, such information is available only to persons who have received the proper option risk disclosure documents. For a copy of the risk disclosure documents, please contact your Broker's Representative or visit the OCC's website at https://www.elitewealth.in
Other Disclosures
All research reports made available to clients are simultaneously available on our client websites. Not all research content is redistributed, e-mailed or made available to third-party aggregators. For all research reports available on a particular stock, please contact your respective broker's sales person.
Ownership and material conflicts of interest Disclosure
Elite Wealth Limited policy prohibits its analysts, professionals reporting to analysts from owning securities of any company in the analyst's area of coverage. Analyst compensation: Analysts are salary based permanent employees of Elite Wealth Limited. Analyst as officer or director: Elite Wealth Limited policy prohibits its analysts, persons reporting to analysts from serving as an officer, director, board member or employee of any company in the analyst's area of coverage.
Country Specific Disclosures
India – For private circulation only, not for sale.
Legal Entities Disclosures
Mr. Ravinder Parkash Seth is the Managing Director of Elite Wealth Ltd (EWL, henceforth), having its registered office at Casa Picasso, Golf Course Extension, Near Rajesh Pilot Chowk, Radha Swami, Sector-61, Gurgaon-122001 Haryana, is a SEBI registered Research Analyst and is regulated by Securities and Exchange Board of India. Telephone:011-43035555, Facsimile: 011-22795783 and Website: www.elitewealth.in
EWL discloses all material information about itself including its business activity, disciplinary history, the terms and conditions on which it offers research report, details of associates and such other information as is necessary to take an investment decision, including the following:
1. Reports
a) EWL or his associate or his relative has no financial interest in the subject company and the nature of such financial interest;
(b) EWL or its associates or relatives, have no actual/beneficial ownership of one per cent. or more in the securities of the subject company, at the end of the month immediately preceding the date of publication of the research report or date of the public appearance;
(c) EWL or its associate or his relative, has no other material conflict of interest at the time of publication of the research report or at the time of public appearance;
2. Compensation
(a) EWL or its associates have not received any compensation from the subject company in the past twelve months;
(b) EWL or its associates have not managed or co-managed public offering of securities for the subject company in the past twelve months;
(c) EWL or its associates have not received any compensation for investment banking or merchant banking or brokerage services from the subject company in the past twelve months;
(d) EWL or its associates have not received any compensation for products or services other than investment banking or merchant banking or brokerage services from the subject company in the past twelve months;
(e) EWL or its associates have not received any compensation or other benefits from the Subject Company or third party in connection with the research report.
3 In respect of Public Appearances
(a) EWL or its associates have not received any compensation from the subject company in the past twelve months;
(b) The subject company is not now or never a client during twelve months preceding the date of distribution of the research report and the types of services provided by EWL