| | |
| --- | --- |
| FPO-Note | Adani Enterprises Limited |
| Rs. 3112 – Rs. 3276 per Equity share | Recommendation: Aggressive investors may apply |
Adani Enterprise Limited (AEL), the flagship company of the Adani group is coming with a FPO (Follow-on Public offer) of Rs.20,000 cr., which will be the largest FPO by an Indian company. Out of the net proceeds from the FPO, the company proposes to use Rs. 10,869 cr. for certain projects related to green hydrogen ecosystem, improvement works of certain existing airports and for the construction of greenfield expressway. And Rs.4,165 cr. are proposed to use for the repayment of debt taken by its road, airports and solar project subsidiaries.
---
---
About Company:
AEL is the part of Adani group which is among India's top business houses with an integrated energy and infrastructure platform and has a long track record of successfully executing large-scale projects. The company runs number of businesses ranging from mining services, airports, defence & aerospace, roads, metro & rail to edible oil & foods, catering to four core sectors – energy and utility, transportation and logistics, consumer, and primary industry. Over the decades of its operations, Adani Group has established unicorns like Adani Power, Adani Ports & SEZ, Adani Transmission, Adani Green Energy, and Adani Total Gas.
Issue Details

Objects of the issue

·Funding capital expenditure

·Repayment of certain borrowings

·General corporate purpose

Issue Size
Total issue Size – Rs. 20,000 Cr.
Face value

Rs. 1 Per Equity Share

Issue Price
Rs. 3112 – Rs. 3276
Retail Discount
Rs. 64 per share
Bid Lot
 4 Shares
Listing at

BSE, NSE

Issue Opens
27th Jan, 2023 – 31st Jan, 2023
QIB
50% of Net Issue Offer
Retail
35% of Net Issue Offer
NIB
15% of Net Issue Offer
Promoter: Gautam S. Adani and Rajesh S. Adani
Trade AnyTime AnyWhere With Elite Empower Mobile App

Financial Performance: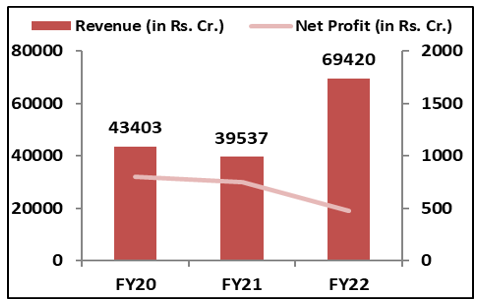 Shareholding Pattern:
| | | |
| --- | --- | --- |
| Shareholding Pattern | Pre- Issue | Post Issue |
| Promoters & Promoter Group | 72.63% | 68.73% |
| Others |  27.37% | 31.27% |
Strengths:
AEL has demonstrated track record of incubating sustainable infrastructure businesses in India.
It has emerged as the largest private operator of airports based on number of airports which gives the co. a competitive edge over other companies.
It is one of the leading global players in integrated resource management.
The company is led by strong leadership and experienced promoters.
Key Highlights:
Revenue of AEL has increased from Rs.43,403 Cr. in FY20 to Rs.69,420 Cr. in FY22 with a CAGR of 16.9% while the Net Profit has decreased significantly from 1,040 cr. in FY20 to 788 cr. in the FY22.
The Net Profit margin of the company reduced significantly from 2.4% in FY20 to 1.1% in FY22, EBITDA Margin remained at 6.8% in FY20 & FY22.
ROCE and ROE of the company stands at 6.2% and 5.9% respectively at the end of September, 2022.
Risk Factors:
AEL has Rs.40,023 cr. total debt as of 30th September, 2022, any failure to repay this debt could adversely affect the business and financial condition of the company.
The company has a widely diversified businesses across many industry verticals, ineffectiveness in the management of these businesses may adversely impact the business of the company.
Failure to execute the green hydrogen strategy could have adverse impact on the operations.
Check Adani Enterprises FPO Allotment Status
Adani Enterprises FPO allotment status would be available soon after the IPO closure date. Usually the allotment comes within a week from the closing date which in this IPO yet to be announced.
One can check the allotment on the given below link with PAN number or Application number or DP Client Id. All you need to do is to follow these steps:-
Go to Application Status
Select IPO as Adani Enterprises FPO
Enter your PAN Number or Application Id or DP Client Id.
Outlook:
AEL is an Indian multinational conglomerate which is growing rapidly with a wide range of diversified business providing an extensive range of product and services.
The company has demonstrated a track record of creating sustainable infrastructure businesses since 1993 and is focusing on incubating and expanding its green hydrogen ecosystem to support a low carbon future and also in the further development of airport business with focusing the needs of the customers.
AEL is trading at the TTM PEx of 320 at the current price, the risk-reward and valuations does not seem attractive at this point in time. Also considering the weak global cues prevailing in the market, the offering seems bit risky and we recommend only aggressive investors to apply in the FPO. The existing investors have an opportunity to add shares at the lower rates through the FPO route.