| | |
| --- | --- |
| Result Analysis: Cipla Ltd. (CMP: Rs.1,034) | Result Update: Q3FY23 |
Cipla Limited is a leading pharmaceutical company from India with presence across the world. It is the 3rd largest pharmaceutical player in India and leader in therapies such as respiratory and urology and also ranked second in the overall chronic business. The company has a vast product portfolio with more than 1,500 products in various therapeutic categories. The company's business is divided into three strategic units – APIs, Respiratory and Cipla Global Access. Its largest market is India, followed by North America and Africa.
---
---
Stock Details
Market Cap. (Cr.)
83491
Equity (Cr.)
161.43
Face Value
2
52 Wk. high/low
1185 / 880
BSE Code
500087
NSE Code
CIPLA
Book Value (Rs)
271.13
Sector
Pharmaceuticals
Key Ratios
Debt-equity:
0.08
ROCE (%):
16.83
ROE (%):
13.07
TTM EPS:
32.14
P/BV:
3.8
TTM P/E:
33.03
Result Highlights:
Cipla has reported below market estimates results in the December'22 quarter. Consolidated Revenue of the company increased by 6.04% YoY to Rs.5,810 cr. and Net profit increased by 6.44% YoY to Rs.808 cr.

EBITDA has increased by 14.33% on YoY basis to Rs.1,408cr. EBITDA margin of the company stood at 24.2%, improved sequentially as well as on YoY basis by 188bps and 176bps respectively.

Net profits of the company has shown muted growth due to the significant increase in the Finance cost (~25% QoQ and ~54% YoY) and Total tax expenditure (~35% QoQ and ~39% YoY) in the quarter.

Company's R&D expenditure increased 39% YoY due to the on-going clinical trials on respiratory segment and development in the biosimilar and the expenditure stands at Rs.363 cr. (6.2% of the total Revenue).

Consolidated capex for the quarter stood at Rs.391 cr. compared to Rs.400 cr. in the previous year same quarter.

India business reported 1.8% YoY revenue growth and remained flat on QoQ basis. It experienced growth in the respiratory, cardiac and anti-diabetic therapy areas. Consumer health business grew 16% YoY.

North America business grew strongly by 42% YoY and 11.7% QoQ on the back of expansion in the respiratory market share and peptide injectable products.

SAGA* business reported notable decline of 24% YoY and 22% QoQ due to the supply chain challenges faced by the company.

International market business has shown 3.3% YoY and -0.1% QoQ revenue growth due to the currency fluctuations.

API business has reported the revenue decline of 2% YoY and 4% QoQ.
Financial  Performance: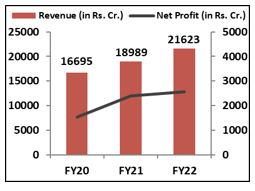 Shareholding Pattern:
| | |
| --- | --- |
| Particulars | % |
| Promoters & Promoter Group | 33.41 |
| FIIs | 29.70 |
| DIIs | 21.00 |
| Public | 15.36 |
| Others | 0.53 |
   Management Commentary:
Commenting on the December results, Umang Vohra, MD and Global CEO, said, Our Q3FY23 performance reflects sustained momentum in core One-India and US businesses driving our overall revenue growth of 6% reported and 11% on ex-covid basis. We achieved the highest ever quarterly revenue for the North America region of $195 Mn driven by the contribution of differentiated products and market share expansion in flagship respiratory and peptide franchises. Our reported operating profitability of 24.2% reflects our focused efforts on navigating external headwinds and continued higher R&D spends stemming from ongoing respiratory trials and initiation of biosimilar programs."
Outlook:
Cipla has reported overall muted performance in the December'22 quarter with stagnated growth of 6% in Revenue and 6.4% growth in the Net Profit compared to December'21 quarter on the back of lagging in the South Africa and International market business. However India and US business has remained strong reflecting market expansion and new launches in the regions. The management expects US FDA nod for gAdvair within a quarter and gAbraxane in the second half of FY24 and has maintained their EBITDA Margin guidance in the range of 21-22% for FY23. For the nine months of FY23 Cipla has reported the earnings of Rs.28.21 and we expect the company to close the FY23 at the eEPS of Rs.37.6. Based on the estimated earnings the company is available at PEx of 27.5 at the current market price.
Results:
Particulars (In Rs. Cr.)
Q3FY23
Q2FY23
Q3FY22
QoQ%
YoY%
9MFY23
9MFY22
FY22
Revenue from Operations
5,810
5,829
5,479
-0.32%
6.04%
17,014
16,503
21,763
Other Income
114
123
91
-6.92%
25.36%
341
217
281
Total Income
5,925
5,951
5,570
-0.45%
6.36%
17,355
16,720
22,044
Cost of materials consumed
1,299
1,433
1,525
-9.35%
-14.80%
4,255
4,321
5,533
Purchase of stock-in trade
712
682
717
4.31%
-0.69%
2,047
2,940
3,687
Changes in inventories
6
45
98
-85.94%
-93.55%
113
912
725
Employee expense
949
961
872
-1.26%
8.74%
2,865
2,638
3,530
Other Expense
1,450
1,405
1,232
3.15%
17.65%
4,106
3,714
5,185
EBITDA
1,408
1,302
1,231
8.08%
14.33%
3,853
3,803
4,553
EBITDA Margin (%)
24.2%
22.3%
22.5%
188 bps
176 bps
22.6%
23.0%
20.9%
Finance Cost
32
26
21
24.54%
53.87%
75
88
106
Depreciation & Amortisation expense
272
299
247
-9.11%
9.96%
826
762
1052
Exceptional Items
–
–
–
–
–
–
-125
-182
Profit Before Tax
1,218
1,100
1,054
10.70%
15.53%
3,293
3045
3493
Tax
410
303
295
35.50%
38.91%
981
862
934
Profit After Tax
808
798
759
1.29%
6.44%
2312
2183
2559
PAT Margin (%)
13.9%
13.7%
13.9%
22 bps
5 bps
13.6%
13.2%
11.8%
EPS (in Rs.)
9.92
9.78
9.03
1.43%
9.86%
28.21
26.71
31.2
Segment Revenue (In Rs. Cr.)
Q3FY23
Revenue%
Q2FY23
QoQ%
Q3FY22
YoY%
Pharmaceuticals
5,589
96.2%
5,654
-1.1%
5,377
3.9%
New Ventures
312
5.4%
315
-0.9%
127
145.7%
Less: Inter Segment Revenue
91
–
140
–
26
–
Total
5,810
–
5,829
–
5,479
–
Business-wise Sales Performance
Q3FY23
Revenue%
Q2FY23
Q3FY22
QoQ%
India
2563
44.1%
2563
2518
0.0%
North America
1600
27.5%
1432
1124
11.7%
SAGA*
680
11.7%
867
892
-21.6%
International Markets*
762
13.1%
763.0
738
-0.1%
API
147
2.5%
153.0
150
-3.9%
Others
58
1.0%
51.0
56
13.7%
Total
5,810
100.0%
5,829
5,478
-0.3%
*SAGA: South Africa, Sub – Saharan and Cipla Global Access
* International markets: Emerging markets and Europe
Source: Company website, EWL Research
Disclosure in pursuance of Section 19 of SEBI (RA) Regulation 2014
Elite Wealth Limited does/does not do business with companies covered in its research reports. Investors should be aware that the Elite Wealth Limited may/may not have a conflict of interest that could affect the objectivity of this report. Investors should consider this report as only information in making their investment decision and must exercise their own judgment before making any investment decision.
For analyst certification and other important disclosures, see the Disclosure Appendix, or go to www.elitewealth.in. Analysts employed by Elite Wealth Limited are registered/qualified as research analysts with SEBI in India.( SEBI Registration No.: INH100002300)
Disclosure Appendix
Analyst Certification (For Reports)
Israil Khan, Elite Wealth Limited, suhail@elitewealth.in
The analyst(s) certify that all of the views expressed in this report accurately reflect my/our personal views about the subject company or companies and its or their securities. I/We also certify that no part of my compensation was, is or will be, directly or indirectly, related to the specific recommendations or views expressed in this report. Unless otherwise stated, the individuals listed on the cover page of this report are analysts in Elite Wealth Limited.
As to each individual report referenced herein, the primary research analyst(s) named within the report individually certify, with respect to each security or issuer that the analyst covered in the report, that:
(1) all of the views expressed in the report accurately reflect his or her personal views about any and all of the subject securities or issuers; and
(2) no part of any of the research analyst's compensation was, is, or will be directly or indirectly related to the specific recommendations or views expressed in the report.
For individual analyst certifications, please refer to the disclosure section at the end of the attached individual notes.
Research Excerpts
This note may include excerpts from previously published research. For access to the full reports, including analyst certification and important disclosures, investment thesis, valuation methodology, and risks to rating and price targets, please visit www.elitewealth.in.
Company-Specific Disclosures
Important disclosures, including price charts, are available and all Elite Wealth Limited covered companies by visiting https://www.elitewealth.in, or emailing research@elitestock.com with your request. Elite Wealth Limited may screen companies based on Strategy, Technical, and Quantitative Research. For important disclosures for these companies, please e-mail research@elitestock.com.
Options related research:
If the information contained herein regards options related research, such information is available only to persons who have received the proper option risk disclosure documents. For a copy of the risk disclosure documents, please contact your Broker's Representative or visit the OCC's website at https://www.elitewealth.in
Other Disclosures
All research reports made available to clients are simultaneously available on our client websites. Not all research content is redistributed, e-mailed or made available to third-party aggregators. For all research reports available on a particular stock, please contact your respective broker's sales person.
Ownership and material conflicts of interest Disclosure
Elite Wealth Limited policy prohibits its analysts, professionals reporting to analysts from owning securities of any company in the analyst's area of coverage. Analyst compensation: Analysts are salary based permanent employees of Elite Wealth Limited. Analyst as officer or director: Elite Wealth Limited policy prohibits its analysts, persons reporting to analysts from serving as an officer, director, board member or employee of any company in the analyst's area of coverage.
Country Specific Disclosures
India – For private circulation only, not for sale.
Legal Entities Disclosures
Mr. Ravinder Parkash Seth is the Managing Director of Elite Wealth Ltd (EWL, henceforth), having its registered office at Casa Picasso, Golf Course Extension, Near Rajesh Pilot Chowk, Radha Swami, Sector-61, Gurgaon-122001 Haryana, is a SEBI registered Research Analyst and is regulated by Securities and Exchange Board of India. Telephone:011-43035555, Facsimile: 011-22795783 and Website: www.elitewealth.in
EWL discloses all material information about itself including its business activity, disciplinary history, the terms and conditions on which it offers research report, details of associates and such other information as is necessary to take an investment decision, including the following:
1. Reports
a) EWL or his associate or his relative has no financial interest in the subject company and the nature of such financial interest;
(b) EWL or its associates or relatives, have no actual/beneficial ownership of one per cent. or more in the securities of the subject company, at the end of the month immediately preceding the date of publication of the research report or date of the public appearance;
(c) EWL or its associate or his relative, has no other material conflict of interest at the time of publication of the research report or at the time of public appearance;
2. Compensation
(a) EWL or its associates have not received any compensation from the subject company in the past twelve months;
(b) EWL or its associates have not managed or co-managed public offering of securities for the subject company in the past twelve months;
(c) EWL or its associates have not received any compensation for investment banking or merchant banking or brokerage services from the subject company in the past twelve months;
(d) EWL or its associates have not received any compensation for products or services other than investment banking or merchant banking or brokerage services from the subject company in the past twelve months;
(e) EWL or its associates have not received any compensation or other benefits from the Subject Company or third party in connection with the research report.
3 In respect of Public Appearances
(a) EWL or its associates have not received any compensation from the subject company in the past twelve months;
(b) The subject company is not now or never a client during twelve months preceding the date of distribution of the research report and the types of services provided by EWL