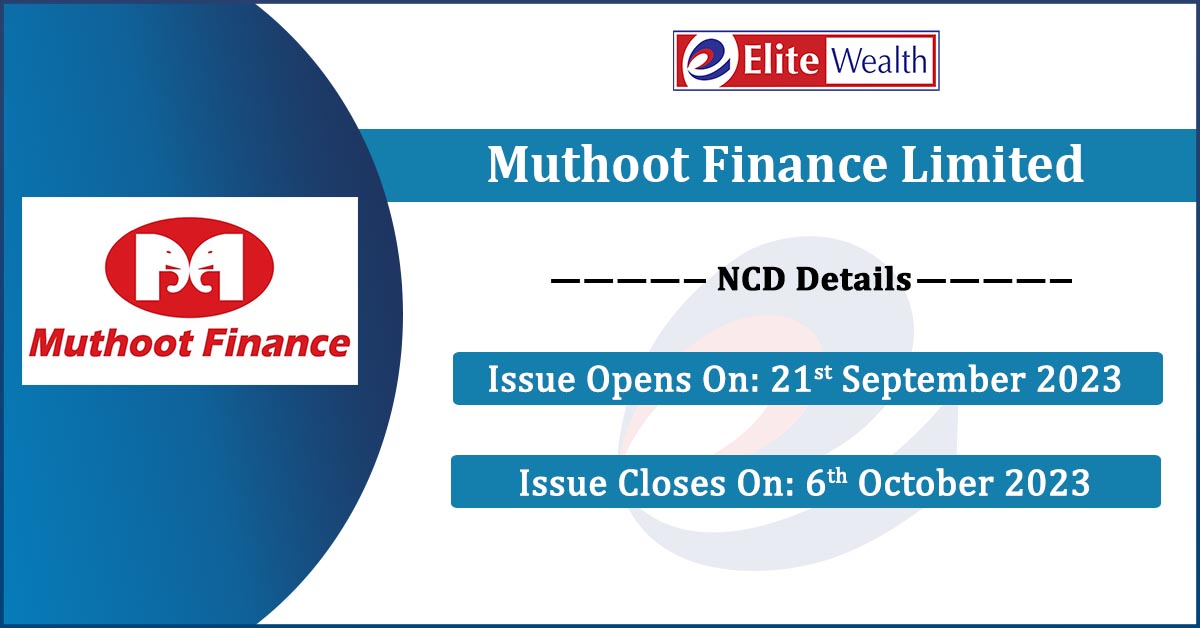 Muthoot Finance Limited NCD Company Profile:
Muthoot Finance Limited is a gold financing company. The business offers loans (finance) secured by gold jewelry as a non-banking financial corporation (NBFC). The business is divided into the financing and the power generating areas. For a fair duration, the organization offers personal and business loans (backed by gold jewelry), particularly to those without formal credit who need the money for short-term working capital needs. The company provides domestic money transfer services, instant money transfer services, foreign inward money transfer services, insurance broking, personal loans, home loans, business loans, collection services, microfinance, windmill power generation, white label automated teller machines, and gold loans. In India, the organization maintains a network of more than 5,190 branches.
Muthoot Finance Limited is coming out with a debt offering of Secured Redeemable Non-Convertible Debentures with a face value of Rs. 1000 each, Base Issue size of ₹ 100 Crore with an option to retain oversubscription up to ₹ 600 Crores aggregating up to ₹ 700 crores being the Tranche-II Issue size. The issue opens for subscription on Thursday, 21st September 2023, and will close on or before Friday, 6th October 2023. The allotment is on a first come first serve basis with the minimum application to be made of 10 NCDs. A minimum of 75% of the Net Proceeds raised through this Tranche-II Issue will be utilized For the purpose of lending and the remaining 25% for general corporate purposes.
---
---
Muthoot Finance Limited NCD Details:
Tranche II Issue opens:
Thursday, 21st September 2023
Tranche II Issue closes:
Friday, 6th October 2023
Allotment:
First Come First Serve Basis
Face Value:
₹ 1,000 per NCD
Nature of Instrument:
Secured Redeemable Non-Convertible Debenture ("NCDs")
Minimum Application:
10 NCDs (₹ 10, 000) & in multiple of 1NCD
Listing:
Proposed on BSE
Credit Rating:
"AA+/Stable" by ICRA
Tranche II Issue Size:
Base Issue size of ₹ 100 Crore with an option to retain oversubscription up to ₹ 600 Crore aggregating up to ₹ 700 crore being the Tranche-II Issue size.
Registrar:
Link Intime India Pvt Ltd
Category
I – Institutional ("QIB")
II – Non-Institutional ("Corporates")
III – High Net worth

Individual ("HNI")

(Amount aggregating to

above ₹ 10 lakh)

IV – Retail Individual ("Retail") (Amount aggregating up to and including ₹ 10 lakh)
Category Allocation of the overall Issue Size
5%
20%
25%
50%
Bucket Size (₹) assuming Issue size of ₹ 700 Cr
₹ 35  Cr
₹ 140 Cr
₹ 175 Cr
₹ 350 Cr
The terms of the NCDs offered under the Issue are as follows:
Specific Terms of the Prospectus:
Series
I
II
III
IV
V
VI
VII
Frequency of Interest Payment
Monthly
Monthly
Annually
Annually
Annually
Cumulative
Cumulative
Tenor
36 months
60 months
24 months
36 months
60 months
24 months
60 months
Base Coupon Rate (% p.a.) for NCD Holders in:
Category I, II, III & IV
7.75%
7.75%
7.75%
8.00%
8.00%
NA
NA
Coupon Rate (%p.a.) with Additional incentive on Base Coupon Rate on any Record Date as applicable to Category II, III & IV
Category I
7.75%
7.75%
7.75%
8.00%
8.00%
NA
NA
Category II, III & IV
8.75%
8.75%
8.75%
9.00%
9.00%
NA
NA
Effective Yield (% p.a.) for :
Category I
7.75%
7.75%
7.75%
8.00%
8.00%
8.00%
8.00%
Category II, III & IV
8.75%
8.75%
8.75%
9.00%
9.00%
9.00%
9.00%
Amount (₹ / NCD) on Maturity for ^ :
Category I
₹ 1,000/-
₹ 1,000/-
₹ 1,000/-
₹ 1,000/-
₹ 1,000/-
₹ 1,259.71/-
₹1,469.33/-
Category II, III & IV
₹ 1,000/-
₹ 1,000/-
₹ 1,000/-
₹ 1,000/-
₹ 1,000/-
₹ 1,295.03/-
₹1,538.62/-