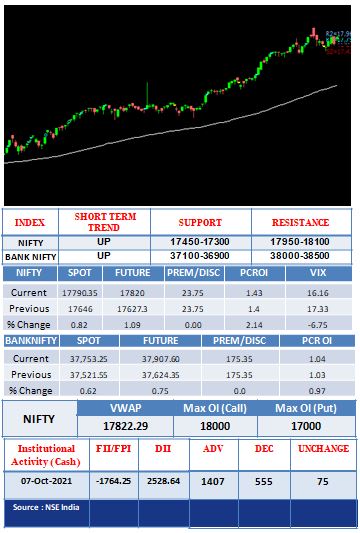 NIFTY:
The Nifty opened at 17810.55 with a big gap up of 164 points. The index first consolidated and recorded its intraday low at 17763.8. That consolidation broke on the upside. Prices have seen an intraday rally of almost 50 points and recorded its intraday high at 17857.55. The index did not sustain long around these highs and started drifting downwards. Prices have seen a decline of more than 50 points towards the end of the trading session and finally closed at 17790.35 with a gain of 144.35 points. All the sectoral indices have seen an upside more and closed higher. AUTO and Metal led the bulls and closed higher by 6.16% and 4.39% respectively. FMCG and Financials have contributed the least and closed with marginal gains.
The Nifty traded in a narrow range after opening with a big gap up. The intraday range was about 94 points and the index ended just below 17800. Randomness is seen in the market. A range is also visible of 17450 – 17950.The index has rallied about 2000 points in the last 2 months without much correction. Prices do not move in a straight line. They consolidate or correct.
BANK NIFTY:
Bank Nifty opened at 37894 with a big gap up of 415 points. The index first moved down and recorded its intraday low at 37650.25. Prices then started moving higher and recorded its intraday high at 37923.65. The index consolidated around that range and closed with a gain of more than 200 points. Private and PSU Banks have seen an upside move and closed higher by 1.07% and 0.64% respectively. Within the index, ICICI Bank contributed highest while HDFC Bank the lowest.
A trading range inside 37000-38000 remained intact. Prices have opened with a gap up and closed higher.
TECHNICAL PICKS
| | | | |
| --- | --- | --- | --- |
| COMPANY  | CMP | B/S | RATIONALE |
| SUNPHARMA | 823 | BUY | The stock has given a breakout from a narrow trading range. The stock can be bought at CMP with a stop at 815 and for the target 833 |
| GAIL | 159.65 | SELL | The stock has given a breakout from a narrow trading range. The stock can be bought at CMP with a stop at 163 and for the target 155 |
DERIVATIVE PICKS
| | | | | | | | |
| --- | --- | --- | --- | --- | --- | --- | --- |
| STOCK OPTION | Strike Price | Buy/Sell | CMP | Initiation | Stop Loss | Target | Remarks |
| EXIDE | 185 CE | BUY | 7.95 | CMP | 6 | 10.5 | OI increase |
Long Buildup
Short Buildup
Stocks
Price
Price%
OI %
OI
Stocks
Price
Price%
OI %
OI
CIPLA.21.10 Oct
919.8
0.56
17
11950900
INDUSTOWER.21.10 Oct
301
-3.37
31.26
15694000
TATAMOTORS.21.10 Oct
380.2
13.07
16.92
107949450
ALKEM.21.10 Oct
3940
-0.2
12.82
471600
ULTRACEMCO.21.10 Oct
7393.95
0.14
14.72
2003900
DALBHARAT.21.10 Oct
2095.9
-0.24
7.66
295250
BATAINDIA.21.10 Oct
1957.6
7.02
14.08
2072400
HINDUNILVR.21.10 Oct
2671.15
-0.33
7.38
5799000
IPCALAB.21.10 Oct
2351.4
3.44
13.37
776475
NESTLEIND.21.10 Oct
19085.05
-0.77
7.23
292250
                                                                        Short Covering
Long Unwinding
Stocks
Price
Price%
OI%
OI
Stocks
Price
Price %
OI %
OI
BANKNIFTY.21.10 Oct
37907.6
0.75
-6.6
1773075
ONGC.21.10 Oct
161.2
-4.3
-4.9
57388100
AUBANK.21.10 Oct
1211
0.47
-3.54
4461000
PNB.21.10 Oct
39.85
-0.5
-1.16
304848000
GODREJCP.21.10 Oct
1034
1.49
-3.06
5162000
NATIONALUM.21.10 Oct
96.8
-0.26
-0.75
100810000
IBULHSGFIN.21.10 Oct
244.75
1.35
-3.05
40554200
DEEPAKNTR.21.10 Oct
2888.5
-0.3
-0.69
2741500
MCDOWELL-N.21.10 Oct
906
3.32
-2.87
15116250
JINDALSTEL.21.10 Oct
408.95
-0.54
-0.33
39980000
TOP DELIVERY PERCENTAGE
Stocks
Price
%Chg
Total Qty
Delivery
Del %
% Change
Sectors
Price
Change %
Quantity
Alembic Pharmaceuticals
777.9
-0.1
214567
604382
80.03
Nifty Realty
532.65
6.16
83490
Icici Lombard General In
1548.55
-0.32
576382
821218
73.72
Nifty Auto
11031.8
4.39
83490
Nestleind
19045.65
-0.58
47695
49471
68.13
Nifty it
35703.85
1.79
83490
Hdfc Bank Ltd.
1610.5
-0.27
5632862
6227027
66.95
Nifty Media
2234.4
0.95
83490
Infosys Limited
1691
1.04
5476108
2859420
66.94
Nifty 50
17790.35
0.82
83490
Maruti Suzuki India Ltd
7492.5
4.07
1646727
476939
65.63
Nifty Pharma
14562.2
0.69
83490
Kotak Mahindra Bank Limi
1952.45
-0.17
2222130
1953091
65.56
Nifty Bank
37753.2
0.62
83490
Hdfc Ltd.
2727
-0.87
2247842
2347027
65.46
Nifty Metal
5659.95
0.58
83490
Icici Bank Ltd.
702.2
1.84
10041549
8588736
65.06
Nifty Fmcg
40226.4
0.15
83490
Alkem
3909.85
-0.66
344171
95810
63.23
Nifty Energy
23804.4
-0.39
83490
UPCOMING ECONOMIC DATA
   Domestic                                                                                                                                                  International
INR: RBI Interest Rate Decision on 8th October, 2021

INR: Deposit and Loan Growth Rate on 8th October, 2021

•USD: Unemployment Rate (Sep) on 8th October, 2021

•USD: Nonfarm Payroll on 8th October, 2021
NEWS UPDATES
•Speculation is rise in Tamil Nadu about a possible takeover of Ford India unit at Maraimalai Nagar in Chennai, after Tata Group conducted two rounds of high-level talks with Tamil Nadu (TN) Chief Minister (CM) M K Stalin within a span of two weeks. On Wednesday, Tata Sons Chairman N Chandrasekaran met Stalin and state Industries Minister Thangam Thennarasu.

•The National Company Law Tribunal (NCLT) on Thursday adjourned the hearing on Invesco's petition seeking convening of shareholders' meet by Zee Entertainment Enterprises Ltd (ZEEL), saying it will wait for the appellate tribunal's order related to the matter. The hearing was adjourned for Friday little over an hour after the National Company Law Appellate Tribunal (NCLAT) said it will pass an order later in the day in connection with the matter.

•Emami Agrotech, the edible oil and bio-diesel arm of the diversified group, is eyeing a turnover of Rs 25,000 crore by 2025 on higher volumes. The company is looking to close the current financial year 2021-2022 with a turnover of around Rs 20,000 crore; in FY 2020-2021, it had clocked in a turnover of Rs 12,000 crore.

•Fitch Ratings has cut India's economic growth forecast to 8.7 per cent for the current fiscal but raised GDP growth projection for FY23 to 10 per cent, saying the second COVID-19 wave delayed rather than derail the economic recovery. In its APAC Sovereign Credit Overview, Fitch Ratings said India's 'BBB-/Negative' sovereign rating "balances a still-strong medium-term growth outlook and external resilience from solid foreign- reserve buffers, against high public debt, a weak financial sector and some lagging structural factors".

Source: Economic Times,  Indian Express  ,Business Today, Livemint, Business Standard, Bloomberg Quint
BOARD MEETINGS
| | | | | | |
| --- | --- | --- | --- | --- | --- |
| Company Name | Purpose | Ex-Date | Company Name | Purpose | Ex-Date |
| BESTAGRO | General | 08-Oct-21 | TCS | Interim Dividend;Quarterly Results | 08-Oct-21 |
| CGVAK | General | 08-Oct-21 | UDAYJEW | General | 08-Oct-21 |
| EARUM | Stock  Split | 08-Oct-21 | INDOUS | Interim Dividend;Bonus issue;Pref. Issue | 09-Oct-21 |
| ECORECO | Quarterly Results | 08-Oct-21 | POLYCHMP | Preferential Issue of shares | 09-Oct-21 |
| ICSL | Quarterly Results | 08-Oct-21 | SANTETX | Issue Of Warrants | 09-Oct-21 |
| KANELIND | Quarterly Results | 08-Oct-21 | SHINDL | Quarterly Results | 09-Oct-21 |
| MISHTANN | Interim Dividend;Quarterly Results | 08-Oct-21 | SLSTLQ | Audited Results | 09-Oct-21 |
| NATURAL | Quarterly Results | 08-Oct-21 | TEXRAIL | General;Right Issue of Equity Shares | 09-Oct-21 |
| PARSHVA | General | 08-Oct-21 | VAKRANGEE | Quarterly Results | 09-Oct-21 |
| PRISMX | Stock  Split;General | 08-Oct-21 | YASHO | Preferential Issue of shares | 09-Oct-21 |
| SIPTL | Quarterly Results | 08-Oct-21 | ZGAEKWAR | A.G.M.;Quarterly Results | 09-Oct-21 |
| SUNRETAIL | Half Yearly Results | 08-Oct-21 | ALKASEC | General | 11-Oct-21 |
CORPORATE ACTION
| | | | | | |
| --- | --- | --- | --- | --- | --- |
| Company Name | Ex-Date | Purpose | Company Name | Ex-Date | Purpose |
| DCMSRMIND | 08-Oct-21 | Stock  Split From Rs.10/- to Rs.2/- | DHANVARSHA | 13-Oct-21 | Stock  Split From Rs.10/- to Rs.2/- |
| ASIANTILES | 11-Oct-21 | Final Dividend – Rs. – 0.50 | INFRATRUST | 13-Oct-21 | Income Distribution (InvIT) |
| GENSOL | 11-Oct-21 | Bonus issue 1:3 | JTLINFRA | 13-Oct-21 | Stock  Split From Rs.10/- to Rs.2/- |
| MANINFRA | 13-Oct-21 | Interim Dividend – Rs. – 1.2600 | LANCER | 13-Oct-21 | Bonus issue 2:1 |
| ADVITIYA | 13-Oct-21 | Bonus issue 44100 | SRF | 13-Oct-21 | Bonus issue 4:1 |
| BNRSEC | 13-Oct-21 | E.G.M. | NORBTEAEXP | 14-Oct-21 | E.G.M. |
Disclosure in pursuance of Section 19 of SEBI (RA) Regulation 2014
Elite Wealth Limited does/does not do business with companies covered in its research reports. Investors should be aware that the Elite Wealth Limited may/may not have a conflict of interest that could affect the objectivity of this report. Investors should consider this report as only information in making their investment decision and must exercise their own judgment before making any investment decision.
For analyst certification and other important disclosures, see the Disclosure Appendix, or go to www.elitewealth.in. Analysts employed by Elite Wealth Limited are registered/qualified as research analysts with SEBI in India.( SEBI Registration No.: INH100002300)
Disclosure Appendix
Analyst Certification (For Reports)
Israil Khan, Elite Wealth Limited, suhail@elitewealth.in
The analyst(s) certify that all of the views expressed in this report accurately reflect my/our personal views about the subject company or companies and its or their securities. I/We also certify that no part of my compensation was, is or will be, directly or indirectly, related to the specific recommendations or views expressed in this report. Unless otherwise stated, the individuals listed on the cover page of this report are analysts in Elite Wealth Limited.
As to each individual report referenced herein, the primary research analyst(s) named within the report individually certify, with respect to each security or issuer that the analyst covered in the report, that:
(1) all of the views expressed in the report accurately reflect his or her personal views about any and all of the subject securities or issuers; and
(2) no part of any of the research analyst's compensation was, is, or will be directly or indirectly related to the specific recommendations or views expressed in the report.
For individual analyst certifications, please refer to the disclosure section at the end of the attached individual notes.
Research Excerpts
This note may include excerpts from previously published research. For access to the full reports, including analyst certification and important disclosures, investment thesis, valuation methodology, and risks to rating and price targets, please visit www.elitewealth.in.
Company-Specific Disclosures
Important disclosures, including price charts, are available and all Elite Wealth Limited covered companies by visiting https://www.elitewealth.in, or emailing research@elitestock.com with your request. Elite Wealth Limited may screen companies based on Strategy, Technical, and Quantitative Research. For important disclosures for these companies, please e-mail research@elitestock.com.
Options related research:
If the information contained herein regards options related research, such information is available only to persons who have received the proper option risk disclosure documents. For a copy of the risk disclosure documents, please contact your Broker's Representative or visit the OCC's website at https://www.elitewealth.in
Other Disclosures
All research reports made available to clients are simultaneously available on our client websites. Not all research content is redistributed, e-mailed or made available to third-party aggregators. For all research reports available on a particular stock, please contact your respective broker's sales person.
Ownership and material conflicts of interest Disclosure
Elite Wealth Limited policy prohibits its analysts, professionals reporting to analysts from owning securities of any company in the analyst's area of coverage. Analyst compensation: Analysts are salary based permanent employees of Elite Wealth Limited. Analyst as officer or director: Elite Wealth Limited policy prohibits its analysts, persons reporting to analysts from serving as an officer, director, board member or employee of any company in the analyst's area of coverage.
Country Specific Disclosures
India – For private circulation only, not for sale.
Legal Entities Disclosures
Mr. Ravinder Parkash Seth is the Managing Director of Elite Wealth Ltd (EWL, henceforth), having its registered office at Casa Picasso, Golf Course Extension, Near Rajesh Pilot Chowk, Radha Swami, Sector-61, Gurgaon-122001 Haryana, is a SEBI registered Research Analyst and is regulated by Securities and Exchange Board of India. Telephone:011-43035555, Facsimile: 011-22795783 and Website: www.elitewealth.in
EWL discloses all material information about itself including its business activity, disciplinary history, the terms and conditions on which it offers research report, details of associates and such other information as is necessary to take an investment decision, including the following:
1. Reports
a) EWL or his associate or his relative has no financial interest in the subject company and the nature of such financial interest;
(b) EWL or its associates or relatives, have no actual/beneficial ownership of one per cent. or more in the securities of the subject company, at the end of the month immediately preceding the date of publication of the research report or date of the public appearance;
(c) EWL or its associate or his relative, has no other material conflict of interest at the time of publication of the research report or at the time of public appearance;
2. Compensation
(a) EWL or its associates have not received any compensation from the subject company in the past twelve months;
(b) EWL or its associates have not managed or co-managed public offering of securities for the subject company in the past twelve months;
(c) EWL or its associates have not received any compensation for investment banking or merchant banking or brokerage services from the subject company in the past twelve months;
(d) EWL or its associates have not received any compensation for products or services other than investment banking or merchant banking or brokerage services from the subject company in the past twelve months;
(e) EWL or its associates have not received any compensation or other benefits from the Subject Company or third party in connection with the research report.
3 In respect of Public Appearances
(a) EWL or its associates have not received any compensation from the subject company in the past twelve months;
(b) The subject company is not now or never a client during twelve months preceding the date of distribution of the research report and the types of services provided by EWL