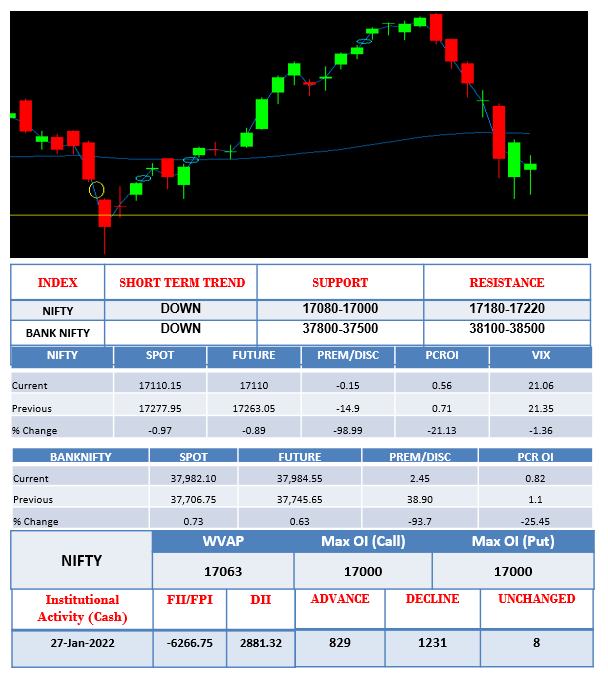 NIFTY:
NIFTY opened at 17062 with a big gap down of 215 points. The index continued its bearish momentum and fell further to nearly 200 to record its intraday low at 16866.75. Prices have found intraday support there and started moving on the upside. The index broke its early morning highs in the afternoon and kept on moving higher. The index recorded its intraday high at 17182.50 and failed to fill the gap down. A minor correction came in the last hour of trading and the index finally closed at 17110.15 with a loss of 167.80 points or 0.97% down. BANK,AUTO, and MEDIA outperformed today and closed higher. IT,REALTY, PHARMA, and FMCG have led the bears today and closed lower by more than 1%.
The short-term trend is sideways and it will be sideways as far as prices are trading between the 17000 – 17300 range. A close above 17300 will suggest us a buying opportunity while a close below 17000 will suggest us going short in the markets. We should avoid trading the index at least for this week as trading in volatile markets gives a lot of whipsaws. We should wait for prices to stabilize first and then we will plan our trade accordingly.
BANK NIFTY:
BANK NIFTY opened at 37058.20 with a big gap down of 656 points. The index first consolidated in a tight narrow range and recorded its intraday low at 37012.25.Prices then broke out and saw a sharp intraday rally to record its intraday high at 38147.65.The index finally closed at 38094.90 with again of 380 points. PSU BANKS have continued its outperformance and closed higher by 5.07%.PVT BANKS have also moved up today and ended with a marginal gain of 0.51%.Withinthe index, in terms of points, AXIS BANK contributed the highest while ICICI BANKS contributed the lowest.
As of now we do not have an adequate trading setup. We will get a trading opportunity soon when the volatility cools down. TiIl then avoid trading the index.
TECHNICAL PICKS
| | | | |
| --- | --- | --- | --- |
| COMPANY NAME | CMP | B/S | RATIONALE+ |
| POLYCAB | 2489 | BUY | The stock is on the verge of giving the breakout on the intraday as well as the daily chart. The stock can be buy above 2490 with a stop loss of 2470 and for the target of 2540. |
| LUPIN | 888 | SELL | The  immediate trend of the script is bearish. There is a negative cross over of moving averages  as well as of the indicators therefore  it can be sold below 886 with a stop loss of 896 and target  of 870. |
DERIVATIVE PICKS
| | | | | | | | |
| --- | --- | --- | --- | --- | --- | --- | --- |
| Stock Name | Strike Price | Buy/Sell | CMP | Initiation | Stop Loss | Target | Remarks |
| CANBK |   245 CE | BUY | 10 | CMP | 7 | 16 | OI Increase |
Long Buildup
Short Buildup
Stocks
Price
Price%
OI %
OI
Stocks
Price
Price%
OI %
OI
SUNPHARMA.Jan 27
810.25
0.09
1.89
5838700
SHREECEM.Jan 27
23964.2
-2.25
0.43
52900
HAL.Jan 27
1423.5
0.09
1.3
1625925
POWERGRID.Jan 27
214.8
-1.9
0.56
10495344
ONGC.Jan 27
164.9
0.09
3.48
45568600
NBCC.Jan 27
45.7
-1.08
0.91
14616000
ITC.Jan 27
215.1
0.16
4.26
52921600
SAIL.Jan 27
96.4
-1.23
1.26
59774000
M&M.Jan 27
859.8
0.52
20.9
4134900
RELIANCE.Jan 27
2345.05
-1.22
1.3
10679250
                                                                        Short Covering
                                                                      Long Unwinding
Stocks
Price
Price%
OI %
OI
Stocks
Price
Price%
OI %
OI
BEL.Jan 27
204.4
0.05
-14.42
9541800
INDIAMART.Jan 27
4540
-9.14
-23.37
69600
NATIONALUM.Jan 27
107.3
0.19
-8.26
57103000
COFORGE.Jan 27
4411.8
-7.8
-7.45
212500
MANAPPURAM.Jan 27
153.5
0.23
-17.17
4473000
DALBHARAT.Jan 27
1712.8
-7.05
-30.38
90500
CUB.Jan 27
143.5
0.24
-4.9
2441200
SRF.Jan 27
2349.65
-5.14
-37.39
558750
BANKNIFTY.Jan 27
37984.55
0.7
-50.63
474025
LTTS.Jan 27
4358.55
-4.93
-3.91
285400
TOP DELIVERY PERCENTAGE
Stocks
Price
%Chg
Total Qty
Delivery
Del %
% Change
Sectors
Price
Change %
Quantity
Whirlpool
1791.7
0.64
238277
0
81.08
Nifty 50
17110.15
-0.97
80949
Max Financial Services l
894.3
1.07
865685
0
78.22
Nifty Bank
37982.1
0.73
80952
Dabur India Ltd.
529.05
-2.53
2183776
0
68.19
Nifty it
33475.05
-3.55
80952
Infosys Limited
1678.6
-2.53
11231734
0
68.01
Nifty Auto
11561.6
0.34
80955
Hdfc Ltd.
2503.35
-1.08
6600059
0
66.78
Nifty Metal
5445.9
-0.72
80955
Hindustan Unilever Ltd
2295.35
-1.37
2620474
0
66.47
Nifty Media
2185.5
0.59
80955
Tata Consultancy Serv Lt
3649.25
-3.2
5718297
0
62.9
India Vix
21.07
-1.38
80952
Mah & Mah Ltd.
858.05
0.42
2927566
0
62.39
Nifty Fmcg
35966.8
-1.14
80949
Asian Paints Limited
3116.95
-0.96
1834684
0
62.22
Nifty Realty
462.1
-1.81
80955
Piind
2373.5
-2.24
516832
0
61.22
Nifty Pharma
12847.9
-1.87
80955
Ultratech Cement Limited
7100.7
0.03
418032
0
60.98
Nifty Financial Services
17763.15
-0.15
80955
UPCOMING ECONOMIC DATA
   Domestic                                                                                                                                                  International
INR:  FX Reserves, USD on 28th January, 2022

INR:  Bank Loan and Deposit growth  on 28th January, 2022

•USD:  ISM Manufacturing PMI (Jan) on 1st February 2022

•
NEWS UPDATES
Bharti Airtel on Thursday announced that its subsidiary Airtel Africa has been included in the FTSE 100 Index, which includes the top 100 companies on the London Stock exchange, with effect from January 31, 2022. Airtel Africa was listed on the London Stock Exchange in June 2019. This is a significant milestone for Airtel Africa, which becomes part of the FTSE 100 in just two and a half years of listing on the London Stock Exchange joining the most valuable companies.
Larsen & Toubro Infotech, a global technology consulting and digital solutions company is partnering with IIT Madras, one of India's leading research institutes, for collaborative research in the field of 5G. Through this collaboration, LTI and IIT Madras aim to innovate in the emerging 5G space and enable 5G frameworks validation, low-frequency RF deployments and use case testing with 5G testbed.
Wockhardt on Thursday reported a consolidated net profit of Rs 1.77 crore for the third quarter ended December 31, 2021. The company had posted a net profit of Rs 32.4 crore in the same period of 2020-21 fiscal. Income from continuing operations rose to Rs 853.89 crore in the third quarter as against Rs 764.02 crore in the October-December period of the previous fiscal, Wockhardt said in a regulatory filing.
Tata Sons Pvt formally took charge of debt-laden Air India Ltd., ending years of failed attempts to sell the money-losing airline that has been kept afloat with billions of dollars of taxpayer money.
Source: Economic Times, Indian Express ,Business Today, Livemint, Business Standard, Bloomberg Quint
BOARD MEETINGS
| | | | | | |
| --- | --- | --- | --- | --- | --- |
| Company Name | Purpose | Ex-Date | Company Name | Purpose | Ex-Date |
| 3IINFOTECH | Quarterly Results | 28-Jan-22 | FLUOROCHEM | Quarterly Results | 28-Jan-22 |
| ATUL | Quarterly Results | 28-Jan-22 | GSFC | Quarterly Results | 28-Jan-22 |
| AUBANK | Quarterly Results | 28-Jan-22 | HAPPSTMNDS | Quarterly Results;General | 28-Jan-22 |
| AUROLAB | General;Quarterly Results | 28-Jan-22 | KOTAKBANK | Quarterly Results | 28-Jan-22 |
| BAJAJHCARE | Quarterly Results | 28-Jan-22 | KTKBANK | Quarterly Results | 28-Jan-22 |
| BEL | Interim Dividend;Quarterly Results | 28-Jan-22 | LT | Quarterly Results | 28-Jan-22 |
| BHARTIARTL | Preferential Issue of shares | 28-Jan-22 | MARICO | Interim Dividend;Quarterly Results | 28-Jan-22 |
| BLUEDART | Interim Dividend;Quarterly Results | 28-Jan-22 | MFSL | Quarterly Results | 28-Jan-22 |
| BRITANNIA | Quarterly Results | 28-Jan-22 | MRPL | Quarterly Results | 28-Jan-22 |
| CENTRALBK | Quarterly Results | 28-Jan-22 | NAUKRI | Quarterly Results | 28-Jan-22 |
| CENTURYPLY | General;Quarterly Results | 28-Jan-22 | NIITLTD | Interim Dividend;Quarterly Results | 28-Jan-22 |
| CHAMBLFERT | Interim Dividend;Quarterly Results | 28-Jan-22 | OBEROIRLTY | Quarterly Results | 28-Jan-22 |
| CROMPTON | Quarterly Results | 28-Jan-22 | POWERMECH | Quarterly Results | 28-Jan-22 |
| DBCORP | Quarterly Results | 28-Jan-22 | SUZLON | Quarterly Results | 28-Jan-22 |
| DEEPAKFERT | Quarterly Results | 28-Jan-22 | TATACOFFEE | Quarterly Results | 28-Jan-22 |
| DIXON | Quarterly Results | 28-Jan-22 | TCIDEVELOP | Quarterly Results | 28-Jan-22 |
| DRREDDY | Quarterly Results | 28-Jan-22 | TCIEXP | Quarterly Results;Interim Dividend | 28-Jan-22 |
| EMBASSY | Quarterly Results | 28-Jan-22 | UBL | Quarterly Results | 28-Jan-22 |
| EQUITASBNK | Quarterly Results | 28-Jan-22 | UTIAMC | Quarterly Results;General | 28-Jan-22 |
| ERIS | Quarterly Results | 28-Jan-22 | VEDL | Quarterly Results | 28-Jan-22 |
CORPORATE ACTION
| | | | | | |
| --- | --- | --- | --- | --- | --- |
| Company Name | Ex-Date | Purpose | Company Name | Ex-Date | Purpose |
| RKFORGE | 28-Jan-22 | Interim Dividend – Rs. – 0.5000 | MASTEK | 31-Jan-22 | Interim Dividend – Rs. – 7.0000 |
| CCL | 31-Jan-22 | Interim Dividend – Rs. – 3.0000 | SAREGAMA | 31-Jan-22 | Interim Dividend – Rs. – 30.0000 |
Disclosure in pursuance of Section 19 of SEBI (RA) Regulation 2014
Elite Wealth Limited does/does not do business with companies covered in its research reports. Investors should be aware that the Elite Wealth Limited may/may not have a conflict of interest that could affect the objectivity of this report. Investors should consider this report as only information in making their investment decision and must exercise their own judgment before making any investment decision.
For analyst certification and other important disclosures, see the Disclosure Appendix, or go to www.elitewealth.in. Analysts employed by Elite Wealth Limited are registered/qualified as research analysts with SEBI in India.( SEBI Registration No.: INH100002300)
Disclosure Appendix
Analyst Certification (For Reports)
Israil Khan, Elite Wealth Limited, suhail@elitewealth.in
The analyst(s) certify that all of the views expressed in this report accurately reflect my/our personal views about the subject company or companies and its or their securities. I/We also certify that no part of my compensation was, is or will be, directly or indirectly, related to the specific recommendations or views expressed in this report. Unless otherwise stated, the individuals listed on the cover page of this report are analysts in Elite Wealth Limited.
As to each individual report referenced herein, the primary research analyst(s) named within the report individually certify, with respect to each security or issuer that the analyst covered in the report, that:
(1) all of the views expressed in the report accurately reflect his or her personal views about any and all of the subject securities or issuers; and
(2) no part of any of the research analyst's compensation was, is, or will be directly or indirectly related to the specific recommendations or views expressed in the report.
For individual analyst certifications, please refer to the disclosure section at the end of the attached individual notes.
Research Excerpts
This note may include excerpts from previously published research. For access to the full reports, including analyst certification and important disclosures, investment thesis, valuation methodology, and risks to rating and price targets, please visit www.elitewealth.in.
Company-Specific Disclosures
Important disclosures, including price charts, are available and all Elite Wealth Limited covered companies by visiting https://www.elitewealth.in, or emailing research@elitestock.com with your request. Elite Wealth Limited may screen companies based on Strategy, Technical, and Quantitative Research. For important disclosures for these companies, please e-mail research@elitestock.com.
Options related research:
If the information contained herein regards options related research, such information is available only to persons who have received the proper option risk disclosure documents. For a copy of the risk disclosure documents, please contact your Broker's Representative or visit the OCC's website at https://www.elitewealth.in
Other Disclosures
All research reports made available to clients are simultaneously available on our client websites. Not all research content is redistributed, e-mailed or made available to third-party aggregators. For all research reports available on a particular stock, please contact your respective broker's sales person.
Ownership and material conflicts of interest Disclosure
Elite Wealth Limited policy prohibits its analysts, professionals reporting to analysts from owning securities of any company in the analyst's area of coverage. Analyst compensation: Analysts are salary based permanent employees of Elite Wealth Limited. Analyst as officer or director: Elite Wealth Limited policy prohibits its analysts, persons reporting to analysts from serving as an officer, director, board member or employee of any company in the analyst's area of coverage.
Country Specific Disclosures
India – For private circulation only, not for sale.
Legal Entities Disclosures
Mr. Ravinder Parkash Seth is the Managing Director of Elite Wealth Ltd (EWL, henceforth), having its registered office at Casa Picasso, Golf Course Extension, Near Rajesh Pilot Chowk, Radha Swami, Sector-61, Gurgaon-122001 Haryana, is a SEBI registered Research Analyst and is regulated by Securities and Exchange Board of India. Telephone:011-43035555, Facsimile: 011-22795783 and Website: www.elitewealth.in
EWL discloses all material information about itself including its business activity, disciplinary history, the terms and conditions on which it offers research report, details of associates and such other information as is necessary to take an investment decision, including the following:
1. Reports
a) EWL or his associate or his relative has no financial interest in the subject company and the nature of such financial interest;
(b) EWL or its associates or relatives, have no actual/beneficial ownership of one per cent. or more in the securities of the subject company, at the end of the month immediately preceding the date of publication of the research report or date of the public appearance;
(c) EWL or its associate or his relative, has no other material conflict of interest at the time of publication of the research report or at the time of public appearance;
2. Compensation
(a) EWL or its associates have not received any compensation from the subject company in the past twelve months;
(b) EWL or its associates have not managed or co-managed public offering of securities for the subject company in the past twelve months;
(c) EWL or its associates have not received any compensation for investment banking or merchant banking or brokerage services from the subject company in the past twelve months;
(d) EWL or its associates have not received any compensation for products or services other than investment banking or merchant banking or brokerage services from the subject company in the past twelve months;
(e) EWL or its associates have not received any compensation or other benefits from the Subject Company or third party in connection with the research report.
3 In respect of Public Appearances
(a) EWL or its associates have not received any compensation from the subject company in the past twelve months;
(b) The subject company is not now or never a client during twelve months preceding the date of distribution of the research report and the types of services provided by EWL