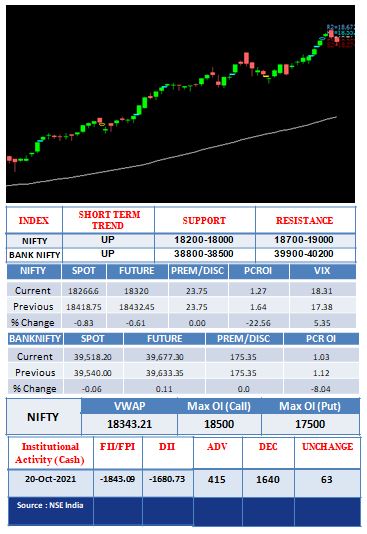 NIFTY:
The Nifty opened at 18439.90 with a gap up of just 21 points. Prices have first moved down and then quickly returned to record its intraday high at 18458.30. Bullish momentum fades out there and prices have started drifting downwards. A sharp decline of almost 240 points and prices have recorded its intraday low at 18209.35. Prices have seen minor upward correction in the last hour of trading and finally closed at 18266.6 with a loss of 152 points. All the sectoral indices have closed lower except Media. Realty and Metal have led the bears and ended with a loss of more than 2%.
Nifty opened on a flat note but saw a sharp intraday decline to close lower nearly 1%. Correction continued for the second consecutive trading day. Indices extended its downwards rally and were trading near days low. The correction made an attempt to hold 18200 which is acting as a short term support. If market is unable to sustain the level of 18200, it can witness correction till 17900-18000.
BANK NIFTY:
Bank Nifty opened at 39545.45 without much of a gap. The index first moved down and recorded its intraday low at 39292.8. Prices then started moving higher and recorded its intraday high at 39774.75. A consolidation begun afterwards and that broke on the downside. The index finally closed at 39518. PSU Banks have significantly outperformed and closed with a gain of 1.54%. Private Banks have drifted downwards and ended with a loss of 0.21%. Within the index, SBIN contributed highest while HDFC Bank the lowest.
Bank nifty continued trading volatile for the third consecutive day. The index has seen a plenty of sharp intraday moves in both the directions and ended on a flat note. A resistance is now visible around 40000 and support is visible around 38500.
TECHNICAL PICKS
| | | | |
| --- | --- | --- | --- |
| COMPANY  | CMP | B/S | RATIONALE |
| BHARTI AIRTEL | 708.45 | BUY | The stock has given a breakout from a narrow trading range. The stock can be bought at CMP with a stop at 699 and for the target 720 |
| ZEEL | 320.0 | BUY | The stock has given a breakout from a narrow trading range. The stock can be bought at CMP with a stop at 313 and for the target 335 |
DERIVATIVE PICKS
| | | | | | | | |
| --- | --- | --- | --- | --- | --- | --- | --- |
| STOCK OPTION | Strike Price | Buy/Sell | CMP | Initiation | Stop Loss | Target | Remarks |
| AXIS BANK | 810 CE | BUY | 22.4 | CMP | 17 | 30 | OI increase |
Long Buildup
Short Buildup
Stocks
Price
Price%
OI %
OI
Stocks
Price
Price%
OI %
OI
INDUSTOWER.21.10 Oct
305
3.18
45.88
17519600
FINNIFTY.21.10 Oct
18945
-0.64
353.85
2360
PERSISTENT.21.10 Oct
4226.95
0.61
18.42
325050
JKCEMENT.21.10 Oct
3202.1
-3.62
37.02
112700
METROPOLIS.21.10 Oct
2848.9
3.93
13.9
671800
VOLTAS.21.10 Oct
1253.2
-3.74
27.06
2361500
TECHM.21.10 Oct
1546.85
0.51
8.52
11723400
ICICIPRULI.21.10 Oct
635.3
-3.97
22.21
5851500
ZEEL.21.10 Oct
326.55
5.15
7.4
68316000
NAVINFLUOR.21.10 Oct
3542.75
-8.45
20.4
914850
                                                                        Short Covering
Long Unwinding
Stocks
Price
Price%
OI%
OI
Stocks
Price
Price %
OI %
OI
BANKNIFTY.21.10 Oct
39677.3
0.11
-7.48
1590575
IRCTC.21.10 Oct
4403.65
-20.69
-19.39
1940575
CONCOR.21.10 Oct
678.95
1.76
-2.19
8247951
GODREJPROP.21.10 Oct
2325
-2.67
-10
1907100
MINDTREE.21.10 Oct
4786.15
0.6
-2.12
2581200
NIFTY.21.10 Oct
18320
-0.61
-7.15
11143800
IDEA.21.10 Oct
10.7
7
-1.37
775250000
HINDALCO.21.10 Oct
515.45
-3.27
-6.75
23839200
LTI.21.10 Oct
6970
1.58
-1.12
634800
NTPC.21.10 Oct
147.1
-1.64
-6.6
64752000
TOP DELIVERY PERCENTAGE
Stocks
Price
%Chg
Total Qty
Delivery
Del %
% Change
Sectors
Price
Change %
Quantity
Hdfc Ltd.
2795.1
-0.98
2106814
1417438
71.07
Nifty Media
2334.45
1.03
98616
Max Financial Services l
979.5
-0.15
2492736
1055895
70.55
Nifty Bank
39518.2
-0.06
98616
Dr. Reddys Lab Ltd
4753.9
-1
316097
363273
67.31
Nifty it
36846.8
-0.7
98616
Icici Lombard General In
1504.4
-1.62
844842
453817
67.25
Nifty 50
18266.6
-0.83
98616
Titan Company Limited
2411.4
-2.96
2868983
2335354
65.86
Nifty Auto
11493.3
-1.15
98616
Power Grid Corporation o
194.35
-2.16
16432451
7815881
64.43
Nifty Fmcg
39696.35
-1.34
98616
Crompton Greaves Consume
454.2
-2.46
2265457
1560199
62.74
Nifty Pharma
14177.35
-1.44
98616
Bharat Petroleum Ltd
441.1
-2.64
6543463
3363623
62.26
Nifty Energy
24381.85
-1.63
98616
Lupin Limited
929.65
-0.93
1305385
1055177
61.99
Nifty Metal
5974
-2.06
98616
Infosys Limited
1802.35
-1.09
5876115
6341209
61.42
Nifty Realty
504.95
-2.16
98616
UPCOMING ECONOMIC DATA
   Domestic                                                                                                                                                  International
INR: Bank Loan Growth and Deposit Growth on 22nd October, 2021

INR: FX Reserves, USD  on 22nd October, 2021

•USD: Philadelphia Fed Manufacturing Index (Oct) on 21st October, 2021

•USD: Initial Jobless Claims on 21st October, 2021
NEWS UPDATES
•Vodafone Idea on Wednesday said that its board has opted for India's telecom department's four-year spectrum payment moratorium from October 2021 to September 2025. It is the first telco to accept the portion under Department of Telecom's recently launched telecom relief package.

•Mahindra on Wednesday clocked 65000 bookings for the XUV700 in two weeks since its launch on October 7. The deliveries for the petrol variants will start from 30 October and diesel variant deliveries will begin from the last week of November.  The bookings for the XUV700 SUV began on 7 October when the company received a total of 25,000 bookings in under an hour. On 8 October, the company received another 25,000 bookings in 2 hours.

•Crisis-hit YES Bank has shown remarkable progress after its management was taken by the clutch of investors led by State Bank of India (SBI) last year and may take two more years to stabilise, said former SBI chairman Rajnish Kumar.

•Jubilant Foodworks Ltd on Wednesday reported 58.11 per cent jump in consolidated net profit at Rs 119.82 crore for the second quarter ended September 30, 2021 aided by higher sales. The company, which operates popular fast food chains such as Domino's Pizza and Dunkin' Donuts among others in India, had posted a profit of Rs 75.78 crore in the same period last fiscal year, Jubilant Foodworks Ltd (JFL) said in a regulatory filing.

Source: Economic Times,  Indian Express  ,Business Today, Livemint, Business Standard, Bloomberg Quint

BOARD MEETINGS
| | | | | | |
| --- | --- | --- | --- | --- | --- |
| Company Name | Purpose | Ex-Date | Company Name | Purpose | Ex-Date |
| 20MICRONS | Quarterly Results | 21-Oct-21 | INDHOTEL | Quarterly Results;Rights Issue | 21-Oct-21 |
| 63MOONS | Quarterly Results | 21-Oct-21 | INDIAMART | Quarterly Results | 21-Oct-21 |
| ASIANPAINT | Interim Dividend;Quarterly Results | 21-Oct-21 | INDUSINDBK | General | 21-Oct-21 |
| ATFL | Quarterly Results | 21-Oct-21 | JSWSTEEL | Quarterly Results | 21-Oct-21 |
| BIOCON | General;Quarterly Results | 21-Oct-21 | JUBLINDS | Quarterly Results | 21-Oct-21 |
| BORORENEW | Quarterly Results | 21-Oct-21 | LEMONTREE | General;Quarterly Results | 21-Oct-21 |
| BPCL | Amalgamation;General | 21-Oct-21 | LICHSGFIN | General;Quarterly Results | 21-Oct-21 |
| CANFINHOME | General;Quarterly Results | 21-Oct-21 | LODHA | General;Quarterly Results | 21-Oct-21 |
| CGPOWER | Quarterly Results | 21-Oct-21 | MPHASIS | Audited Results | 21-Oct-21 |
| CIGNITI | Quarterly Results | 21-Oct-21 | RANEENGINE | Quarterly Results | 21-Oct-21 |
| CONCOR | Interim Dividend;Results | 21-Oct-21 | SOUTHBANK | Quarterly Results | 21-Oct-21 |
| HERITGFOOD | Interim Dividend;Quarterly Results | 21-Oct-21 | STLTECH | Quarterly Results | 21-Oct-21 |
| ICICIGI | Audited Results;Interim Dividend | 21-Oct-21 | TANLA | Quarterly Results | 21-Oct-21 |
| IDBI | Quarterly Results | 21-Oct-21 | TRIDENT | Interim Dividend;Quarterly Results | 21-Oct-21 |
| IEX | Bonus issue;Quarterly Results | 21-Oct-21 | TVSMOTOR | Quarterly Results | 21-Oct-21 |
| IIFLSEC | Quarterly Results | 21-Oct-21 | VSTIND | Quarterly Results | 21-Oct-21 |
CORPORATE ACTION
| | | | | | |
| --- | --- | --- | --- | --- | --- |
| Company Name | Ex-Date | Purpose | Company Name | Ex-Date | Purpose |
| ACCELYA | 21-Oct-21 | Final Dividend – Rs. – 17.00 | RKFORGE | 21-Oct-21 | Interim Dividend – Rs. – 0.50 |
| BEPL | 21-Oct-21 | Interim Dividend – Rs. – 1.00 | STARHFL | 21-Oct-21 | E.G.M. |
| HCLTECH | 21-Oct-21 | Interim Dividend – Rs. – 10.00 | TEXRAIL | 21-Oct-21 | Right Issue of Equity Shares |
| MAHIP | 21-Oct-21 | E.G.M. | VISHWARAJ | 21-Oct-21 | Stock  Split From Rs.10/- to Rs.2/- |
| MINDTREE | 21-Oct-21 | Interim Dividend – Rs. – 10.00 | INDOUS | 22-Oct-21 | E.G.M. |
| MISHTANN | 21-Oct-21 | Interim Dividend – Rs. – 0.0020 | INEOSSTYRO | 22-Oct-21 | Special Dividend – Rs. – 192.00 |
Disclosure in pursuance of Section 19 of SEBI (RA) Regulation 2014
Elite Wealth Limited does/does not do business with companies covered in its research reports. Investors should be aware that the Elite Wealth Limited may/may not have a conflict of interest that could affect the objectivity of this report. Investors should consider this report as only information in making their investment decision and must exercise their own judgment before making any investment decision.
For analyst certification and other important disclosures, see the Disclosure Appendix, or go to www.elitewealth.in. Analysts employed by Elite Wealth Limited are registered/qualified as research analysts with SEBI in India.( SEBI Registration No.: INH100002300)
Disclosure Appendix
Analyst Certification (For Reports)
Israil Khan, Elite Wealth Limited, suhail@elitewealth.in
The analyst(s) certify that all of the views expressed in this report accurately reflect my/our personal views about the subject company or companies and its or their securities. I/We also certify that no part of my compensation was, is or will be, directly or indirectly, related to the specific recommendations or views expressed in this report. Unless otherwise stated, the individuals listed on the cover page of this report are analysts in Elite Wealth Limited.
As to each individual report referenced herein, the primary research analyst(s) named within the report individually certify, with respect to each security or issuer that the analyst covered in the report, that:
(1) all of the views expressed in the report accurately reflect his or her personal views about any and all of the subject securities or issuers; and
(2) no part of any of the research analyst's compensation was, is, or will be directly or indirectly related to the specific recommendations or views expressed in the report.
For individual analyst certifications, please refer to the disclosure section at the end of the attached individual notes.
Research Excerpts
This note may include excerpts from previously published research. For access to the full reports, including analyst certification and important disclosures, investment thesis, valuation methodology, and risks to rating and price targets, please visit www.elitewealth.in.
Company-Specific Disclosures
Important disclosures, including price charts, are available and all Elite Wealth Limited covered companies by visiting https://www.elitewealth.in, or emailing research@elitestock.com with your request. Elite Wealth Limited may screen companies based on Strategy, Technical, and Quantitative Research. For important disclosures for these companies, please e-mail research@elitestock.com.
Options related research:
If the information contained herein regards options related research, such information is available only to persons who have received the proper option risk disclosure documents. For a copy of the risk disclosure documents, please contact your Broker's Representative or visit the OCC's website at https://www.elitewealth.in
Other Disclosures
All research reports made available to clients are simultaneously available on our client websites. Not all research content is redistributed, e-mailed or made available to third-party aggregators. For all research reports available on a particular stock, please contact your respective broker's sales person.
Ownership and material conflicts of interest Disclosure
Elite Wealth Limited policy prohibits its analysts, professionals reporting to analysts from owning securities of any company in the analyst's area of coverage. Analyst compensation: Analysts are salary based permanent employees of Elite Wealth Limited. Analyst as officer or director: Elite Wealth Limited policy prohibits its analysts, persons reporting to analysts from serving as an officer, director, board member or employee of any company in the analyst's area of coverage.
Country Specific Disclosures
India – For private circulation only, not for sale.
Legal Entities Disclosures
Mr. Ravinder Parkash Seth is the Managing Director of Elite Wealth Ltd (EWL, henceforth), having its registered office at Casa Picasso, Golf Course Extension, Near Rajesh Pilot Chowk, Radha Swami, Sector-61, Gurgaon-122001 Haryana, is a SEBI registered Research Analyst and is regulated by Securities and Exchange Board of India. Telephone:011-43035555, Facsimile: 011-22795783 and Website: www.elitewealth.in
EWL discloses all material information about itself including its business activity, disciplinary history, the terms and conditions on which it offers research report, details of associates and such other information as is necessary to take an investment decision, including the following:
1. Reports
a) EWL or his associate or his relative has no financial interest in the subject company and the nature of such financial interest;
(b) EWL or its associates or relatives, have no actual/beneficial ownership of one per cent. or more in the securities of the subject company, at the end of the month immediately preceding the date of publication of the research report or date of the public appearance;
(c) EWL or its associate or his relative, has no other material conflict of interest at the time of publication of the research report or at the time of public appearance;
2. Compensation
(a) EWL or its associates have not received any compensation from the subject company in the past twelve months;
(b) EWL or its associates have not managed or co-managed public offering of securities for the subject company in the past twelve months;
(c) EWL or its associates have not received any compensation for investment banking or merchant banking or brokerage services from the subject company in the past twelve months;
(d) EWL or its associates have not received any compensation for products or services other than investment banking or merchant banking or brokerage services from the subject company in the past twelve months;
(e) EWL or its associates have not received any compensation or other benefits from the Subject Company or third party in connection with the research report.
3 In respect of Public Appearances
(a) EWL or its associates have not received any compensation from the subject company in the past twelve months;
(b) The subject company is not now or never a client during twelve months preceding the date of distribution of the research report and the types of services provided by EWL