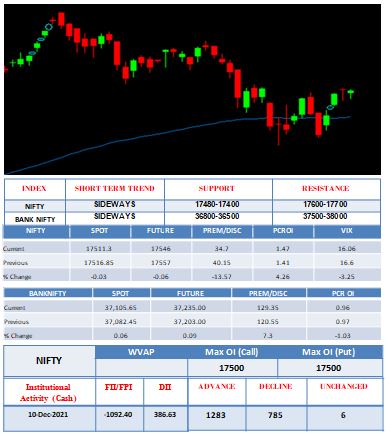 NIFTY:
Today, the NIFTY opened at 17476.05 with a gap up of 40 points. The index initially went up and recorded its intraday high at 17534.35 within the first few minutes of trading and then started moving down. All the gains and the gap was filled quickly and prices have moved further on the downside to record its intraday low at 17405.25. Prices have consolidated there and then bounced up. The rally took prices almost to its early morning high and finally the index closed at 17511.30 near the day highs without much of a change when compared to yesterday's closing price. MEDIA and REALTY were the biggest outperformers today and ended with a gain of more than 2% followed by the METAL that ended 0.57% higher. The rest of the sectoral indices have closed on a flat note.
If the index resumes its up move tomorrow and breaks above 17600 then we should take a long trade here. Keep a stop of 110 points and a target of 240 points from the entry point. In case of a gap up, apply the first 15 minutes rule. However, if prices find resistance around 17500 and start moving downwards then we should look for a shorting opportunity on a breakdown below 17300. Keep a stop of 110 points and a target of 240 points from the entry point.
BANK NIFTY:
BANK NIFTY opened at 37083.15 without much of a gap. The index first move down after recording its intraday high at 37153.25. Prices have recorded its intraday low at 36824.40 and then started a process of consolidation. The index broke on the upside and then rallied again. Prices have finally closed at 37104.50 with a gain of just 41 points. PSU BANKS have continued its outperformance and closed higher by 2.62%. PVT BANKS have underperformed today and ended on a flat note Within the index, in terms of points, IDFC FIRST BANK contributed the highest while KOTAK BANK contributed the lowest.
The index continued trading narrow and choppy and today traded in a very narrow range of just 329 points. Prices have recorded a pattern of NR7 that suggests a sharp move is about to come. Last three days have been sideways so we may see a directional move in the next week.
TECHNICAL PICKS
| | | | |
| --- | --- | --- | --- |
| COMPANY NAME | CMP | B/S | RATIONALE+ |
| COFORGE | 5314 | BUY | The stock is on the verge of giving the breakout on the intraday as well as the daily chart. The stock can be bought above  5330 with a stop loss of 5240 and for the target of 5440. |
| APLLTD | 813 | BUY | The  immediate trend of the script is bullish. There is a positive  cross over of moving averages  as well as of the indicators therefore  it can be buy above 820 with a stop loss of 800 and target  of 840. |
DERIVATIVE PICKS
| | | | | | | | |
| --- | --- | --- | --- | --- | --- | --- | --- |
| Stock Name | Strike Price | Buy/Sell | CMP | Initiation | Stop Loss | Target | Remarks |
| GRASIM | 1760CE | BUY | 42 | CMP | 30 | 70 | OI Increase |
Long Buildup
Short Buildup
Stocks
Price
Price%
OI %
OI
Stocks
Price
Price%
OI %
OI
AMBUJACEM.Dec 30
379.75
0.04
2.35
13003500
SBICARD.Dec 30
926.75
-3.54
27.42
5258500
BANKNIFTY.Dec 30
37246.3
0.05
1.92
2261575
FSL.Dec 30
175.65
-1.95
9.89
7974200
HINDALCO.Dec 30
457
0.07
0.28
28932550
PVR.Dec 30
1472.3
-1.6
6.36
2620266
IOC.Dec 30
120.5
0.08
2.16
41470000
NAUKRI.Dec 30
5675.45
-1.58
4.31
1222375
VOLTAS.Dec 30
1256.8
0.08
1.55
2123000
DIVISLAB.Dec 30
4530.8
-1.53
5.11
2449300
                                                                        Short Covering
                                                                      Long Unwinding
Stocks
Price
Price%
OI %
OI
Stocks
Price
Price%
OI %
OI
SHREECEM.Dec 30
26469.5
0
-2.63
173375
WHIRLPOOL.Dec 30
1926.5
-1.36
-0.81
1100750
ACC.Dec 30
2325.3
0.02
-0.64
2049500
DALBHARAT.Dec 30
1896.45
-1.28
-2.36
559250
APLLTD.Dec 30
811.3
0.04
-5.02
1570250
MUTHOOTFIN.Dec 30
1498.3
-1.27
-0.18
3546000
HEROMOTOCO.Dec 30
2531.8
0.05
-0.54
4721700
INDIGO.Dec 30
2002.15
-1.05
-1.92
3430000
MARUTI.Dec 30
7440.2
0.05
-1.92
3211100
COROMANDEL.Dec 30
763.8
-0.99
-2.79
1308750
TOP DELIVERY PERCENTAGE
Stocks
Price
%Chg
Total Qty
Delivery
Del %
% Change
Sectors
Price
Change %
Quantity
Hdfc Ltd.
2808.75
-1.17
3455657
2701770
76.62
Nifty 50
17511.3
-0.03
31735576
Petronet Lng Limited
228.6
0.33
776080
391955
75.72
Nifty Bank
37105.65
0.06
14971856
Colgate Palmolive (india
1438.35
-0.38
644945
474602
72.94
Nifty it
35939.6
-0.02
629292
Sbi Life Insurance Compa
1175.6
1.23
949040
642694
71.5
Nifty Auto
11080.05
0.19
50181023
Rec Limited
136.25
-0.37
9120258
5909572
69.34
Nifty Metal
5658.9
0.52
98329319
Hdfc Bank Ltd.
1522.55
-0.28
3889692
2503457
66.4
Nifty Fmcg
38189.55
-0.03
497207
City Union Bank Ltd.
149.95
2.71
2496171
1120586
66.15
India Vix
16.06
-3.25
3.39E+08
Sbi Cards And Payment Se
921.95
-3.54
7864424
4947155
63.68
Nifty Pharma
13446.1
-0.02
41274666
Siemens Ltd
2445.35
7.65
3375572
822150
62.15
Nifty Realty
519.4
2.31
1.08E+09
Hindustan Aeronautics Li
1305.1
0.98
707800
260229
62.09
Nifty Services Sector
24704.75
-0.15
22481167
UPCOMING ECONOMIC DATA
   Domestic                                                                                                                                                  International
INR: CPI (YoY) (Nov) on 13th December, 2021

INR: WPI Inflation (YoY) (Nov) on 14th December, 2021

•USD: OPEC Monthly Report  on 13th December, 2021

•USD: PPI (MoM) (Nov) on 14th December, 2021
NEWS UPDATES
Lupin Limited has entered the diagnostics segment with the launch of Lupin Diagnostics in India, Lupin Diagnostics aims to provide diagnostics services to doctors, patients and consumers. The company has established a state-of the-art 45,000 sq. ft National Reference Laboratory in Navi Mumbai

Passenger vehicle wholesales in the country declined by 19 per cent in November as the semiconductor shortage continued to impact vehicle production and subsequent deliveries to dealer partners, auto industry body SIAM.

SpiceJet said that it is planning to introduce a drone delivery service to strategically expand its logistics platform. The said it will first target mid-mile drone deliveries while preparing for last-mile deliveries in the future

Korean major Hyundai, which has the second-largest market share in India's passenger vehicle market, will invest around Rs 4,000 crore to launch six electric vehicles (EVs) by 2028. The of the six vehicles will come in 2022. Of the six, around three will be developed on Hyundai's global electric vehicle platform E-GMP while the other three are likely to be on South modified platforms in India
Source: Economic Times,  Indian Express  ,Business Today, Livemint, Business Standard, Bloomberg Quint
BOARD MEETINGS
| | | | | | |
| --- | --- | --- | --- | --- | --- |
| Company Name | Purpose | Ex-Date | Company Name | Purpose | Ex-Date |
| CMMHOSP | General | 13-Dec-21 | KALPACOMME | General | 15-Dec-21 |
| DANUBE | Stock  Split | 13-Dec-21 | MAHALXSE | General | 15-Dec-21 |
| GRNLAMIND | Stock  Split | 13-Dec-21 | ODYCORP | General | 15-Dec-21 |
| JINDALPHOT | Voluntary Delisting of Shares | 13-Dec-21 | PITHP | General | 15-Dec-21 |
| MAHACORP | General | 13-Dec-21 | POWERGRID | Interim Dividend; General | 15-Dec-21 |
| SWORDEDGE | Bonus issue | 13-Dec-21 | QUANTDIA | Increase in Authorised Capital; General | 15-Dec-21 |
| BHAGCHEM | Right Issue of Equity Shares | 14-Dec-21 | TATIAGLOB | General | 15-Dec-21 |
| BIGBLOC | General | 14-Dec-21 | AMARSEC | General | 15-Dec-21 |
| CANFINHOME | Interim Dividend;General | 14-Dec-21 | BLUECLOUDS | Issue Of Warrants; General | 15-Dec-21 |
| ENERGYDEV | General | 14-Dec-21 | BURGERKING | General | 15-Dec-21 |
| ORCHASP | General | 14-Dec-21 | CRESSAN | General | 15-Dec-21 |
| STRLGUA | General | 14-Dec-21 | DUGARHOU | General | 15-Dec-21 |
CORPORATE ACTION
| | | | | | |
| --- | --- | --- | --- | --- | --- |
| Company Name | Ex-Date | Purpose | Company Name | Ex-Date | Purpose |
| NIHARINF | 13-Dec-21 | E.G.M. | BNRSEC | 16-Dec-21 | Right Issue of Equity Shares |
| HINDZINC | 14-Dec-21 | Interim Dividend – Rs. – 18.0000 | CHEVIOT | 16-Dec-21 | Buy Back of Shares |
| NMDC | 14-Dec-21 | Interim Dividend – Rs. – 9.0100 | EARUM | 16-Dec-21 | Stock  Split From Rs.10/- to Rs.2/- |
| TTKPRESTIG | 14-Dec-21 | Stock  Split From Rs.10/- to Rs.1/- | KKCL | 16-Dec-21 | Bonus issue 4:1 |
| RAJESHEXPO | 15-Dec-21 | Dividend – Rs. – 1.0000 | MPSLTD | 16-Dec-21 | Buy Back of Shares |
Disclosure in pursuance of Section 19 of SEBI (RA) Regulation 2014
Elite Wealth Limited does/does not do business with companies covered in its research reports. Investors should be aware that the Elite Wealth Limited may/may not have a conflict of interest that could affect the objectivity of this report. Investors should consider this report as only information in making their investment decision and must exercise their own judgment before making any investment decision.
For analyst certification and other important disclosures, see the Disclosure Appendix, or go to www.elitewealth.in. Analysts employed by Elite Wealth Limited are registered/qualified as research analysts with SEBI in India.( SEBI Registration No.: INH100002300)
Disclosure Appendix
Analyst Certification (For Reports)
Israil Khan, Elite Wealth Limited, suhail@elitewealth.in
The analyst(s) certify that all of the views expressed in this report accurately reflect my/our personal views about the subject company or companies and its or their securities. I/We also certify that no part of my compensation was, is or will be, directly or indirectly, related to the specific recommendations or views expressed in this report. Unless otherwise stated, the individuals listed on the cover page of this report are analysts in Elite Wealth Limited.
As to each individual report referenced herein, the primary research analyst(s) named within the report individually certify, with respect to each security or issuer that the analyst covered in the report, that:
(1) all of the views expressed in the report accurately reflect his or her personal views about any and all of the subject securities or issuers; and
(2) no part of any of the research analyst's compensation was, is, or will be directly or indirectly related to the specific recommendations or views expressed in the report.
For individual analyst certifications, please refer to the disclosure section at the end of the attached individual notes.
Research Excerpts
This note may include excerpts from previously published research. For access to the full reports, including analyst certification and important disclosures, investment thesis, valuation methodology, and risks to rating and price targets, please visit www.elitewealth.in.
Company-Specific Disclosures
Important disclosures, including price charts, are available and all Elite Wealth Limited covered companies by visiting https://www.elitewealth.in, or emailing research@elitestock.com with your request. Elite Wealth Limited may screen companies based on Strategy, Technical, and Quantitative Research. For important disclosures for these companies, please e-mail research@elitestock.com.
Options related research:
If the information contained herein regards options related research, such information is available only to persons who have received the proper option risk disclosure documents. For a copy of the risk disclosure documents, please contact your Broker's Representative or visit the OCC's website at https://www.elitewealth.in
Other Disclosures
All research reports made available to clients are simultaneously available on our client websites. Not all research content is redistributed, e-mailed or made available to third-party aggregators. For all research reports available on a particular stock, please contact your respective broker's sales person.
Ownership and material conflicts of interest Disclosure
Elite Wealth Limited policy prohibits its analysts, professionals reporting to analysts from owning securities of any company in the analyst's area of coverage. Analyst compensation: Analysts are salary based permanent employees of Elite Wealth Limited. Analyst as officer or director: Elite Wealth Limited policy prohibits its analysts, persons reporting to analysts from serving as an officer, director, board member or employee of any company in the analyst's area of coverage.
Country Specific Disclosures
India – For private circulation only, not for sale.
Legal Entities Disclosures
Mr. Ravinder Parkash Seth is the Managing Director of Elite Wealth Ltd (EWL, henceforth), having its registered office at Casa Picasso, Golf Course Extension, Near Rajesh Pilot Chowk, Radha Swami, Sector-61, Gurgaon-122001 Haryana, is a SEBI registered Research Analyst and is regulated by Securities and Exchange Board of India. Telephone:011-43035555, Facsimile: 011-22795783 and Website: www.elitewealth.in
EWL discloses all material information about itself including its business activity, disciplinary history, the terms and conditions on which it offers research report, details of associates and such other information as is necessary to take an investment decision, including the following:
1. Reports
a) EWL or his associate or his relative has no financial interest in the subject company and the nature of such financial interest;
(b) EWL or its associates or relatives, have no actual/beneficial ownership of one per cent. or more in the securities of the subject company, at the end of the month immediately preceding the date of publication of the research report or date of the public appearance;
(c) EWL or its associate or his relative, has no other material conflict of interest at the time of publication of the research report or at the time of public appearance;
2. Compensation
(a) EWL or its associates have not received any compensation from the subject company in the past twelve months;
(b) EWL or its associates have not managed or co-managed public offering of securities for the subject company in the past twelve months;
(c) EWL or its associates have not received any compensation for investment banking or merchant banking or brokerage services from the subject company in the past twelve months;
(d) EWL or its associates have not received any compensation for products or services other than investment banking or merchant banking or brokerage services from the subject company in the past twelve months;
(e) EWL or its associates have not received any compensation or other benefits from the Subject Company or third party in connection with the research report.
3 In respect of Public Appearances
(a) EWL or its associates have not received any compensation from the subject company in the past twelve months;
(b) The subject company is not now or never a client during twelve months preceding the date of distribution of the research report and the types of services provided by EWL