DCX Systems Limited IPO Company Profile :
DCX Systems Ltd. is one of the leading manufacture of electronic sub-systems and cable harnesses in terms of manufacturing capability and revenue in Fiscal 2022 in the defence and aerospace sector. The company is rapidly growing in the Indian defence space with the revenue from operations CAGR of 34.20% between Fiscal 2020 to Fiscal 2022. It is  also one of the largest Indian Offset Partner ("IOP") for ELTA Systems Limited and Israel Aerospace Industries Limited, System Missiles and Space Division (together, the "IAI Group"), Israel and for the Indian defence market for manufacture of electronic sub-systems and cable and wire harness assemblies.
Issue Details
Objects of the issue
·Funding of working capital expenditure.

·Repayment/prepayment of the borrowings.

·Funding in the wholly owned subsidiary for capital expenditure.

Issue Size
Issue Size – Rs. 500 Crore

Offer for Sale – Rs. 100 Crore

Fresh Issue –  Rs. 400 Crore

Face value
Rs. 2 Per Equity Share
Issue Price
Rs. 197  – Rs. 207
Bid Lot
 72 shares
Listing at
BSE, NSE
Issue Opens:
31st  October 2022 – 02nd November 2022
QIB
75% of Net Issue Offer
Retail
15% of Net Issue Offer
NII
10% of Net Issue Offer
Financial Performance: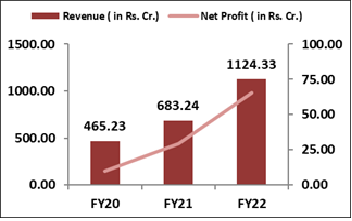 Shareholding Pattern:

Trade AnyTime AnyWhere With Elite Empower Mobile App

Check DCX Systems Ltd.  IPO Allotment Status
Go DCX Systems Ltd. IPO allotment status would be available soon after the IPO closure date. Usually the allotment comes within a week from the closing date which in this IPO yet to be announced.
One can check the allotment on the given below link with PAN number or Application number or DP Client Id. All you need to do is to follow these steps:-
Go to Application Status
Select IPO as DCX Systems Ltd. IPO 
Enter your PAN Number or Application Id or DP Client Id.
Strengths:
Company is among the preferred IOP for foreign original equipment manufacturers ("OEMs") for executing defence manufacturing projects.
Strategically located in aerospace Special Economic Zone with an advanced and modern manufacturing facility.
DCX's in-depth knowledge base and understanding of the aerospace and defence industry, particularly in India positions them to take advantage of the growth in these sections.
Experienced and qualified Promoters and senior management team with good financial track record.
Key Highlights:
Revenue of the company increased from Rs. 465 crore in FY 2020 to Rs. 1124 crore in FY 2022 with a CAGR of 34.20%.
Net profit of the company has grown significantly from Rs. 9.7 crore in FY 2020 to Rs. 65.6 crore in FY 2022 with a CAGR of 88.8%.
Operating profit margin of the company stood at 8.3% for the FY 2022.
Total Debt of the company stood at Rs. 682 crore and Return on Equity is at 55.79% for FY 2022.
Risk Factors:
DCX generated approx. 98% of retail sales from the top 10 customers, loss of any such customers or reduction in their demand would adversely affect its business operations and financials.
Around 90% revenue is generated from the offset defence contracts, any changes in the government policy of the same could have an adverse impact on the sales, earnings and cash flows of the company.
Top 10 supplier of the company contributes around 97% in the supply of raw materials, any shortages, delay and disruptions could affect the business.
Outlook:
DCX is one of the fastest growing company in the Indian defence sector and have been a preferred IOP for foreign OEMs for executing aerospace and defence manufacturing projects. The business verticals of the co. is system integration, cable and wire harness assemblies and kitting which contributed 85.27%, 2.70% and 12.03% respectively in the revenue in FY 2022. Company is expanding its existing cable and wire harness assembly operations and also penetrating new geographies. The growing Indian defence and aerospace sector and the recent initiatives like increase in FDI from the current 49% to 74% serves as key opportunity for the company. The financials of the co. looks attractive and on the upper band of the IPO, it is offering the PE of 30.52 times compared to industry average of 50 times. So, we recommend to subscribe to the IPO.
DCX Systems Limited IPO FAQ