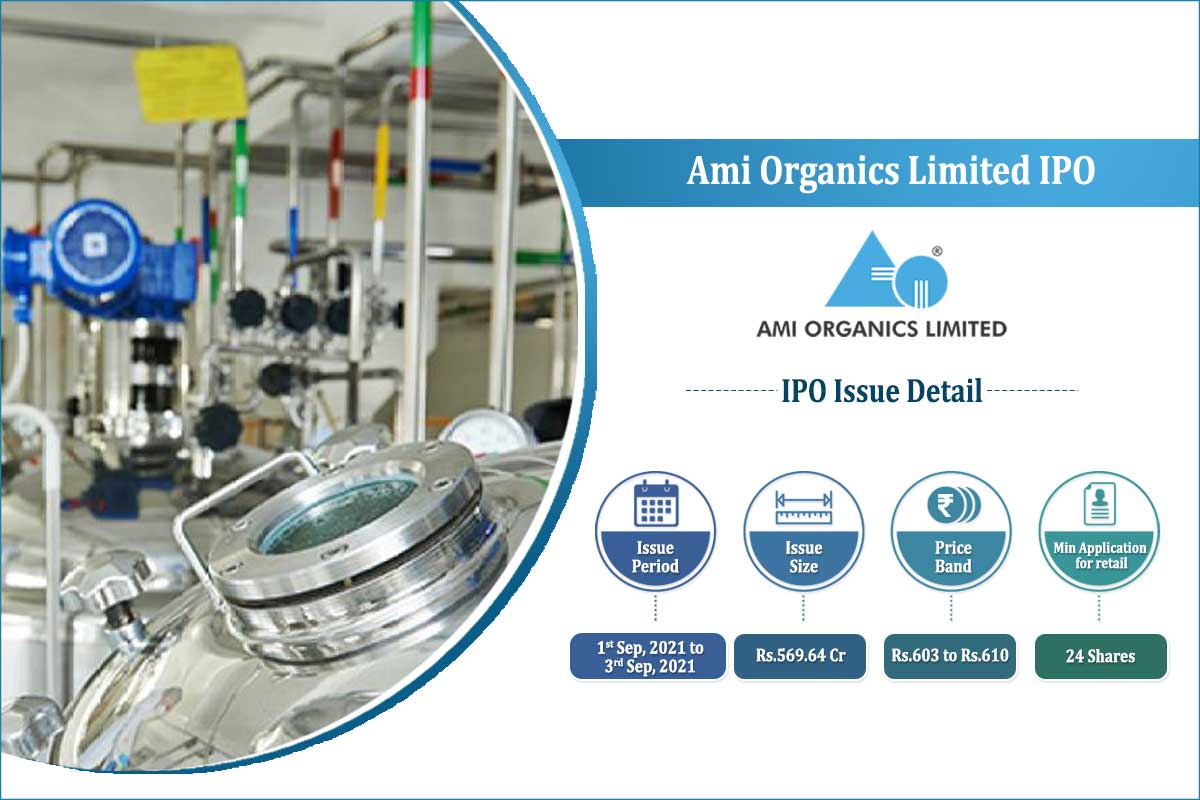 | | |
| --- | --- |
| IPO-Note | Ami Organics Limited |
| Rs 603- Rs 610 per equity share | Recommendation: Subscribe |
Company Profile: –
Ami Organics is one of the leading research and development driven manufacturers of specialty chemicals with varied end usage, focused towards the development and manufacturing of advanced pharmaceutical intermediates for regulated and generic active pharmaceutical ingredients (APIs), new chemical entities (NCEs) and key starting material for agrochemical and fine chemicalsThe Pharma Intermediates which they manufacture, find application in certain high-growth therapeutic areas including anti-retroviral, anti-inflammatory, anti-psychotic, anti-cancer, anti-Parkinson, anti-depressant and anti-coagulant, commanding significant market share both in India and globally.It has three manufacturing units namely Sachin facility, Ankleshwar facility and Jhagadia facility in Gujarat.Ankleshwar and Jhagadiafacilities had been acquired in March, 2021 from Gujarat Organics Ltd pursuant to a business transfer agreement.
Open Your Demat Account to Invest in Upcoming IPO's

                                                                               Issue Details
Objects of the issue
· Repayment/prepayment of certain financial facilitiesavailed by the company

· Funding working capital requirements of the company

· General corporate purposes.

 

 

Issue Size
Total issue Size – Rs. 569.6Cr.

Offer for Sale – Rs. 369.6Cr.

Fresh Issue – Rs. 200 Cr

Face value

Rs. 10.00 Per Equity Share

Issue Price
Rs. 603 – Rs. 610
Bid Lot
24 shares
Listing at
 

BSE, NSE

Issue Opens:
1st Sep, 2021 – 3rd Sep, 2021
QIB
50% of Net Issue Offer
Retail
35% of Net Issue Offer
NIB
15% of Net Issue Offer
Financial Performance:
Check Ami Organics Ltd. IPO Allotment Status
Ami Organics Ltd. IPO allotment status would be available soon after the IPO closure date. Usually the allotment comes within a week from the closing date which in this IPO yet to be announced.
One can check the allotment on the given below link with PAN number or Application number or DP Client Id. All you need to do is to follow these steps:-
Go to Application Status
Select IPO as Ami Organics Ltd.
Enter your PAN Number or Application Id or DP Client Id.
Shareholding Pattern:
| | | |
| --- | --- | --- |
| Shareholding Pattern | Pre- Issue | Post Issue |
| Promoters & Promoter Group | 47.23% | 41.05% |
| Public | 52.78% | 58.95% |

Strengths:
Strong and diversified product portfolio with 450+ Pharma Intermediates across 17 therapeutic areas.
One of the leading manufacturers of Dolutegravir, Trazodone, Entacapone, Nintedanib and Rivaroxaban.
High entry barriers in the chemicals manufacturing industry in which the Company operates.
Key Highlights:
Revenue from operations grew at a CAGR of 19.5% between FY19 and FY21.
The sales turnover for FY21 from the 2 plants acquired as part of the recent AcquisitionwasRs. 106.04Crore.
EBITDA Margin was 23.53% in FY21 vs 17.52% in FY20
Pharma Intermediates contributed 88.41% while the Specialty Chemicals contributed 4.87% to the total sales in FY21. 51.57% revenue of the company comes from exports.
It has issued bonus shares in the ratio of 2 for 1 in March 2021.
CFO/PAT stands at 0.5 in FY21 due to increased trade receivables
Risk Factors:
Derives a significant portion of its revenue from the sale of products in certain therapeutic areas, particularly from Trazodone and Dolutegravir
Business is working capital intensive and may adversely affect business
Do not have any long-term fixed contract with majority of its customers and suppliers.Import of raw materials from China was 19.4% of revenue in FY21
Outlook:
Ami Organics is one of the leading manufacturers of Pharma Intermediatesfor certain key APIswith a market share of 80-90% in Trazodone intermediates in chemicals portfolio has expanded to include capabilities to manufacture preservatives and other specialty chemicals which are used in the manufacturing of cosmetics, dyes, polymers and agro-chemicals.The expansion will help them building synergies going forward. The global chemicals market was valued at $4,738 billion in 2019 and is expected to grow at a CAGR of 6.2% to $6,785 billion from 2019 – 2025. With the IPO Proceeds the company aims to become debt free by paying total debt of Rs. 140 Crore. At the higher price band of Rs 610, the offer is made at P/E multiple of 41.16 times on Post Issue equity basis. Some of theListed industry peersof the company are Aarti Ind., Hikal Ltd., Valiant Organics, Vinati Organics, Neuland Labs and Atul Ltd. They are currently trading at a P/E of 56.49, 47.32, 29.98, 66.14, 28.97 and 39.67 respectively, which is in line with the industry.Werecommend Subscribe to the IPO for longer termperspective.
Disclosure in pursuance of Section 19 of SEBI (RA) Regulation 2014
Elite Wealth Limited does/does not do business with companies covered in its research reports. Investors should be aware that the Elite Wealth Limited may/may not have a conflict of interest that could affect the objectivity of this report. Investors should consider this report as only information in making their investment decision and must exercise their own judgment before making any investment decision.
For analyst certification and other important disclosures, see the Disclosure Appendix, or go to www.elitewealth.in. Analysts employed by Elite Wealth Limited are registered/qualified as research analysts with SEBI in India.( SEBI Registration No.: INH100002300)
Disclosure Appendix
Analyst Certification (For Reports)
Israil Khan, Elite Wealth Limited, suhail@elitewealth.in
The analyst(s) certify that all of the views expressed in this report accurately reflect my/our personal views about the subject company or companies and its or their securities. I/We also certify that no part of my compensation was, is or will be, directly or indirectly, related to the specific recommendations or views expressed in this report. Unless otherwise stated, the individuals listed on the cover page of this report are analysts in Elite Wealth Limited.
As to each individual report referenced herein, the primary research analyst(s) named within the report individually certify, with respect to each security or issuer that the analyst covered in the report, that:
(1) all of the views expressed in the report accurately reflect his or her personal views about any and all of the subject securities or issuers; and
(2) no part of any of the research analyst's compensation was, is, or will be directly or indirectly related to the specific recommendations or views expressed in the report.
For individual analyst certifications, please refer to the disclosure section at the end of the attached individual notes.
Research Excerpts
This note may include excerpts from previously published research. For access to the full reports, including analyst certification and important disclosures, investment thesis, valuation methodology, and risks to rating and price targets, please visit www.elitewealth.in.
Company-Specific Disclosures
Important disclosures, including price charts, are available and all Elite Wealth Limited covered companies by visiting https://www.elitewealth.in, or emailing research@elitestock.com with your request. Elite Wealth Limited may screen companies based on Strategy, Technical, and Quantitative Research. For important disclosures for these companies, please e-mail research@elitestock.com.
Options related research:
If the information contained herein regards options related research, such information is available only to persons who have received the proper option risk disclosure documents. For a copy of the risk disclosure documents, please contact your Broker's Representative or visit the OCC's website at https://www.elitewealth.in
Other Disclosures
All research reports made available to clients are simultaneously available on our client websites. Not all research content is redistributed, e-mailed or made available to third-party aggregators. For all research reports available on a particular stock, please contact your respective broker's sales person.
Ownership and material conflicts of interest Disclosure
Elite Wealth Limited policy prohibits its analysts, professionals reporting to analysts from owning securities of any company in the analyst's area of coverage. Analyst compensation: Analysts are salary based permanent employees of Elite Wealth Limited. Analyst as officer or director: Elite Wealth Limited policy prohibits its analysts, persons reporting to analysts from serving as an officer, director, board member or employee of any company in the analyst's area of coverage.
Country Specific Disclosures
India – For private circulation only, not for sale.
Legal Entities Disclosures
Mr. Ravinder Parkash Seth is the Managing Director of Elite Wealth Ltd (EWL, henceforth), having its registered office at Casa Picasso, Golf Course Extension, Near Rajesh Pilot Chowk, Radha Swami, Sector-61, Gurgaon-122001 Haryana, is a SEBI registered Research Analyst and is regulated by Securities and Exchange Board of India. Telephone:011-43035555, Facsimile: 011-22795783 and Website: www.elitewealth.in
EWL discloses all material information about itself including its business activity, disciplinary history, the terms and conditions on which it offers research report, details of associates and such other information as is necessary to take an investment decision, including the following:
1. Reports
a) EWL or his associate or his relative has no financial interest in the subject company and the nature of such financial interest;
(b) EWL or its associates or relatives, have no actual/beneficial ownership of one per cent. or more in the securities of the subject company, at the end of the month immediately preceding the date of publication of the research report or date of the public appearance;
(c) EWL or its associate or his relative, has no other material conflict of interest at the time of publication of the research report or at the time of public appearance;
2. Compensation
(a) EWL or its associates have not received any compensation from the subject company in the past twelve months;
(b) EWL or its associates have not managed or co-managed public offering of securities for the subject company in the past twelve months;
(c) EWL or its associates have not received any compensation for investment banking or merchant banking or brokerage services from the subject company in the past twelve months;
(d) EWL or its associates have not received any compensation for products or services other than investment banking or merchant banking or brokerage services from the subject company in the past twelve months;
(e) EWL or its associates have not received any compensation or other benefits from the Subject Company or third party in connection with the research report.
3 In respect of Public Appearances
(a) EWL or its associates have not received any compensation from the subject company in the past twelve months;
(b) The subject company is not now or never a client during twelve months preceding the date of distribution of the research report and the types of services provided by EWL