Aether Industries Limited IPO Company Profile :
Aether Industries is the largest manufacturer in the world for four products (4MEP, T2E, NODG, HEEP) in CY 2020 and sole manufacturer in India for 7 products (4MEP, T2E, OTBN, NODG, DVL, BFA, MMBC) which were historically imported from China into India. All of these 7 products contributed 68.5% to the total revenue of the company at end of December, 2021 with 4MEP is the largest revenue contributor. 4MEP is one of the key intermediates used in production of Metoprolol which used to treat angina (chest pain) and hypertension (high blood pressure). Most of its Products find applications in Pharmaceutical industry followed by Agrochemicals. Other industries which its serves includes Oil and gas, material science, food additives, coatings and high performance photography. A majority of its products are exported internationally to 18 countries, including Italy, Spain, Germany, the United States and other parts of the world.
| | |
| --- | --- |
| IPO-Note | Aether Industries Limited |
| Rs-610- Rs 642 per Equity share | Recommendation: Neutral |
---
---
Issue Details
Objects of the issue
·  Prepayment or repayment of all or a portion of certain outstanding borrowings availed by the Company.

·  Funding capital expenditure requirements for the manufacturing facility (Proposed Greenfield Project).

·  Funding working capital requirements of the Company.

·   General corporate purposes. 

Issue Size
Total issue Size -Rs. 808.04 Cr.

Offer for Sale – 181.04 Crore

Fresh Issue – Rs. 627 Crore

Face value
Rs.10.00 Per Equity Share
Issue Price
Rs. 610– Rs. 642
Bid Lot
23  shares
Listing at
 BSE, NSE
Issue Opens:
24th  May, 2022 – 26th  May, 2022
QIB
50% of Net Issue Offer
Retail
35% of Net Issue Offer
NII
15% of Net Issue Offer
Trade AnyTime AnyWhere With Elite Empower Mobile App

Strengths:
Fastest growing specialty chemical companies in India, growing at a CAGR of nearly 49.5% between Fiscal 2019 and Fiscal 2021.
Automated manufacturing facilities utilizing advanced technologies.
Differentiated portfolio of market-leading products
Focus on R&D to leverage core competencies of chemistry and technology
Key Highlights:
Revenue from operations grew at a CAGR of nearly 49.5% between Fiscal 2019 and Fiscal 2021.
Revenue from exports have grown at CAGR of 58.56% from Rs.100 Crore in to Rs. 251.7 Crore during FY19-21
EBITDA margin stands at Rs. 28.47% in 9MFY22 Vs 22.91% in 9MFY21
Debt to Equity Ratio stood at 0.65 at the end of December, 2021
ROCE and ROE stood at 20.74% and 38.2% respectively in FY21.
In November 2021, the company issued bonus shares in the ratio of 10:1 which increased numbers of equity shares from 1 Crore to 11 Crores.
Risk Factors:
Significant part of revenue comes from major customers and company do not have long-term contracts with all of them
Prices of some of raw materials that it uses are closely linked to crude oil prices and Crude prices globally have been volatile.
Top 20 customers contributed to 72.93% of total revenue from operations in 9MFY22.
Check Aether Industries Limited IPO Allotment Status
Go  Aether Industries Limited IPO  allotment status would be available soon after the IPO closure date. Usually the allotment comes within a week from the closing date which in this IPO yet to be announced.
One can check the allotment on the given below link with PAN number or Application number or DP Client Id. All you need to do is to follow these steps:-
Go to Application Status
Select IPO as Aether Industries Limited IPO 
Enter your PAN Number or Application Id or DP Client Id.
Financial Performance: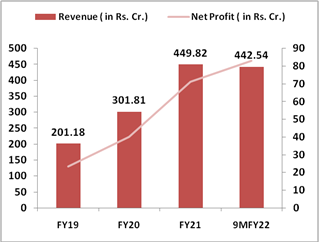 Shareholding Pattern:
| | | |
| --- | --- | --- |
| Shareholding Pattern | Pre- Issue | Post Issue |
| Promoters & Promoter Group | 96.96% | 87.09% |
| Public | 3.04% | 12.91% |
Source: RHP, EWL Research
Outlook:
Aether Industries has three business verticals including Large scale manufacturing of intermediates and speciality chemicals, CRAMS (contract research and manufacturing services) and Contract manufacturing. It Products 4MEP, T2E, MMBC, NODG, BFA, OTBN and DVL were 100% imported into India from China four years ago and now it is selling these products to Chinese customers. According to Frost & Sullivan, the global chemicals market is expected to grow at a CAGR of 6.2% from CY 2020 to CY 2025. Aether Industries have strong market positioning in complex intermediates where global competition is intense. At the higher price band of Rs 642, the offer is made at P/E multiple of 72.5x of FY22 Post issue annualized EPS. As per RHP, it showed Clean Science, Navin Fluorine, Vinati Organics etc. as its listed peers however they are not full comparable as company is the sole manufacturer for most of its products in India. Company has Good financial track record and leadership in its products but valuation is pricey hence we have a neutral view on IPO.