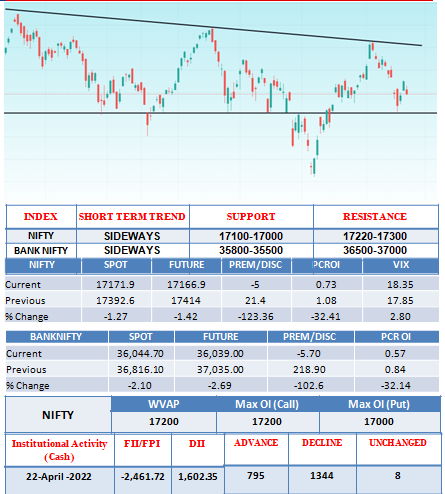 NIFTY:
Nifty opened at 17242.75 wit ha gap down of 150 points. The index first consolidated for about one and half hours and then breakout higher. A rally brought prices to its intraday high at 17315.30 and then found strong resistance there. The index again consolidated about three hours there
and then broke on the downside. A sharp rally brought prices to its intraday low at 17149.20 and then prices again consolidated for the last 30 minutes of trading. Prices have finally closed at 17171.95 wit h a loss of 220.65 points or 1.27% down. All the sectoral indices have seen a decline today and closed lower led by the BANKS which ended more than 2% lower followed by FINANCIAL, METAL, and PHARMA which ended nearly 2% lower.
Today's narrow range suggests a sharp move should come in the next week. We should look for a trading opportunity in the direction of the breakout On Monday we should look for a buying opportunity on a breakout above 17350. But if the index moves lower then we should look for a shorting opportunity on a breakdown below 17100. Take only one trade whichever executes first. Keep a stop of 110 points and a target of 280 points from your entry price.
BANK NIFTY:
Today the Bank nifty opened at 36514.15 with a gap down of 397 points. The index continued its down move and added another 300 points and then saw a rally. The up move fizzled out quickly and prices drifted downwards again to record its intraday low at 35991.50. Prices have consolidated in the last hour of trading and finally closed at 36008.20 with a loss of 903 points. PVT and PSU BANKS both indices have performed almost the same today, saw an intraday decline, and closed lower by 1.96% & 2.10% respectively. Within the index, in terms of points, ICIC IBANK contributed the highest on the downside followed by HDFC BANK. We should  look to sell short below the low recorded. Also, if the index holds its support level, then we should look for buying above the high recorded Keep a stop of 300 points and a target of 800 points.
TECHNICAL PICKS
| | | | |
| --- | --- | --- | --- |
| COMPANY NAME | CMP | B/S | RATIONALE+ |
| MARUTI | 7904 | BUY | The stock is on the verge of giving the breakout on the intraday as well as the daily chart. The stock can be buy  with a stop loss of 7800 and for the target of  8050. |
| TATASTEEL | 1277 | SELL | The  immediate trend of the script is bearish. There is a negative  cross over of moving averages  as well as of the indicators therefore  it can be sell below 1275 with a stop loss of 1290 and target of 1250. |
DERIVATIVE PICKS
| | | | | | | | |
| --- | --- | --- | --- | --- | --- | --- | --- |
| Stock Name | Strike Price | Buy/Sell | CMP | Initiation | Stop Loss | Target | Remarks |
| VEDL | 405 PE | BUY | 3 | CMP | 0.5 | 7 | OI Increase |
Long Buildup
Short Buildup
Stocks
Price
Price%
OI %
OI
Stocks
Price
Price%
OI %
OI
HONAUT.Apr 28
40816.6
0.41
2.51
6135
POLYCAB.Apr 28
2526.05
-8.22
17.24
728400
MIDCPNIFTY.Apr 26
7400.05
0.68
33.33
900
BSOFT.Apr 28
419.6
-2.92
0.54
3627000
ABB.Apr 28
2162.25
0.89
0.72
244000
HDFCAMC.Apr 28
2044.8
-2.59
0.95
2973400
UBL.Apr 28
1547.4
4.21
1.4
1142400
RAIN.Apr 28
178.9
-2.48
1.3
5830000
AARTIIND.Apr 28
922.5
-2.38
2.55
1779050
                                                                        Short Covering
                                                                      Long Unwinding
PAGEIND.Apr 28
46010.7
0.01
-3.05
77280
ICICIGI.Apr 28
1316.8
-6.4
-7.07
2597175
DALBHARAT.Apr 28
1617.85
0.06
-27.52
835000
HINDALCO.Apr 28
515.45
-4.77
-6.91
22945875
PERSISTENT.Apr 28
4034.6
0.07
-3.68
463800
HINDCOPPER.Apr 28
116.8
-4.26
-11.27
13570800
ASHOKLEY.Apr 28
129.05
0.08
-2.66
27882000
AUBANK.Apr 28
1374.55
-4.25
-5.07
2108000
WHIRLPOOL.Apr 28
1639.25
0.09
-6.64
924000
LUPIN.Apr 28
753.5
-4
-3.99
7202050
TOP DELIVERY PERCENTAGE
Stocks
Price
%Chg
Total Qty
Delivery
Del %
% Change
Sectors
Price
Change %
Quantity
Ipca Laboratories Ltd.
1027.45
-0.29
409641
304973
80.49
Nifty50
17171.95
-1.27
37325874
Hdfc Bank Ltd.
1355.6
-1.36
10329574
5312415
76.86
Niftybank
36044.75
-2.1
17714420
Hindustan Unilever Ltd
2126.95
-3.23
3520828
2780437
75.35
Nifty it
32426.7
-0.57
1567414
Sbi Cards And Payment Se
815.4
2.47
6711765
3909890
72.44
India Vix
18.35
2.8
3.51E+08
Siemens Ltd
2339.7
-1.69
101796
57049
71.52
Nifty Fmcg
37775.45
-0.61
629791
Tech Mahindra Limited
1306.5
-0.47
1954666
828988
71.1
Nifty Pharma
13569.85
-1.82
47005491
Colgate Palmolive (india
1602.35
2.92
1107083
511969
70.73
Nifty Realty
448.1
-1.39
1.43E+09
Honeywell Auto India Ltd
40888
0.41
4350
2695
69.91
Nifty Auto
11028.15
-0.56
58232341
Dr. Reddys Lab Ltd
4192.75
-2.95
390743
190559
67.78
Nifty Metal
6440.65
-1.97
99053136
Infosys Limited
1585.45
-2.06
8134245
5623477
67.54
Nifty Financial Services
16664.45
-1.74
4357108
UPCOMING ECONOMIC DATA
   Domestic                                                                                                                                                  International
INR: Federal Fiscal Deficit (Mar) on 29th April, 2022

INR: Infrastructure Output (YoY) (Mar) on 29th April, 2022

•USD:  CB Consumer Confidence (Apr) on 26th April, 2022

•USD:  New Home Sales (Mar) on 26th April, 2022
NEWS UPDATES
•India is looking to raise 300 billion rupees ($3.9 billion) through an initial public offering of state-owned Life Insurance Corp., according to people with knowledge of the matter, about 40% lower than previous estimates as the war in Ukraine dents valuations.  Officials want to complete the listing — which will still be India's biggest — in the next two weeks, the people said, asking not to be identified as the deliberations aren't public. LIC will probably be valued at some 6 trillion rupees, the people said.

•Reliance Industries Ltd, operator of the world's biggest oil refining complex, has ordered at least 15 million barrels of Russian oil since Russia invaded Ukraine in February, trade sources said. Reliance has bought an average 5 million barrels a month for the June quarter, the sources said. Reliance did not immediately respond to a Reuters' email seeking comment.

•The fall in share prices of HDFC and HDFC Bank is temporary and is perhaps because the management was unable to articulate the benefits of the merger in a clear manner, said Keki Mistry, Vice chairman and chief executive officer (CEO) of HDFC Ltd. Speaking at Economic Times India Economic Conclave 2022, Mistry said, "This is very short term. We have not been able to communicate in a very articulate manner and clear manner on the HDFC merger as earnings were due".

•Hindustan Zinc Ltd on Friday reported an 18 per cent rise in consolidated net profit to Rs 2,928 crore for the quarter ended on March 31, 2022, on the back of higher volumes and increase in metal prices.

Source: Economic Times,  Indian Express  ,Business Today, Livemint, Business Standard, Bloomberg Quint
BOARD MEETINGS
| | | | | | |
| --- | --- | --- | --- | --- | --- |
| Company Name | Purpose | Ex-Date | Company Name | Purpose | Ex-Date |
| ARIHCAPM | General;Final Dividend;Audited Results | 25-Apr-22 | KAPASHI | General;Preferential Issue of shares | 25-Apr-22 |
| ARTSONEN | Audited Results | 25-Apr-22 | KESARPE | General | 25-Apr-22 |
| ASAL | Audited Results | 25-Apr-22 | MAHINDCIE | Quarterly Results | 25-Apr-22 |
| AXITA | Dividend;Half Yearly Results;Results | 25-Apr-22 | MAHSCOOTER | Final Dividend;Audited Results | 25-Apr-22 |
| BANKINDIA | General | 25-Apr-22 | MFL | Audited Results | 25-Apr-22 |
| BHAGYAPROP | Voluntary Delisting of Shares | 25-Apr-22 | PARSHINV | Issue Of Warrants;In. in Authorised Capital | 25-Apr-22 |
| BORORENEW | Preferential Issue of shares | 25-Apr-22 | SHREYASI | General | 25-Apr-22 |
| CENTURYTEX | Dividend;Audited Results | 25-Apr-22 | SNOWMAN | Audited Results | 25-Apr-22 |
| CONTPTR | General | 25-Apr-22 | STEELXIND | General;Audited Results | 25-Apr-22 |
| DIVSHKT | Audited Results;Final Dividend | 25-Apr-22 | SYLPH | Audited Results | 25-Apr-22 |
| EVEREADY | Dividend;Audited Results | 25-Apr-22 | TATAINVEST | Final Dividend;Audited Results | 25-Apr-22 |
| FOCUS | General | 25-Apr-22 | TATVA | Audited Results;Final Dividend | 25-Apr-22 |
| GMDCLTD | Dividend;Audited Results | 25-Apr-22 | TRIVENIENT | Quarterly Results;Audited Results | 25-Apr-22 |
CORPORATE ACTION
| | | | | | |
| --- | --- | --- | --- | --- | --- |
| Company Name | Ex-Date | Purpose | Company Name | Ex-Date | Purpose |
| MUTHOOTFIN | 25-Apr-22 | Interim Dividend – Rs. – 20.0000 | KSB | 28-Apr-22 | Dividend – Rs. – 12.5000 |
| NIRMITEE | 25-Apr-22 | Bonus issue 5:1 | MANINDS | 28-Apr-22 | Interim Dividend – Rs. – 2.0000 |
| SAREGAMA | 26-Apr-22 | Stock  Split From Rs.10/- to Rs.1/- | MOLDTKPAC | 28-Apr-22 | Interim Dividend – Rs. – 6.0000 |
| TCMLMTD | 26-Apr-22 | Right Issue of Equity Shares | PROFINC | 28-Apr-22 | Bonus issue 2:1 |
| ABB | 27-Apr-22 | Final Dividend – Rs. – 5.2000 | PROFINC | 28-Apr-22 | Stock  Split From Rs.10/- to Rs.1/- |
| SHREEGANES | 27-Apr-22 | Bonus issue 1:1 | STOVACQ | 28-Apr-22 | Dividend – Rs. – 57.0000 |
| DCMFINSERV | 28-Apr-22 | E.G.M. | VESUVIUS | 28-Apr-22 | Dividend – Rs. – 8.0000 |
| HCLTECH | 28-Apr-22 | Interim Dividend – Rs. – 18.0000 | ELANTAS | 29-Apr-22 | Dividend – Rs. – 5.0000 |
Disclosure in pursuance of Section 19 of SEBI (RA) Regulation 2014
Elite Wealth Limited does/does not do business with companies covered in its research reports. Investors should be aware that the Elite Wealth Limited may/may not have a conflict of interest that could affect the objectivity of this report. Investors should consider this report as only information in making their investment decision and must exercise their own judgment before making any investment decision.
For analyst certification and other important disclosures, see the Disclosure Appendix, or go to www.elitewealth.in. Analysts employed by Elite Wealth Limited are registered/qualified as research analysts with SEBI in India.( SEBI Registration No.: INH100002300)
Disclosure Appendix
Analyst Certification (For Reports)
Israil Khan, Elite Wealth Limited, suhail@elitewealth.in
The analyst(s) certify that all of the views expressed in this report accurately reflect my/our personal views about the subject company or companies and its or their securities. I/We also certify that no part of my compensation was, is or will be, directly or indirectly, related to the specific recommendations or views expressed in this report. Unless otherwise stated, the individuals listed on the cover page of this report are analysts in Elite Wealth Limited.
As to each individual report referenced herein, the primary research analyst(s) named within the report individually certify, with respect to each security or issuer that the analyst covered in the report, that:
(1) all of the views expressed in the report accurately reflect his or her personal views about any and all of the subject securities or issuers; and
(2) no part of any of the research analyst's compensation was, is, or will be directly or indirectly related to the specific recommendations or views expressed in the report.
For individual analyst certifications, please refer to the disclosure section at the end of the attached individual notes.
Research Excerpts
This note may include excerpts from previously published research. For access to the full reports, including analyst certification and important disclosures, investment thesis, valuation methodology, and risks to rating and price targets, please visit www.elitewealth.in.
Company-Specific Disclosures
Important disclosures, including price charts, are available and all Elite Wealth Limited covered companies by visiting https://www.elitewealth.in, or emailing research@elitestock.com with your request. Elite Wealth Limited may screen companies based on Strategy, Technical, and Quantitative Research. For important disclosures for these companies, please e-mail research@elitestock.com.
Options related research:
If the information contained herein regards options related research, such information is available only to persons who have received the proper option risk disclosure documents. For a copy of the risk disclosure documents, please contact your Broker's Representative or visit the OCC's website at https://www.elitewealth.in
Other Disclosures
All research reports made available to clients are simultaneously available on our client websites. Not all research content is redistributed, e-mailed or made available to third-party aggregators. For all research reports available on a particular stock, please contact your respective broker's sales person.
Ownership and material conflicts of interest Disclosure
Elite Wealth Limited policy prohibits its analysts, professionals reporting to analysts from owning securities of any company in the analyst's area of coverage. Analyst compensation: Analysts are salary based permanent employees of Elite Wealth Limited. Analyst as officer or director: Elite Wealth Limited policy prohibits its analysts, persons reporting to analysts from serving as an officer, director, board member or employee of any company in the analyst's area of coverage.
Country Specific Disclosures
India – For private circulation only, not for sale.
Legal Entities Disclosures
Mr. Ravinder Parkash Seth is the Managing Director of Elite Wealth Ltd (EWL, henceforth), having its registered office at Casa Picasso, Golf Course Extension, Near Rajesh Pilot Chowk, Radha Swami, Sector-61, Gurgaon-122001 Haryana, is a SEBI registered Research Analyst and is regulated by Securities and Exchange Board of India. Telephone:011-43035555, Facsimile: 011-22795783 and Website: www.elitewealth.in
EWL discloses all material information about itself including its business activity, disciplinary history, the terms and conditions on which it offers research report, details of associates and such other information as is necessary to take an investment decision, including the following:
1. Reports
a) EWL or his associate or his relative has no financial interest in the subject company and the nature of such financial interest;
(b) EWL or its associates or relatives, have no actual/beneficial ownership of one per cent. or more in the securities of the subject company, at the end of the month immediately preceding the date of publication of the research report or date of the public appearance;
(c) EWL or its associate or his relative, has no other material conflict of interest at the time of publication of the research report or at the time of public appearance;
2. Compensation
(a) EWL or its associates have not received any compensation from the subject company in the past twelve months;
(b) EWL or its associates have not managed or co-managed public offering of securities for the subject company in the past twelve months;
(c) EWL or its associates have not received any compensation for investment banking or merchant banking or brokerage services from the subject company in the past twelve months;
(d) EWL or its associates have not received any compensation for products or services other than investment banking or merchant banking or brokerage services from the subject company in the past twelve months;
(e) EWL or its associates have not received any compensation or other benefits from the Subject Company or third party in connection with the research report.
3 In respect of Public Appearances
(a) EWL or its associates have not received any compensation from the subject company in the past twelve months;
(b) The subject company is not now or never a client during twelve months preceding the date of distribution of the research report and the types of services provided by EWL