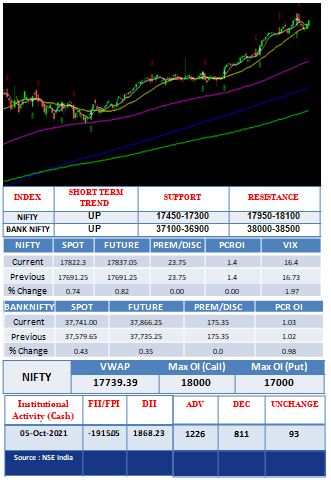 NIFTY:
Nifty opened with negative bias due to global market but did not sustain at lower levels and got back into positive territory in the second half and closed at 17822 with a gain of almost one percent up. On the sectoral front , IT, oil&gas, banking were the major participant while majority ended with the positive bias.
As we discussed in our previous report nifty will formed inverted h&s pattern on 15 min chart and this breakout will be confirmed above 17750 and our respected target was 17950 , nifty did the same  and witness one side momentum in the second half.
Structurally, formation of higher top higher bottom on the daily chart and inverted h&s  signifies positive trend is still intact. We expect nifty will trade with positive bias in coming session any correction would be buying opportunity with a stop loss of 17700.
BANK NIFTY:
Bank nifty opened with negative bias but as the day progressed index came into positive territory and closed with a gain of .43 percent up at 37741.  PSU banking stocks continue to outperform while the private banking stock witnessed profit booking as majority ended with positive bias.
Going ahead, we expect the index to undergo a healthy consolidate in the broad range of 36200 -38000 in the coming week, thus forming a higher base for the next leg of up move • Volatility is likely to remain high on account of the volatile global cues . Buying on decline strategy has worked well in the last 15 months, thereby the current volatility would present incremental buying opportunity in quality banking stocks.
TECHNICAL PICKS
| | | | |
| --- | --- | --- | --- |
| COMPANY  | CMP | B/S | RATIONALE |
| INFY | 1692 | BUY | The stock has given a breakout from a narrow trading range. The stock can be bought at CMP with a stop at 1680 and for the target 1710 |
| NAM INDIA | 448 | BUY | The stock has given a breakout from a narrow trading range. The stock can be bought at CMP with a stop at 442 and for the target 458 |
DERIVATIVE PICKS
| | | | | | | | |
| --- | --- | --- | --- | --- | --- | --- | --- |
| STOCK OPTION | Strike Price | Buy/Sell | CMP | Initiation | Stop Loss | Target | Remarks |
| JSWSTEEL | 680 CE | BUY | 32 | CMP | 27 | 40 | OI increase |
Long Buildup
Short Buildup
Stocks
Price
Price%
OI %
OI
Stocks
Price
Price%
OI %
OI
PERSISTENT.Oct 28
3768.05
0.88
41.27
190500
DALBHARAT.Oct 28
2072.5
-3.06
64.08
295750
ONGC.Oct 28
163.85
10.78
31.47
64456700
ICICIGI.Oct 28
1561.7
-1.08
38.31
3411050
NAM-INDIA.Oct 28
449.05
0.41
24.72
2640000
OBEROIRLTY.Oct 28
889.8
-3.58
24.73
984900
TITAN.Oct 28
2208.45
1.9
16.27
5321250
IPCALAB.Oct 28
2352.9
-2.2
16.89
582300
JKCEMENT.Oct 28
3343.15
0.31
15.44
79800
POWERGRID.Oct 28
190.1
-0.96
16.59
38189613
                                                                        Short Covering
Long Unwinding
Stocks
Price
Price%
OI%
OI
Stocks
Price
Price %
OI %
OI
MANAPPURAM.Oct 28
184.4
0.57
-3.35
19908000
ACC.Oct 28
2270
-0.01
-2.42
2980500
MCX.Oct 28
1693.9
0.1
-1.72
1797600
CANFINHOME.Oct 28
704.95
-1.28
-1.43
4571775
ADANIENT.Oct 28
1535.55
0.03
-1.55
25347000
GODREJPROP.Oct 28
2294
-1.95
-1.32
2143700
ASHOKLEY.Oct 28
132.7
1.65
-1.22
51988500
SUNPHARMA.Oct 28
822.35
-1.36
-1.17
32527600
POLYCAB.Oct 28
2456.95
0.39
-1.14
884100
ZEEL.Oct 28
299.6
-0.93
-0.55
49362000
TOP DELIVERY PERCENTAGE
Stocks
Price
%Chg
Total Qty
Delivery
Del %
% Change
Sectors
Price
Change %
Quantity
Oil & Natural Gas Corp
163.65
10.87
131238378
4139955
37.74
Nifty Energy
24006.15
2.88
95382
Tata Power Co. Ltd.
179.4
6.41
161189379
3862291
22.45
Nifty it
35544.3
1.19
95382
Aditya Birla Fashion And
255.6
6.15
11071898
619471
32.09
Nifty Media
2228.65
0.83
95382
Piramal Enterprises
2922.45
4.89
3292971
278967
29.67
Nifty 50
17822.3
0.74
95448
Aarti Industries Ltd.
1066.2
4.39
4383093
992649
32.93
Nifty Auto
10692
0.48
95382
Indusind Bank Ltd.
1168.6
4.36
5270013
6651302
31.12
Nifty Bank
37741
0.43
95382
Coalindia
197.95
4.21
42359592
241476
25.36
Nifty Fmcg
40427.5
-0.04
95382
Indian Railway Catering
4166.1
3.92
7369295
2006146
28.64
Nifty Metal
5800.3
-0.12
95382
Hindustan Petroleum Corp
314.45
3.85
10612386
447771
34.04
Nifty Pharma
14738.25
-0.5
95382
Coromandel International
827.05
3.27
883386
916682
47.88
Nifty Realty
510
-1.36
95382
UPCOMING ECONOMIC DATA
   Domestic                                                                                                                                                  International
INR: RBI Interest Rate Decision on 8th October, 2021

INR: Deposit and Loan Growth Rate on 8th October, 2021

•USD: Crude Oil Inventories on 6th October, 2021

•USD: API Weekly Crude Oil Stock on 6th October, 2021
NEWS UPDATES
•Vedanta Group will look to bid for buying the government's stake in Hindustan Copper Ltd as when the state-owned firm is put up for privatisation, its billionaire founder Anil Agarwal has said. He said that the company is doing its due diligence for the same.

•The 62 per cent increase in natural gas prices by the Indian government will boost the profitability of upstream companies in the country and support their investment spending, Fitch Ratings said on Tuesday. The price for gas from fields that were assigned by the state to oil companies, mainly Oil and Natural Gas Corporation (ONGC) and Oil India Ltd (OIL), increased to USD 2.90 per million British thermal units (mmBtu) for October 2021-March 2022, from USD 1.79 per mmBtu in the previous six months.

•India could face as long as six months battling to ensure coal-fired power plants have enough fuel as the nation's energy crisis escalates. More than half the nation's plants are on alert for outages after surging electricity demand and a slump in local coal output eroded stockpiles. Power stations had an average of four days' worth of coal at the end of last month, the lowest level in years, and down from 13 days at the start of August.

•Telecom operator Bharti Airtel and equipment maker Ericsson on Tuesday said they have conducted India's first 5G network trial in a rural location, demonstrating the potential that 5G can unleash in bridging the digital divide. The demonstration took place in Bhaipur Bramanan village on the outskirts of Delhi-NCR using 5G trial spectrum allocated to Airtel by the Department of Telecom.

Source: Economic Times,  Indian Express  ,Business Today, Livemint, Business Standard, Bloomberg Quint
BOARD MEETINGS
| | | | | | |
| --- | --- | --- | --- | --- | --- |
| Company Name | Purpose | Ex-Date | Company Name | Purpose | Ex-Date |
| 7SEASL | Preferential Issue of shares | 06-Oct-21 | LLOYDSME | General | 07-Oct-21 |
| ASITCFIN | General | 06-Oct-21 | MEDICO | Bonus issue;Increase in Auth. Capital | 07-Oct-21 |
| ASYAINFO | Quarterly Results | 06-Oct-21 | SYLPH | Quarterly Results | 07-Oct-21 |
| INOXWIND | General | 06-Oct-21 | TCMLMTD | Rights Issue | 07-Oct-21 |
| MAYUKH | General | 06-Oct-21 | BESTAGRO | General | 08-Oct-21 |
| NAZARA | General;Preferential Issue of shares | 06-Oct-21 | CGVAK | General | 08-Oct-21 |
| RACE | General | 06-Oct-21 | EARUM | Stock  Split | 08-Oct-21 |
| TRIVENIGQ | General | 06-Oct-21 | ECORECO | Quarterly Results | 08-Oct-21 |
| GOKEX | General | 07-Oct-21 | ICSL | Quarterly Results | 08-Oct-21 |
| INDITALIA | General | 07-Oct-21 | KANELIND | Quarterly Results | 08-Oct-21 |
| INFRATRUST | General | 07-Oct-21 | MISHTANN | Interim Dividend;Quarterly Results | 08-Oct-21 |
| INTELSOFT | Quarterly Results | 07-Oct-21 | NATURAL | Quarterly Results | 08-Oct-21 |
CORPORATE ACTION
| | | | | | |
| --- | --- | --- | --- | --- | --- |
| Company Name | Ex-Date | Purpose | Company Name | Ex-Date | Purpose |
| ANUPAM | 06-Oct-21 | Stock  Split From Rs.10/- to Rs.1/- | ASIANTILES | 11-Oct-21 | Final Dividend – Rs. – 0.5000 |
| AFFLE | 07-Oct-21 | Stock  Split From Rs.10/- to Rs.2/- | GENSOL | 11-Oct-21 | Bonus issue 1:3 |
| INDSOYA | 07-Oct-21 | Stock  Split From Rs.10/- to Rs.5/- | ADVITIYA | 13-Oct-21 | Bonus issue 44100 |
| UNISON | 07-Oct-21 | Bonus issue 4:1 | DHANVARSHA | 13-Oct-21 | Stock  Split From Rs.10/- to Rs.2/- |
| DCMSRMIND | 08-Oct-21 | Stock  Split From Rs.10/- to Rs.2/- | INFRATRUST | 13-Oct-21 | Income Distribution (InvIT) |
| ASIANTILES | 11-Oct-21 | Final Dividend – Rs. – 0.5000 | JTLINFRA | 13-Oct-21 | Stock  Split From Rs.10/- to Rs.2/- |
Disclosure in pursuance of Section 19 of SEBI (RA) Regulation 2014
Elite Wealth Limited does/does not do business with companies covered in its research reports. Investors should be aware that the Elite Wealth Limited may/may not have a conflict of interest that could affect the objectivity of this report. Investors should consider this report as only information in making their investment decision and must exercise their own judgment before making any investment decision.
For analyst certification and other important disclosures, see the Disclosure Appendix, or go to www.elitewealth.in. Analysts employed by Elite Wealth Limited are registered/qualified as research analysts with SEBI in India.( SEBI Registration No.: INH100002300)
Disclosure Appendix
Analyst Certification (For Reports)
Israil Khan, Elite Wealth Limited, suhail@elitewealth.in
The analyst(s) certify that all of the views expressed in this report accurately reflect my/our personal views about the subject company or companies and its or their securities. I/We also certify that no part of my compensation was, is or will be, directly or indirectly, related to the specific recommendations or views expressed in this report. Unless otherwise stated, the individuals listed on the cover page of this report are analysts in Elite Wealth Limited.
As to each individual report referenced herein, the primary research analyst(s) named within the report individually certify, with respect to each security or issuer that the analyst covered in the report, that:
(1) all of the views expressed in the report accurately reflect his or her personal views about any and all of the subject securities or issuers; and
(2) no part of any of the research analyst's compensation was, is, or will be directly or indirectly related to the specific recommendations or views expressed in the report.
For individual analyst certifications, please refer to the disclosure section at the end of the attached individual notes.
Research Excerpts
This note may include excerpts from previously published research. For access to the full reports, including analyst certification and important disclosures, investment thesis, valuation methodology, and risks to rating and price targets, please visit www.elitewealth.in.
Company-Specific Disclosures
Important disclosures, including price charts, are available and all Elite Wealth Limited covered companies by visiting https://www.elitewealth.in, or emailing research@elitestock.com with your request. Elite Wealth Limited may screen companies based on Strategy, Technical, and Quantitative Research. For important disclosures for these companies, please e-mail research@elitestock.com.
Options related research:
If the information contained herein regards options related research, such information is available only to persons who have received the proper option risk disclosure documents. For a copy of the risk disclosure documents, please contact your Broker's Representative or visit the OCC's website at https://www.elitewealth.in
Other Disclosures
All research reports made available to clients are simultaneously available on our client websites. Not all research content is redistributed, e-mailed or made available to third-party aggregators. For all research reports available on a particular stock, please contact your respective broker's sales person.
Ownership and material conflicts of interest Disclosure
Elite Wealth Limited policy prohibits its analysts, professionals reporting to analysts from owning securities of any company in the analyst's area of coverage. Analyst compensation: Analysts are salary based permanent employees of Elite Wealth Limited. Analyst as officer or director: Elite Wealth Limited policy prohibits its analysts, persons reporting to analysts from serving as an officer, director, board member or employee of any company in the analyst's area of coverage.
Country Specific Disclosures
India – For private circulation only, not for sale.
Legal Entities Disclosures
Mr. Ravinder Parkash Seth is the Managing Director of Elite Wealth Ltd (EWL, henceforth), having its registered office at Casa Picasso, Golf Course Extension, Near Rajesh Pilot Chowk, Radha Swami, Sector-61, Gurgaon-122001 Haryana, is a SEBI registered Research Analyst and is regulated by Securities and Exchange Board of India. Telephone:011-43035555, Facsimile: 011-22795783 and Website: www.elitewealth.in
EWL discloses all material information about itself including its business activity, disciplinary history, the terms and conditions on which it offers research report, details of associates and such other information as is necessary to take an investment decision, including the following:
1. Reports
a) EWL or his associate or his relative has no financial interest in the subject company and the nature of such financial interest;
(b) EWL or its associates or relatives, have no actual/beneficial ownership of one per cent. or more in the securities of the subject company, at the end of the month immediately preceding the date of publication of the research report or date of the public appearance;
(c) EWL or its associate or his relative, has no other material conflict of interest at the time of publication of the research report or at the time of public appearance;
2. Compensation
(a) EWL or its associates have not received any compensation from the subject company in the past twelve months;
(b) EWL or its associates have not managed or co-managed public offering of securities for the subject company in the past twelve months;
(c) EWL or its associates have not received any compensation for investment banking or merchant banking or brokerage services from the subject company in the past twelve months;
(d) EWL or its associates have not received any compensation for products or services other than investment banking or merchant banking or brokerage services from the subject company in the past twelve months;
(e) EWL or its associates have not received any compensation or other benefits from the Subject Company or third party in connection with the research report.
3 In respect of Public Appearances
(a) EWL or its associates have not received any compensation from the subject company in the past twelve months;
(b) The subject company is not now or never a client during twelve months preceding the date of distribution of the research report and the types of services provided by EWL