All our investment journeys have started by choosing the right Broker for ourselves. The criteria we choose to determine which Broker is right for us may vary from individual. The decision to choose the right Broker at times can be the pivotal element in your success or failure as an Investor. Elite Wealth Advisors Ltd is a company, that  has been active in the market for over 25 years and today offers a full range of services from Wealth Management & Advisory Services, Portfolio Management Services as well as Financial Planning for Individuals.
With a strong leadership team and a customer-centric work culture, Elite Wealth has a strong workforce comprising of Investment Advisors and Certified Financial Planners. Apart from Investments in Equities we offer a range of other investment products that the clients can choose from.
In this digital age we need Brokers that have a fully responsive technology (one that runs on a tablet/PC/laptop/Mobile etc.), have fast execution platforms, have investment advisors as well as provide all relevant market information and researched reports, a cooperative and helping customer service team etc. Today apart from a platform to place orders the customers today demand a lot more from their Brokers. I will focus on the services of Elite Wealth Advisors right-away so that readers can understand why I chose to write about this company.
A Fully-Responsive & Easy to use Investing Software!

What good is technology if it doesn't make the work simpler? Elite Wealth Advisor's Trading Software (FREE for all clients) enables clients to participate in the markets very conveniently. There are a few highlights that makes this software different from the others:
First, it is a very light software and can run smoothly on any system (PC/Laptop/Tablet/Mobile) that has a 2 GB RAM or more. It takes very little space and has lightning quick order executions.
Secondly, the user interface is simple to understand and use. This is one of the easiest softwares that I have used for trading. We don't like to complicate investments for our clients. Our focus is to make the experience as convenient for the investor as possible.
Thirdly, the software enables you trade and invest on the go. If you're in office, traveling or stuck in traffic you can view your holdings, charts as well as purchase and sell stocks on the move. All you need is a decent uninterrupted internet connection.
You can view charts as well Technical Indicators on your Mobile/Tablets. Today, some traders and investors like to look at the charts before making the Buy/Sell/Hold decisions. Now, this Software enables the investors to view all candlestick/Bar/Area graphs with different time frames as well as enables you to add-on Technical Indicators to support the research that he needs to conduct.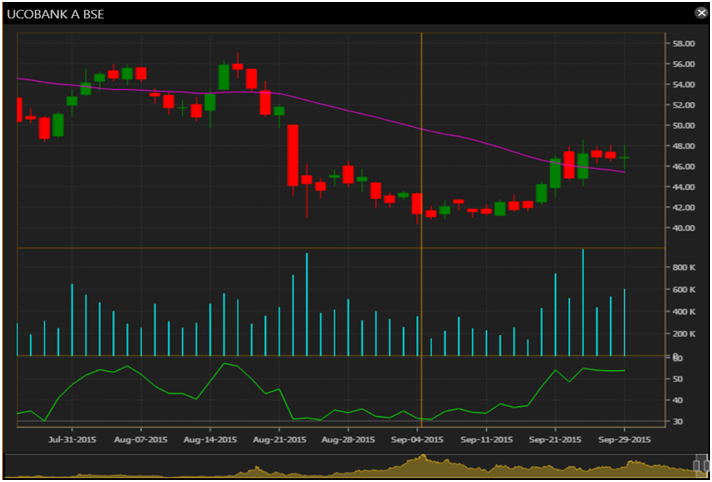 At anytime during the trading day you can fetch important information about a contract/stock/index that you are interested in. On the right corner of the software there is a section called 'Market Enquiry'. This feature enables the investors to check different sets of information such as to currently find out which are the 5 most active stocks or contracts with the highest volume or which have the highest volatility. One can check the time-wise market activity in a particular stock/contract. This means if I want to look at the hourly data for a stock over many days the software enables that for me too.
Excellent Research backing your Investments
Elite Wealth Advisors is a full service Brokerage. This means that we not only offer the technological platform to execute investments, we also provide a range of third party products and also provide the necessary research and knowledge for our clients to make the right investment decisions. In the equity markets there is one Universal Truth i.e. "Research Pays the highest dividends". We have witnessed this over 25  years of our presence.
Therefore Elite Wealth has invested in a strong research team that provides clients with research about investment products all year round. Some of our clients prefer to buy and hold strategy whereas some are very active traders. We need to provide relevant research to either section of the clients. Our Research Packages broadly include the Investor Plus Plan, Investor Pro Plan and the Trader Research Plan. To know about these please click here.
Dedicated Customer Service
Over our journey of 27 years we have learned the most important aspect of the Financial Business. Our technology and research reports are our efforts to serve the clients better. For us longevity and continuous patronage mean more to us than short term profits. We have made it a company-wide policy to revert to client requests within a stipulated time. We are proud to deliver the best service to our clients.
Now I request you to please judge your broker on the aforementioned criteria. This article was written with the sole purpose of communicating our services that we offer to our clients.